CORSAIR K70 RGB TKL Champion Series Optical-Mechanical Review – I loved the CORSAIR K70 RGB PRO (check my review earlier this year out) as it is a gaming keyboard that doesn't have the extra things I don't use like dedicated Macro keys (if you like them though, check the K100 RGB out).
But if you have less desk space or want to game more ergonomically, it is best to use a TKL (Tenkeyless) keyboard instead of a full one with numpads and all that.
Thankfully, there is always something for every gamer so CORSAIR has designed and released the CORSAIR K70 RGB TKL gaming keyboard. It is the compact version of K70 RGB PRO and comes with all the things you love, including that juicy 8,000Hz polling rate.
CORSAIR K70 RGB TKL Review – Packaging and Unboxing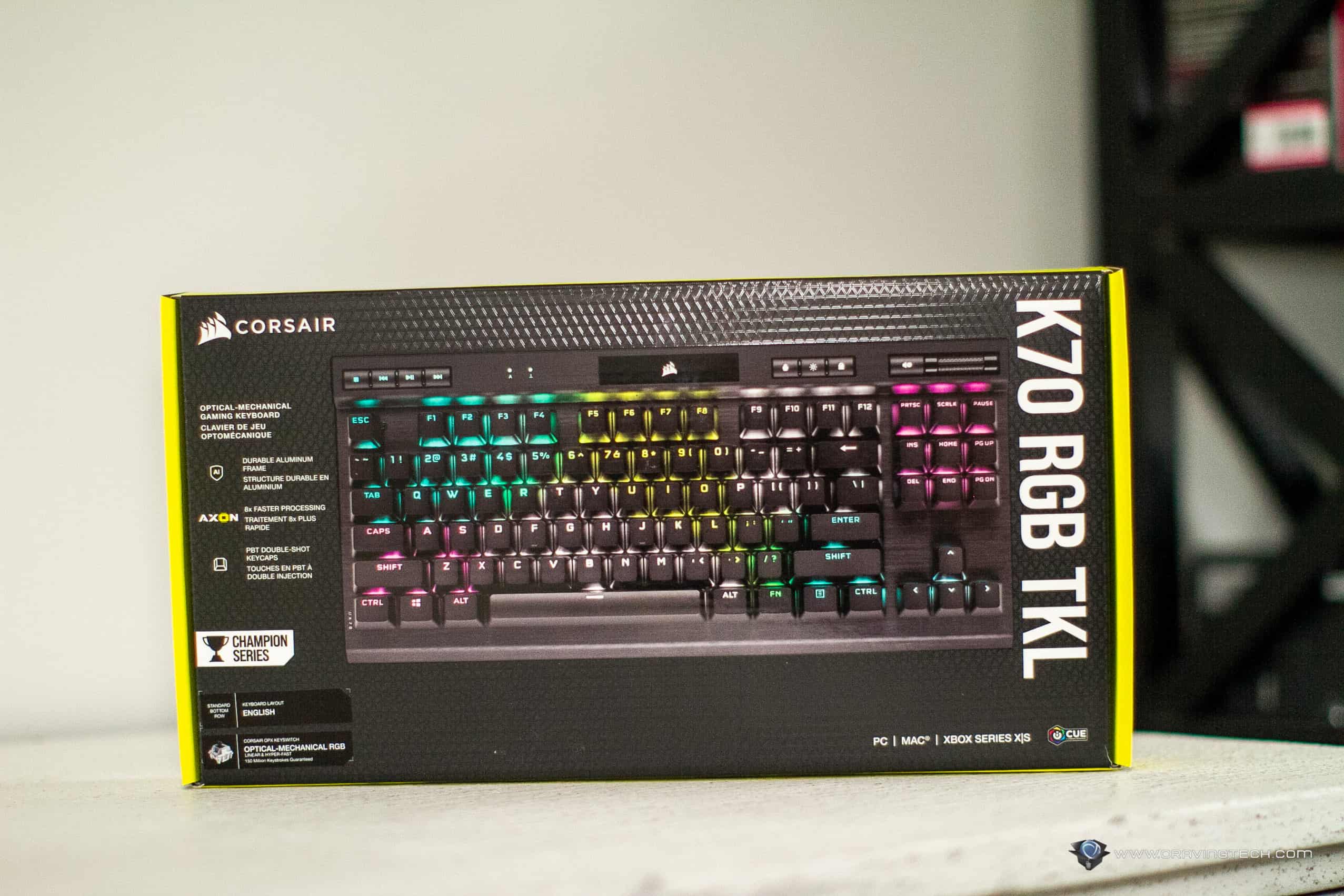 CORSAIR K70 RGB TKL Review – Design & Features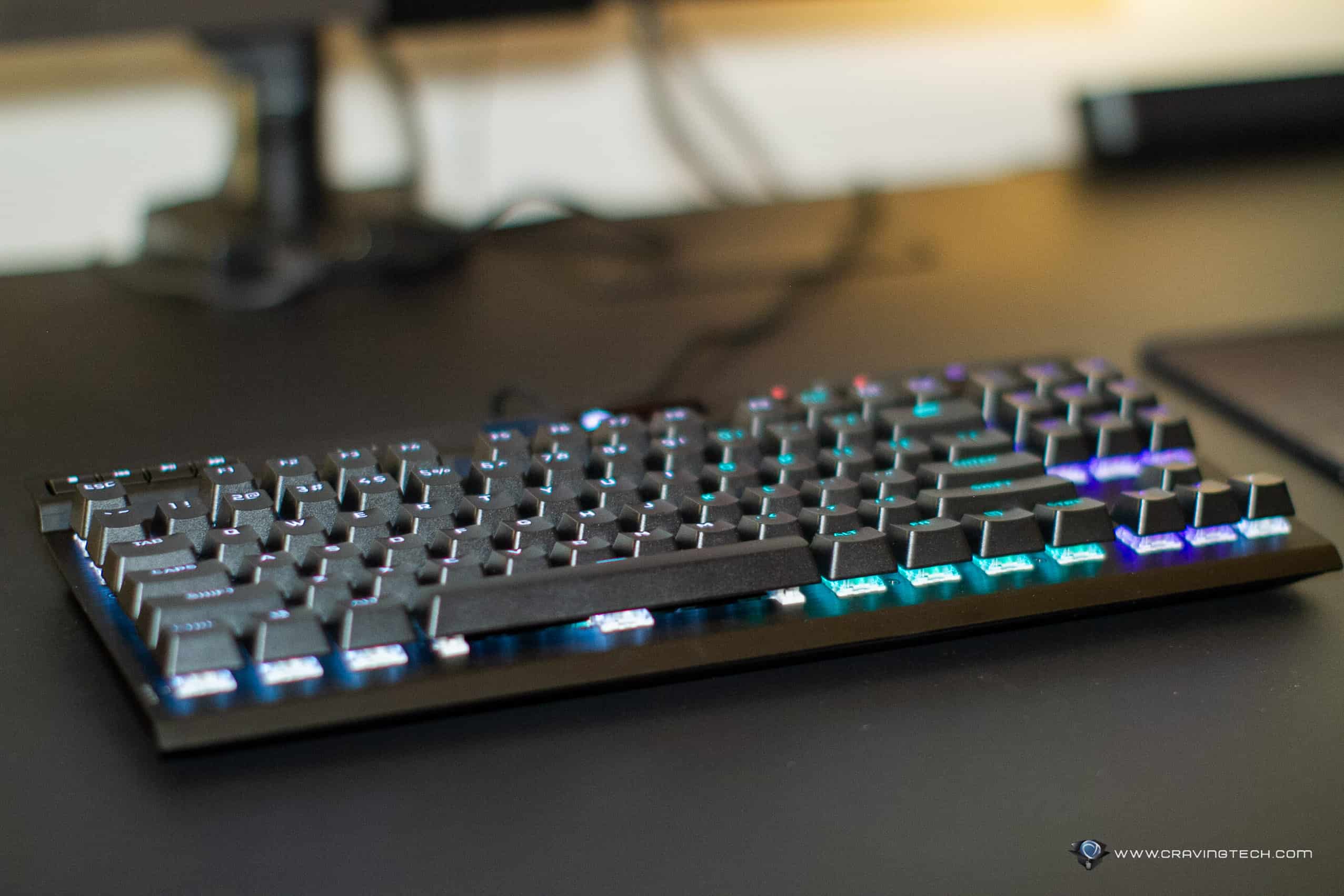 Okay, there are actually minor design changes if you compare it to the K70 RGB PRO (or the K70 RGB MK.2 Low Profile). The extra buttons on the top of the keyboard (i.e media controls, backlighting brightness, etc) are positioned differently. But every other key is there, especially the volume roller and mute button.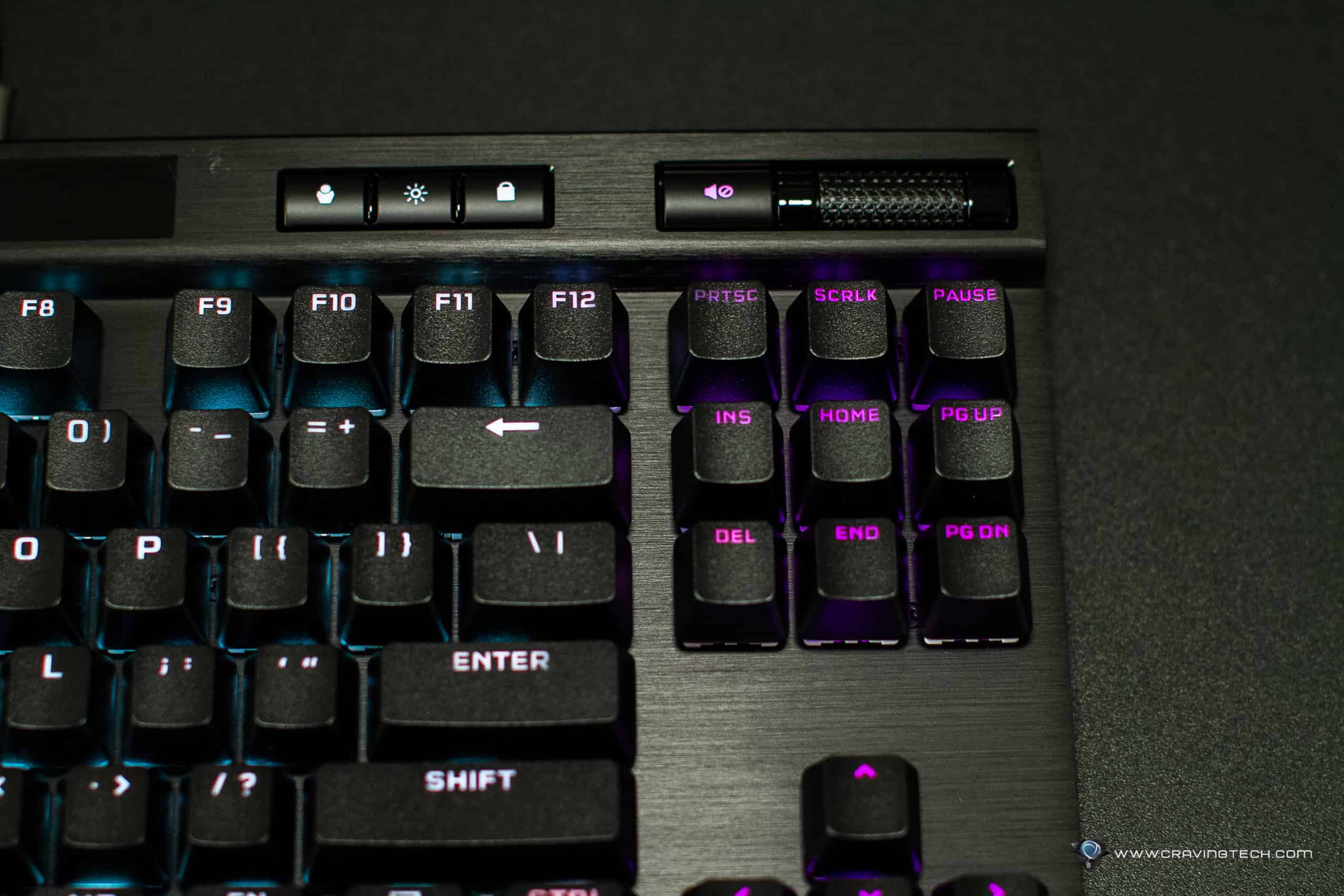 The CORSAIR K70 RGB TKL review unit I have here comes with CORSAIR OPX Optical-Mechanical switches. They are designed to deliver very fast inputs and trigger times, giving you just 1.0mm actuation distance with zero debounce. Compared to the fastest Cherry MX switches, the MX Speed or Silver, it's 0.2mm faster (Cherry MX Speed/Silver has 1.2mm actuation point).
This means that your pressed key will execute faster, ensuring you to trigger that hero ability faster than your enemies and that can differentiate between losing and winning the game.
The switches also have around 150 million keystrokes life time and have PBT double-shot keycaps that can last you a long while.
Powered by CORSAIR AXON Hyper-Processing Technology, this is also one of the fastest keyboards around with up to 8,000Hz hyper-polling rate (standard keyboards only have around 1,000Hz polling rate). This means that the K70 RGB TKL can send data to your computer more frequently which results in immediate response to your presses.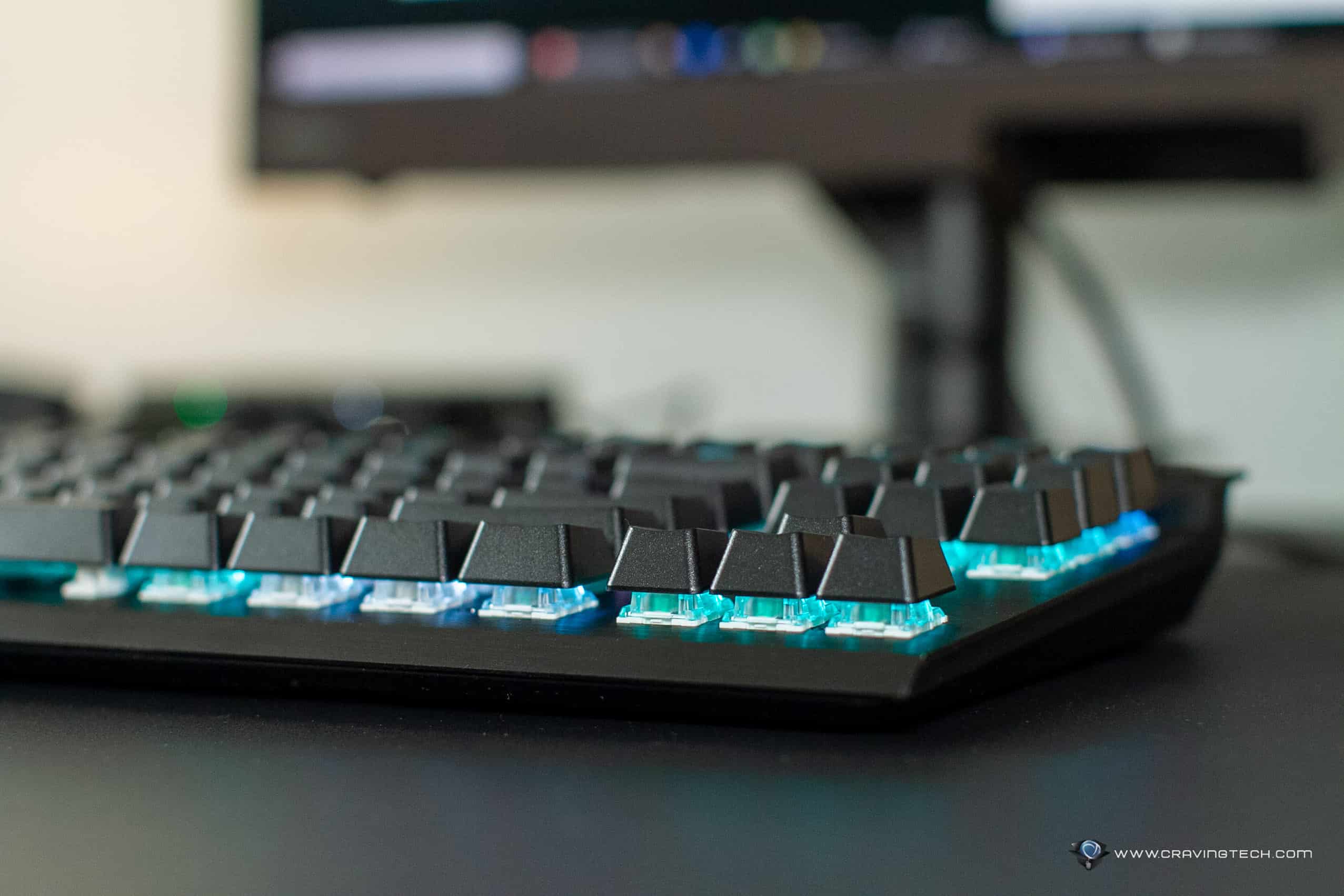 Note that setting the polling rate higher requires more processing power out of your PC and there are definitely debates going on whether it's worth going 8,000Hz. Nevertheless, if your PC can handle it, why not go for the fastest performance possible? While I honestly can't feel the difference between having a 1,000Hz vs 8,000Hz polling rate while I game, you'd want every millisecond and slight advantage you can have (especially if you game competitively).
Speaking of gaming competitively, there is also a dedicated Tournament Mode switch which will disable all the distraction features like backlighting and custom macros. I honestly never felt the need to turn this on and off, but you may do. Should you need to bring the keyboard to a tournament or somewhere to practice, the USB-C cable is also detachable – making it easy to carry the keyboard around in a backpack.
Just like other CORSAIR gaming keyboards, the K70 RGB TKL is customisable via CORSAIR iCUE software.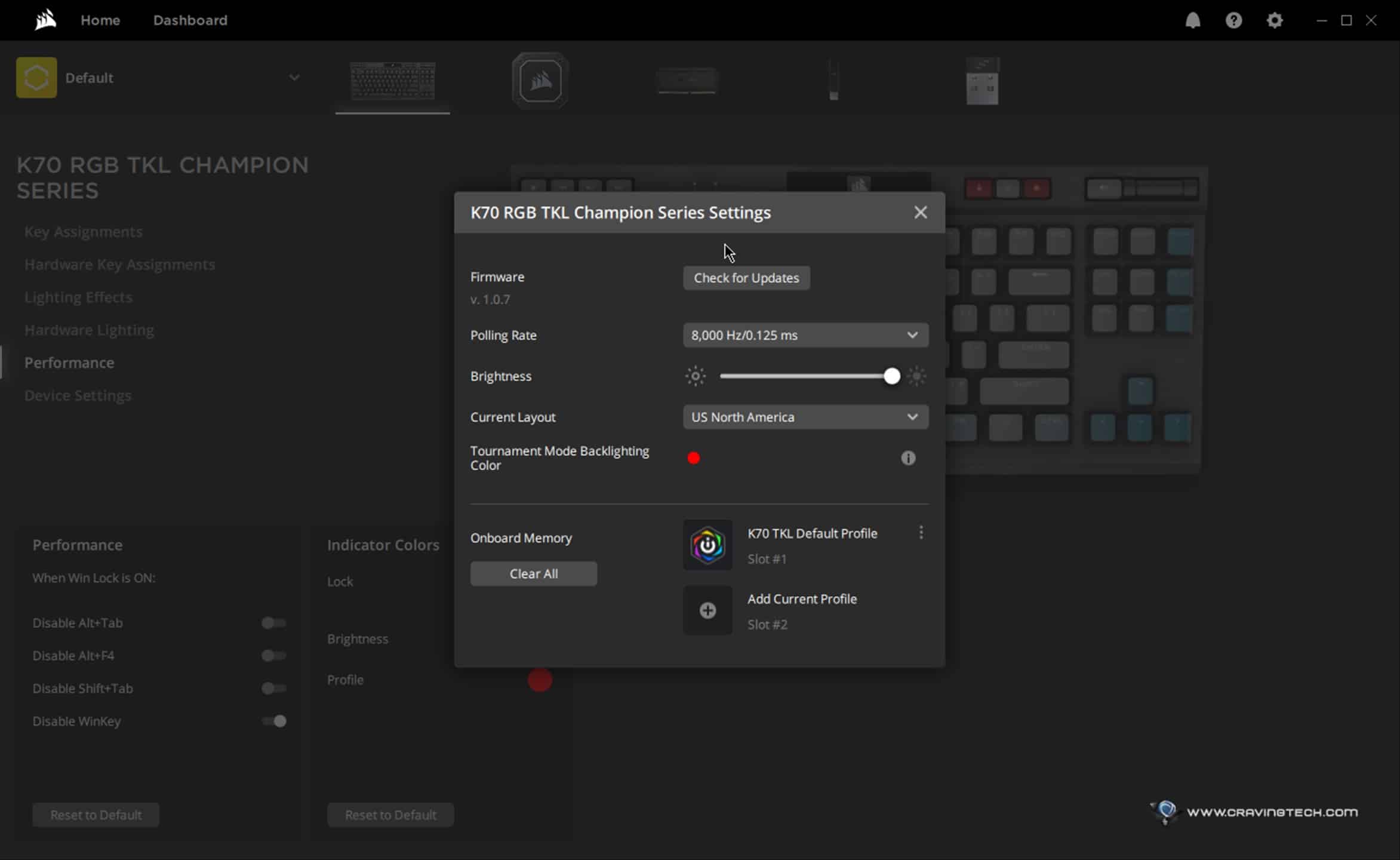 The backlighting is bright enough to be seen in the dark without being too distracting, and you can always adjust its brightness directly through the dedicated button on top of the keyboard.
Keys are well-spaced and my fingers definitely feel like home without the need of any adjustments when typing. If you work a lot with spreadsheets, you may find it hard with the missing numeric pads. But if gaming is your primary activity for the day, the TKL is nice to game on.
It's more compact on the desk and more importantly, it definitely feels more ergonomic because your right hand (that holds the mouse) can lie in a straight angle. This removes fatigue while playing for long hours and more importantly, reduce the chance of having pains and aches to your tendons like tennis elbow.
CORSAIR K70 RGB TKL Review Conclusion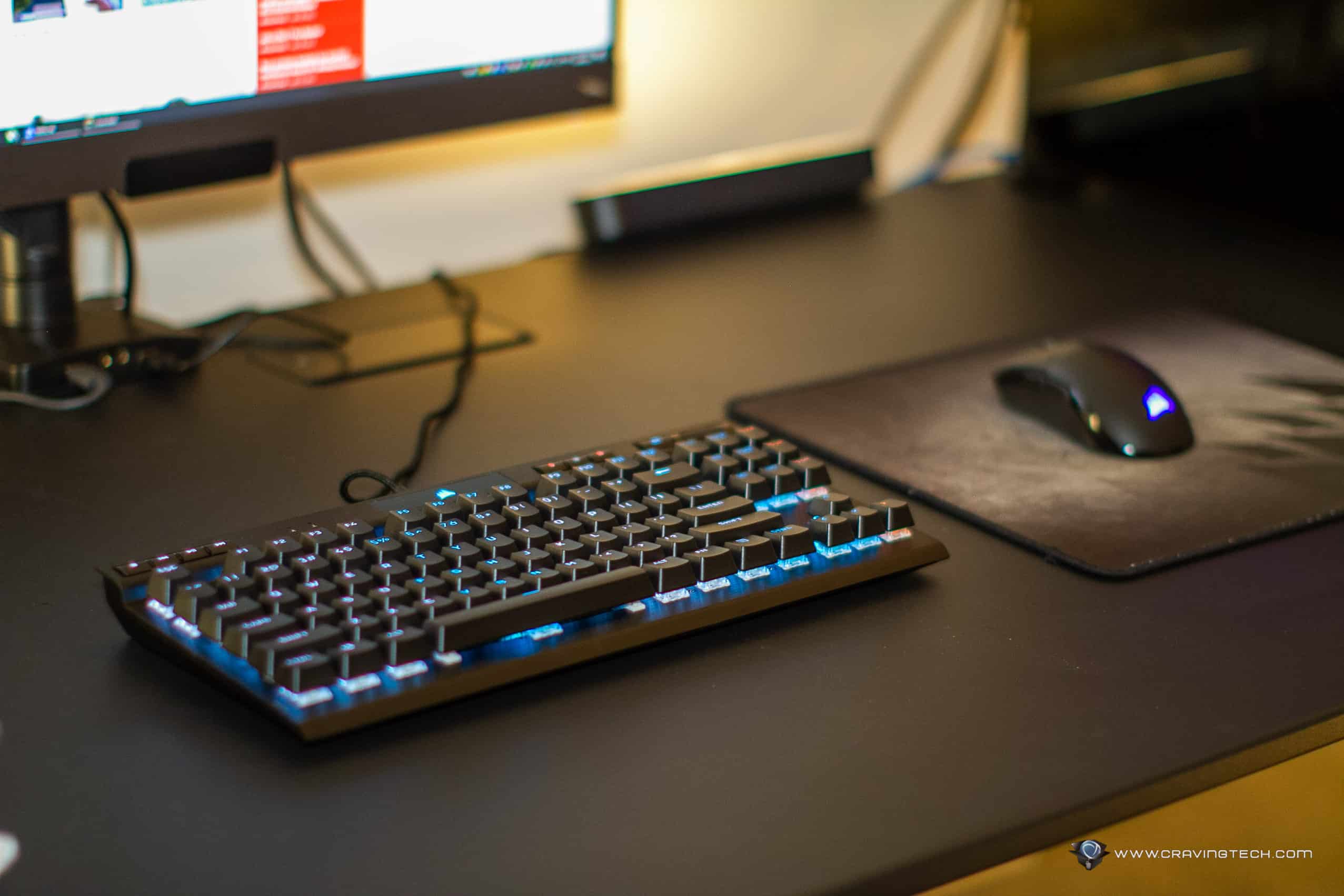 CORSAIR K70 RGB TKL OPX Optical-Mechanical keyboard is an excellent, pro-grade gaming keyboard with durable construction (both the frame and keys), and comes with everything you'd want in a tenkeyless gaming keyboard: more space on the desk, ergonomic gaming, and the crucial controls directly available on the keyboard itself.
It comes with an amazingly fast 8,000Hz polling rate and 1.0mm actuation point optical switches that will give you every bit of advantage you possibly can in the heat of a competitive battle.
When every millimetre and millisecond counts, you can always count on the K70 RGB TKL with OPX Optical-Mechanical switches!
Disclosure: CORSAIR K70 RGB TKL OPX Optical-Mechanical review unit was supplied for reviewing
CORSAIR K70 RGB TKL Review
Summary
The tenkeyless version of CORSAIR's popular mechanical gaming keyboard, now comes with CORSAIR OPX Optical-Mechanical switches
Pros
Durable construction, both frame and switches
Fast actuation and response times with OPX Optical-Mechanical
Up to 8,000Hz polling rate support
Dedicated media controls + a tournament switch button
Detachable cable
RGB backlighting, supports iCUE sync
Cons
Still prefer Cherry MX Silver/Speed switches feel for typing