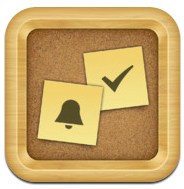 BugMe! for iOS giveaway – Have all the sticky notes lingering around your desktop area? Or perhaps you stick them all around your desktop monitor?
Getting bored of the regular same-old-style reminders on your iPhone or iPad?
Why not try winning a BugMe! license promo code for your iPhone/iPad?
BugMe! Stickies is an app that allows you to hand-write your own notes and reminders. Then, stick them onto the virtual cork board or on your home screen as virtual notes! Of course, you can also customize the colors of the fonts and stickies. Even use your own photos!
You may also read the BugMe! app review that I published back in 2010 to find out more about this app.
To celebrate BugMe!'s 16th year as a mobile app, they have sponsored Craving Tech with 5 BugMe! promo codes that you can redeem on the iTunes App Store! To win yourself a BugMe! app, simply use the widget below to participate in the giveaway. The winners will be chosen by random. All the best, guys!
Terms and Conditions:
Eligibility: Worldwide, except for the state NSW in Australia & if your country does not allow such promotion
Giveaway starts on the 12th of March, 10:30 AM AEST and ends on the 19th of March, 10:30 AM AEST.
The prizes cannot exchanged or redeemed for cash