CM Storm Scout 2 Review – Cooler Master unveiled an updated CM Storm case model, the CM Storm Scout 2. For your information, CM Storm is a brand from Cooler Master that provides a range of enthusiast and performance PC focused products including mouse / mouse pads, keyboards, headsets, and cases. You may know some popular CM Storm cases such CM Storm Scout, Sniper, Stryker, Trooper, and Enforcer.
Today I have a chance to review the CM Storm Scout 2 "Ghost white" edition which comes with a sharp contrast black & white design and two white LED fans in the front.
Updated from the first Scout case design, Mid-tower CM Storm Scout 2 case design now features with a more rounded futuristic theme, an improved and ergonomic steel reinforced carrying handle which is bolted to the core structure, and sporty honeycomb grill on the top and front with a bold stamped CM Storm logo.
The case itself is made from a combination of steel, plastic, and honeycomb mesh grill. Cooler Master has done a tremendous paint job to this case so you hardly notice which part of the case is plastic or metal.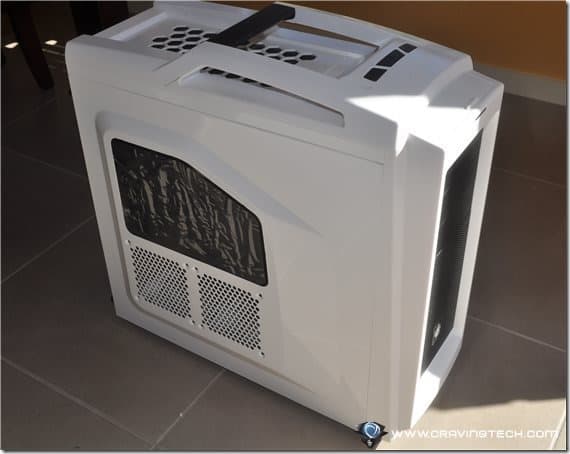 The entire front is covered by metal mesh with a stamp of bold silver CM Storm logo. Above the logo, there are three 5.25" drive bays concealed as metal mesh you can unplug.  You can find a sliding I/O panel on top of the case featuring 2x USB 3.0, 2x USB 2.0 and a pair of audio jacks. The eSATA port is missing, which a little bit shame for my opinion because it was present on the original CM Storm Scout I.
Power, reset and LED light buttons have been shaped to integrate into the top of the case behind the I/O panel.
Going to the top, a well integrated carrying handle, made from reinforced steel and a rubber, molds for easy transportation of the case weighing from 8.56 kgs (empty case) and also depends on what mods you are going to fit in. It is a very handy feature as it helps you move the case around really quick when you are doing a housekeeping and the handle feels really soft on your hand.
Under the center handle is a large honeycomb grill and it makes for a cool visual appearance. The grill is removable and doing so will let you plug a pair of top-mounted 120mm fans which are optional. CM Storm Scout 2 gives you a choice to extend the cooling system capability, so you can go crazy by installing two more 120mm fans on the side of case, 1 more 120mm fans around hard drives cages inside the case, and a 120mm fans near PSU area.
This summarizes that CM Storm Scout 2 can support up to 9 fans for maximum airflow to keep your chassis cool. Again, depending on what your system is, the cooling system from CM Storm Scout 2 can sort of adapt to your cooling requirement and it should also be easy to feed liquid cooling tubes into the case courtesy of the two inch-wide holes in the top rear.
Turning the case around, PSU bay is in the very bottom which becomes a standard for PC cases nowadays. There is a 7 + 1 expansion card configuration, a 120mm fan (already fitted), and we like that CM Storm Scout 2 has provided that extra slot for I/O expansion brackets.
CM Storm Scout 2's internal design is basic for a mid-tower case yet it's well laid out, comes with black interior, and neat cable management feature. Expansion support includes three exposed tool-less 5.25″ bays, seven hidden tool-less 3.5″ bays and two tool-less 2.5″ bays for SSDs since SSD has become really popular.
CM Storm Scout 2 Review – Installation process
Installing Antec 450W 80 PLUS bronze certified PSU in its bottom mounted position was easy and there is an extra space to accommodate a bigger power supply.
Installing the Gigabyte F2A85X-UP4 motherboard is done by traditional ways using the included screws, with the help of a screwdriver. There is enough room around the CPU cooler for a large customized cooler. I'm using a stock cooler from AMD A10 5800K box for this review.
Cooler Master mentions a maximum height of 162 mm of a CPU cooler without the use of side fans. If you do choose to install 120mm cooling units onto the side panel, the maximum size for a CPU cooler is reduced to 147 mm. This means that most 140mm based tower coolers may not fit into the CM Storm Scout 2 so you need to double check your CPU cooler measurement.
DVD-RW drive slipped in effortlessly thanks to the Scout 2's tool-less design. You will need to take the front panel off the chassis to install an optical drive or 5.25" drive. However, this part is attached firmly onto the case that I had to spend quite a bit of force to make it come off. Once the panel is off, open the 5.25″ bay lock mechanism and slide in the drive. Make sure to flip the lever back on the locking mechanism, which then triggers the pins to hold the optical drive in place.
Installing WD Caviar Green 1TB hard drive is a piece of cake, simply use the included rails which do not require any tools. Placing a 2.5″ SSD also follows similar process but there is a need to use screws to secure it properly which means you are going to need a screwdriver. Once the drive is fasten on included rails, slide them into the bay until they snap into the place.
Unfortunately I can't comment on the graphic card space on this review as I used an AMD A10 APU to test (which is basically all in one CPU with graphic capability). However, Cooler Master claims that it can accommodate a graphic card up to 287 mm in length and a capability to remove an HDD cage to accommodate a longer high-end graphic cards (up to 399 mm).
CM Storm Scout 2 has done an excellent job with the cable management setup. The case provides plenty of space behind the motherboard tray for excess wires. I had no trouble getting the panel back on despite the mass of wires behind it.
CM Storm Scout 2 Review – Conclusion
Cooler Master has spent good effort to update and improve its original product design.
CM Storm Scout 2's well painted case and fine moldings make a considerable option for PC enthusiasts. CM Storm Scout 2 offers USB 3.0 ports feature on the top hidden sliding panel, a slightly better internal design, easy transportation thanks to its solid handle, and a choice to improve its cooling system to adapt PC enthusiast requirements.
For 90 ~ 100 AUD, there's no denying that the CM Storm Scout 2 is an affordable high-quality mid-tower chassis.
Note: CM Storm Scout 2 review sample was provided for the review