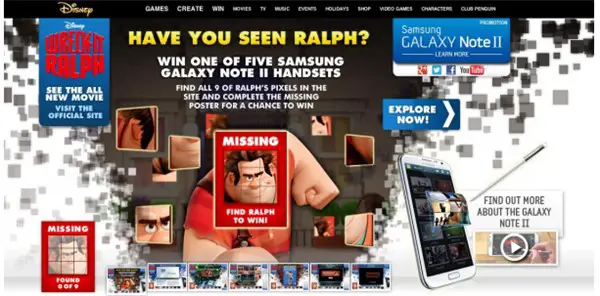 Disney is about to release their newest movie, Wreck-It Ralph, as their 52nd animated feature in the Walt Disney Animated Classic Series. I saw the Wreck-It Ralph trailer some weeks ago and definitely looking forward to watch it on the big screen.  The executive producer, John Lasseter, was the director of Toy Story and A Bug's Life, which I loved a lot back in the days.
To help in celebrating the upcoming Wreck-it Ralph, Disney is having a competition called "Find Ralph" where you can win one of the five Samsung Galaxy Note II smartphones (and some goodie bags) by playing a mini game of finding the pixels on the competition site . Find out more about Samsung Galaxy Note II or read my Galaxy Note II review post.
Samsung Galaxy Note II is a beast phone with a huge 5.5″ HD Super AMOLED screen, fast performance, and also features a stylus, S Pen, where you can visualise ideas, jot down quick notes, and do more fun stuffs on your phone.
If you are an animator like Bill Schwab (a Disney animator), you can have lots of fun drawing with the Note II.
The video below shows Bill Schwab taking the S Pen on the Note II and teaches how to draw Ralph from Wreck-It Ralph. With different pen styles and colors, you can also draw your own Ralph by following his example on your own Note II, if you already have one.
Check out the video below:

Note: Post sponsored by Samsung