Bitdefender Total Security 2013 Review – Every year, Bitdefender releases an update to their Total Security suite software with new upgrades, modules, and interface design. Their latest update, the Bitdefender Total Security 2013 that I'm reviewing here is no different.
The interface looks better, simpler, and there are tons of new features to explore and run on, assuming you are up for it.
Bitdefender Total Security 2013 Review – Installation
Installation is pretty straight forward. You will not be bombarded and discouraged with plenty of options to choose from to keep it seamless.
Bitdefender Total Security 2013 Review – Features
The dashboard gives you a quick glance about the status of your system and also access to all of Bitdefender Total Security 2013 modules. You can quickly turn a module off/on from the Dashboard, rearrange them, or customise further (if you are a power user). By defaults though, the settings are good as they are – not to annoy you in every little thing that you do, but protect you from most common issues silently.
Bitdefender Total Security 2013 Review – Antivirus
I have to be honest that there is no way for me to be able to review and discuss each feature to you one by one. There are just too many and Bitdefender Total Security 2013 does not just offer an antivirus as you may have thought. I'm somewhat sure though, that some bought Bitdefender Total Security suite for its well-known antivirus protection, which is not entirely wrong.
You can perform a few different scans directly from the Dashboard (Quick, Full, etc):
Bitdefender will also protect your inbox as emails come along: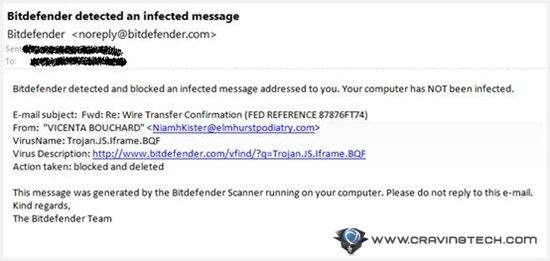 Bitdefender Total Security 2013 Review – Safepay
A new feature in the 2013 suite, the Safepay, will open a separate, secure browser session when you are banking online. This will isolate you from the rest of your browser sessions, protecting you from malicious attempts to steal your credentials. This feature will automatically come in play when you go to a known banking website by popping up a window to start Safepay.
Bitdefender Total Security 2013 Review – Link Safety Checker
Sometimes, you see an interesting link shared by your friend on Facebook or Twitter. Curiously, you click on the link to read more about it. The problem is, are you sure it's genuinely shared by your friend? Or perhaps he/she has been hacked? (which happens too often, believe me). Unknowingly, you have let a serious threat to be executed on your computer by clicking on that link (running a malicious script).
Well, Bitdefender has a solution for that problem by checking the safety of each link you see on Facebook, Twitter, or Google results before you have the chance to click on it.
The problem, however, is whether the "unsafe" stamp given by Bitdefender is real. I mean, I've seen some red crosses on links which I assume are safe so far (or maybe my assumptions were wrong?). Nevertheless, it should give you a good indication whether to think twice before you click on a link.
Bitdefender Total Security 2013 Review – Device Anti-Theft
Once you have the Bitdefender Total Security 2013 installed in your computer and assuming it's connected to the internet, you can login to Bitdefender website to locate your stolen computer (or if you lost it).
Not just that, you can even remotely lock or wipe it out to protect your privacy or sensitive documents!
The location is quite accurate (you can view the map of where your device is – also works with a desktop computer), though I didn't dare to click on the "Wipe" button when I tested this feature. There are just too much important stuffs in this computer to be wiped for the purpose of this review, oops.
Bitdefender Total Security 2013 Review – Other features
There are tons of other features that I haven't mentioned here: antispam, configurable firewall, antiphishing, file encryption, USB immunizer, and even a registry cleaner. Not to mention the other "smaller" features that make you smile because you realise that you've got more than you've spent on this security software.
How to get free Bitdefender Total Security 2013 licenses

In collaboration with Bitdefender Australia, Craving Tech has been sponsored 5 licenses of Bitdefender Total Security 2013 worth $104.95 each (for 1 PC, for 1 year – 5 licenses are worth $524.75 in total) to be given away! That's a year full of protection and safety measures for free, folks! You shouldn't miss this chance!
How to participate and win:
Use the widget below to gain entries/points. Keep sharing this post and you'll get 1 entry per visitor who comes here from your link.
MUST post a comment "I want my protection, Mike!" with your name and email address so I know how to contact you if you win.
FIVE winners with the highest entries/points will win the 5 licenses. So don't stop sharing to secure your place in this competition before the contest is closed!
Full terms and conditions:
Eligibility: Worldwide
Giveaway opens from 18th of July 2012, 10 p.m AEST and closes on the 8th of August 2012, 10 p.m AEST
Prizes cannot be exchanged for cash.