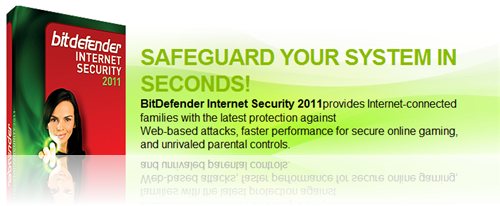 According to BitDefender, its BitDefender Internet Security 2011 managed to block 100% of all mailicious URLs in AV-Test Real World Test. It's one of the proofs that BitDefender Internet Security is one of the most leading security package out there.
Stay tuned as there might be a chance for you to win a license of this awesome software soon at Craving Tech.
BitDefender Internet Security 2011 Blocks 100 Percent of Malicious URLs
BitDefender detected all pieces of malware in recent Real World Test by independent security firm AV-Test.org
BUCHAREST, Romania – February 24, 2011 –  BitDefender Internet Security 2011 blocked 100 percent of the malicious URLS in AV-Test's recent Real World Test, according to BitDefender®, an award-winning provider of innovative internet security solutions. The Real World Test — conducted monthly by AV-Test.org — measures product performance as seen by the user.
The Real World Test, which was performed during January 2011, used Windows 7 as the test platform. BitDefender Internet Security blocked 100-percent of the malicious URLs in the test, which mimics actual user behavior. The links are accessed using a browser where malware is allowed to execute — unless it is blocked by the AV product.
"These Real World Tests provide users with a valuable perspective on the protection BitDefender provides, as it is based on actual user behavior," said Viorel Canja, Head of AntiMalware Labs at BitDefender. "This test is a reassurance to our users that BitDefender is an effective proactive security solution."
Earlier this month, BitDefender Internet Security Suite 2011 received the AV-Test Certification for their 2010 fourth quarter tests. BitDefender earned high marks for protecting against malware infections, cleaning and repairing malware-infested computers, and usability.
AV-Test is one of the worldwide leading providers of test scenarios analyzing effectiveness, behavior and speed of IT-security solutions.