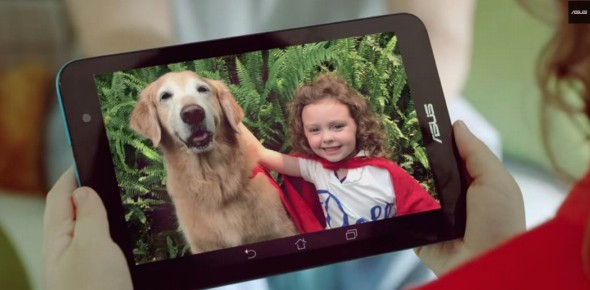 I love my 27″ monitor at home with IPS (In-Place Switching) Display technology. It offers wide viewing angles so that what you see on screen remains sharp and clear, even when you are looking from a somewhat awkward position.
ASUS MeMo Pad 7, launching mid-June by ASUS, is a tablet powered by IPS technology, offering 170 degrees wide viewing angles with 1280×800 screen resolution.
It comes in 5 different colors to suit your style and preference: white, pink, green, blue, and gray. Powered by the brand new ZenUI (which looks gorgeous) on top of Android 4.4 KitKat, the MeMo Pad 7 is a beauty to behold and interact with.
At around 302 grams in weight, the MeMo Pad 7 can be carried around rather comfortably around the house or even as a portable navigation device while you travel. It has around 10 hours of battery life which should last long enough until you find a charging point.
For entertainment purposes, ASUS MeMo Pad 7 can be used for gaming or movies watching. Powered by 64-bit CPU Intel Atom quad-core processor SonicMaster audio technology (plus high-quality dual speakers on the 16GB model), the MeMo Pad 7 should be a force to be reckoned with.
Sure, it has a 5 Megapixel rear camera and 2 Megapixel front camera to take pictures, but I'm not a fond of taking pictures with my tablet. Some people do, however, so at least the cameras are there should you want to do that.
This little girl seems to be happy with the MeMo Pad 7 and thinks that the tablet brings magic to her family. Check the video below:
Disclosure: This post has been sponsored by ASUS, but all thoughts are my own.