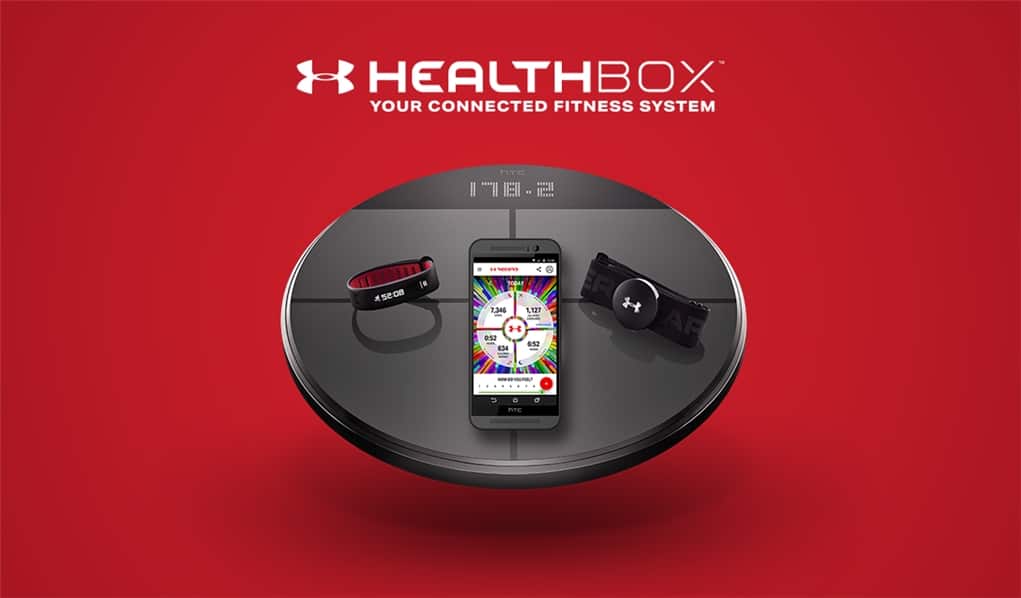 UA HealthBox Review – If you are in on the latest trend in active lifestyle then you probably would have heard that Under Armour has recently partnered with HTC to give us a suite of connected systems to track fitness and health called the UA HealthBox.
UA HealthBox consists of three physical devices: UA Band, UA Heart Rate and UA Scale. Each of these devices tracks different aspect(s) of your fitness and health and syncs its data to a mobile app called UA Record to be compiled together and analysed for a collated representation of the state of your fitness and health on a daily basis. This allows you to monitor progress toward your fitness or health goals.
Upon hearing about the offer to review this unit, and after looking at the UA HealthBox webpage, I was quite excited. I myself have been using Under Armour's MyFitnessPal app to track my macronutrients intake and tracking weight for the past 6 months and have been successful at losing 11kg in 189 days.
Because UA Record also integrates with MyFitnessPal and provide progress tracking in other aspects of my fitness and health such as sleep, resting heart rate, body fat percentage, and workouts, I was even more eager to try it out because all of these other aspects do contribute to your overall fitness. A well-rested body that is fed with well-balanced diet will perform better during high-demand workouts, allowing you to progress toward a fitter and healthier you.
Initial impressions
I was quite surprised when the package arrived because it was so big! As I opened the box, I can see why it was so big. UA had provided layers after layers of boxes and forms to protect the product.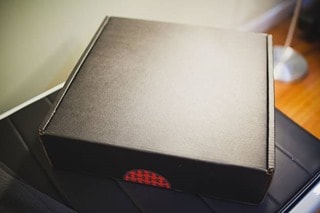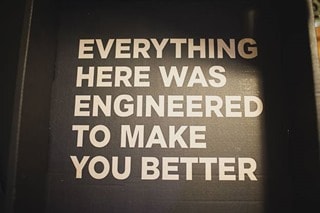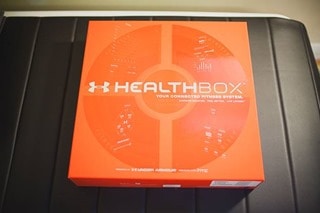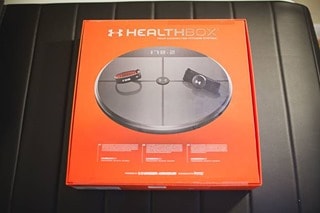 I have to say the box UA HealthBox comes in looks pretty sweet with its almost orange bright red colour.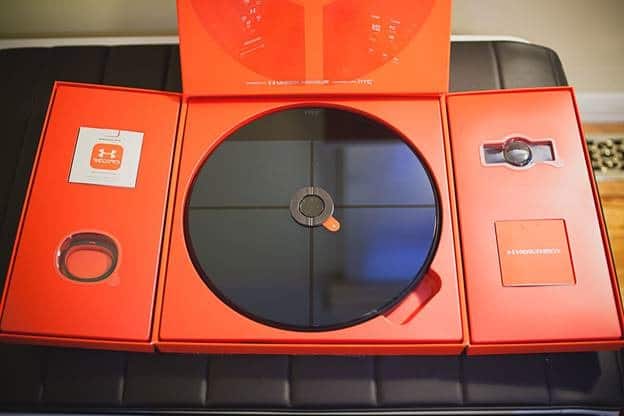 Opened up, you get the devices beautifully presented. As I inspect each of the devices, I can say that they are definitely designed well with stylish minimalist look that I personally like, and they don't feel flimsy but solidly built with a sense of understated ruggedness.
I have now used the suite of devices for almost three weeks and can discuss some findings of my experience with them.
Initial Set Up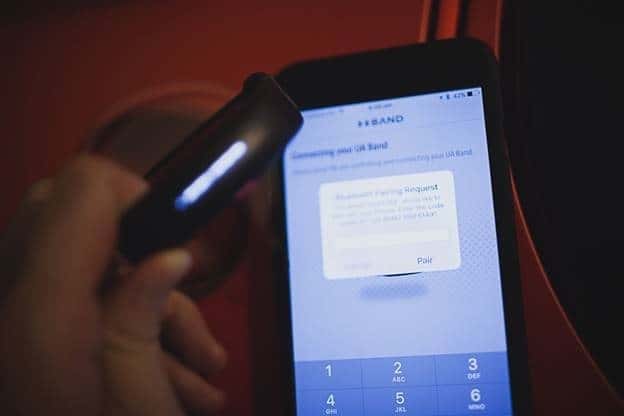 The initial set up was quite a breeze for me. I searched for "UA Record" in the App Store, installed it, created an account, logged in and just followed the set up steps. All of the devices were paired-up easily.
Let's now take a look at each of these devices, in the order of how often you do use them: UA Heart Rate, UA Scale and UA Band.
UA Heart Rate Review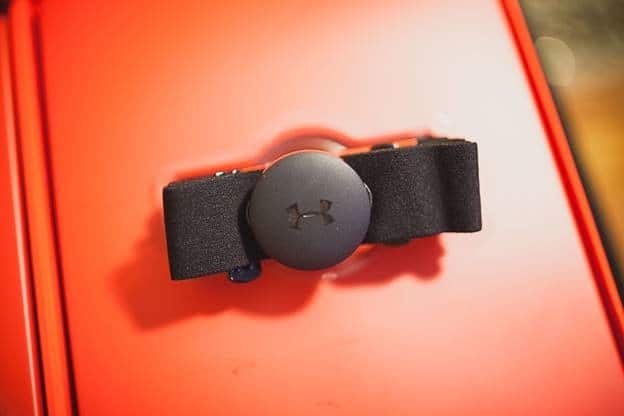 The UA Heart Rate is a device that helps you track your heart rate during a workout. The device is well built evidenced with a firm and secure "click" when you attach the Heart Rate unit to the band that wraps around just under your chest. For me, it feels a tiny bit thicker than what I'm used to. Previously, I have used a Heart Rate monitor from another brand when I was really into cycling last year. The extra thickness, however, is mostly not a problem for my workouts except for when I have to lay chest down on the floor when stretching my pectorals where the extra thickness slightly digs into my mid-diaphragm. The band is adjustable so it should fit most people. However, it is probably a good idea to wet the band slightly when you wear it so that it doesn't slide down (or up) and stay in its place – a slightly tighter fit would also help. In either case, you are supposed to wet the two areas of contact on the band to ensure a better reading of your heart rate.
To turn on, you can place your fingers on the two areas of contact on the band, and you will get a cool flashing blue light on the front logo to tell you it's on. There is no way to turn it off immediately except for leaving it unused so that it doesn't detect any pulses and turns off by itself after a specific length of time.
The idea of using this Heart Rate monitor is that upon starting the workout, you select a workout mode from your UA Band, and then it will try to search and pair up with the UA Heart Rate (assuming it's already on). Once all connected, it will keep track of your heart rate over time and record the workout session. Once you're done the UA Band will then sync the data to UA Record so you can analyse the calories burnt and the intensity by looking at your heart rate.
Furthermore, the UA Band has a LED indicator light to indicate which zone your heart rate is currently in, in relation to your max heart rate:
| | |
| --- | --- |
| LED color | Heart rate zone |
| Blue | Low/resting heart rate (50-59% of max) |
| Green | Light (60-69% of max) |
| Yellow | Moderate (70-79% of max) |
| Orange | Vigorous (80-89% of max) |
| Red | Peak heart rate (90-100% of max) |
How is this useful? I first noticed this when I was doing heavy bench press sets. Every time I finished the set, my heart would be racing and the indicator LED will show up red. As I rest between the sets, the indicator would turn orange and then yellow letting me know that I am ready to begin the next set. I do believe this is one of the most useful features of this connected fitness system because it helps me control the intensity I am looking for in my workouts.
After around two weeks of using the UA Heart Rate, however, I encountered a bit of a problem. When I put it on before a workout, I could see that the blue LED lights up on the UA Heart Rate indicating that it's on. Then, after warm ups, as I select the workout mode on the UA Band and wait for it to connect, and wait.. and it does not connect. After a minute or two I gave up and just proceeded the workout without the UA Heart Rate. This happened on two workouts and I began to think that it was the battery was flat, and was disappointed because anyone would expect a longer battery life.
As it turns out, it was not because of a flat battery! What happened was at the end of the second week I had paired up the UA Heart Rate to my iPhone so my iPhone remembers it as a device. Subsequently when I wore the UA Heart Rate and it turned on, it would connect to my iPhone because I had not selected the workout mode from the UA Band, which initiates connection to the UA Heart Rate. As I found out, once the UA Heart Rate is connected to the iPhone, then it cannot get paired up with the UA Band until you disconnect it from the iPhone. So it was not because of flat battery after all! Hurray! After finding this out, I had set my iPhone to forget the UA Heart Rate so it does not connect automatically, and it had no problem pairing up with the UA Band on my next workout!
UA Scale Review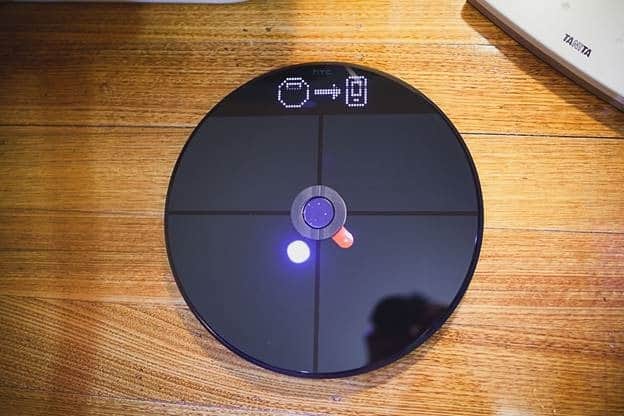 The first impression when I saw UA Scale was: "Oooh shiny!" It certainly looks really cool! However, I just knew that it won't stay shiny forever. After using it for two weeks, I can see dust starting to very noticeably accumulate on it, so you will need to regularly wipe it clean to keep it shiny and not gross.
Set up, as I have quickly gone over, was a breeze. As soon as you pull out the battery seal tag and it turns on, it would go into discovery mode and displays the graphics you see above. On UA Record it would then asks you to confirm that you are trying to pair UA Scale.
On the feature list this scale does not only measure your weight, but also takes a measure of your body fat percentage. Other than that, it also can auto-recognise who is stepping on up to 8 users with the ability to manually select a person. To top it off, the UA Scale is also wifi-enabled and after each weight and body fat percentage measurement it will sync the data to the UA Record app, so you don't have to manually log those numbers.
Now, in the past seven months I have been tracking my weight using my old scale (see top right of the frame in the picture above) by stepping up on the scale first thing in the morning, and logging my weight in UA's MyFitnessPal app. My old scale does not take body fat percentage measurement, and every single morning I would step off and step on the scale consecutively for a total of at least three times to make sure that the scale is consistently returning the same number. When I weigh myself on the UA Scale and compared it to weighing on my old scale, I found the UA Scale usually displays a heavier weight by somewhere between 0.6-0.8kg. On some days it will show 0.6kg more than my old scale, and on other days 0.7kg or 0.8kg more.
Furthermore, as I step on it consecutively it would sometimes return different weight. This is slightly annoying for me, not because it's saying I'm heavier, but because of its consistency in measuring my weight, which means that I cannot afford to fully trust the UA Scale yet. I have read other reviews and they all have this inconsistency issue initially but gradually will level out and be more precise. I certainly hope for the same in my case so I don't have to manually enter my weight again.
Just a bit of tips for those who are just starting to track weight: your weight will fluctuate up and down every single day – this can be due to water retention in your body, which may be due to the amount of sodium you have consumed in the last 24 hours. Thus, what you should really look for is the trend of the weight loss or weight gain over the weeks.
Other than measuring weight, the UA Scale also measures body fat percentage. However, body fat percentage is very tricky to measure. Simply passing a safe and very low electric current through your body can only give a rough estimate of body fat percentage. The idea behind it is that the electric current travels more quickly in water and muscle than bone or fat, so the scale effectively measures the speed of the current. The accuracy of this is very low and can be affected by how well hydrated you are, by any body movements while In addition, body fat percentage does not change as easily as weight — your body fat percentage will not change more than 1% overnight.
When I let UA Scale measure my body fat percentage, apparently it can drop from 14% down to 10% in one day! Also, similar to the inconsistency in telling my weight, consecutive measurements of body fat percentage also showed me that I went from 14.3% body fat down to 13.2% in a matter of seconds. So, in terms of body fat percentage measurements, just take the numbers as indicative of the range you are in, they are not meant to be accurate representation. Another thing you can do is take an average of a week's measurements and take note of the trend over several weeks as an indication of progress. In this sense, this is better than no measurements at all!
UA Band Review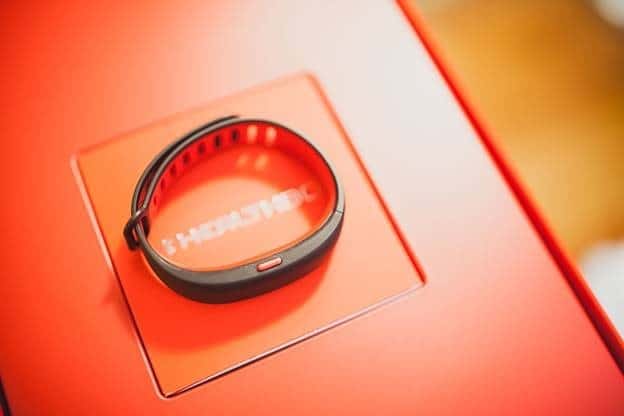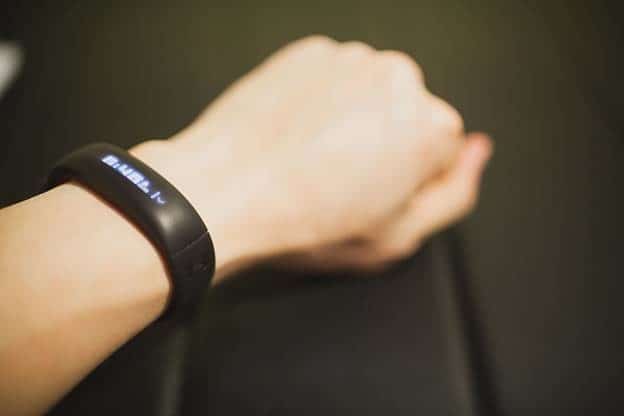 The UA Band has a good simple minimalist design, with only one button and a nice touch-swipe display. It has a slim profile and won't get in the way of your movements, and is lightweight so it won't weigh your arm down. The touch-swipe is quite responsive and is easy to operate too.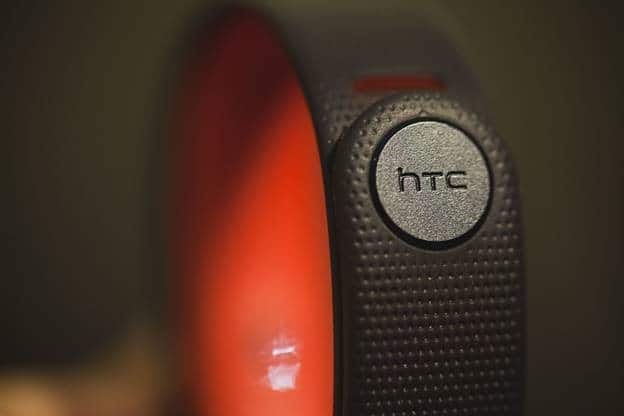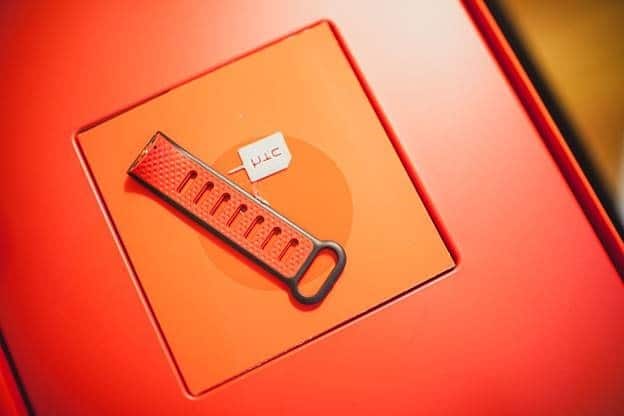 If your wrist is on the smaller size, a shorter strap option is provided so you can ensure a good fit on your wrist.
Charging is made easy with magnetic contacts and it charges very quickly in under an hour for about 3 days of normal use in my experience before I have to charge the band again. The band will vibrate to notify you if the battery is low at 15% and 5% charge left. The UA Band is water resistant but should not be submerged in water. This means I can actually wear it to shower but I usually would just use my shower time to charge the band. However, the UA Band comes with its own proprietary charging interface and not use the more commonly found micro USB interface. This means if you left the charging cable at home and went out in the morning with less than 25% battery charge left, and won't return home until late at night, you would have almost no chance of charging it throughout the day (unless you meet someone else who also wears UA Band and has brought their charging cable with them).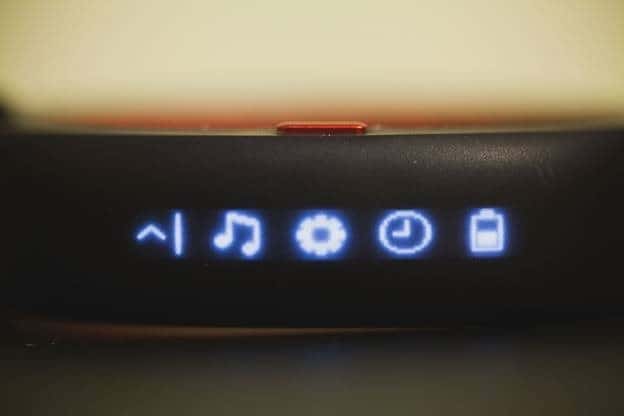 The UA Band has quite a number of features including a watch with alarm, timer, and stopwatch. It also has a set of music controls but sadly only controls music on the Music App on my iPhone and won't control the music on my Spotify App.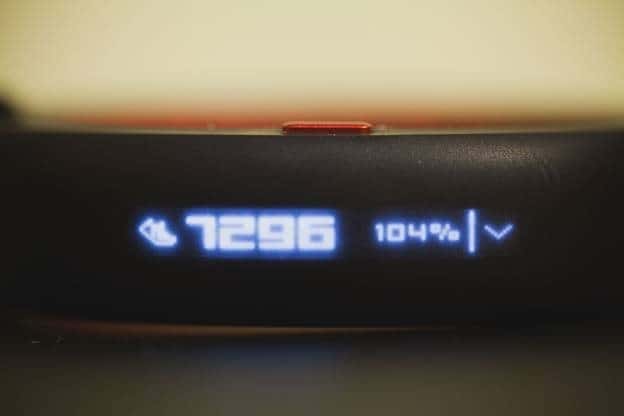 Tracking activity or number of steps is automatic and resets automatically at midnight. The data will then periodically be synced to UA Records so you can see number of steps you have taken on a daily basis.
The Band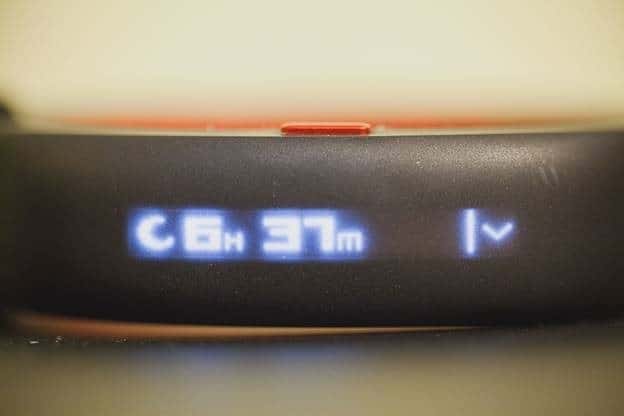 Another useful feature is automatic sleep tracking. By default this has been enabled and will detect when you start sleeping and also automatically detect when you wake up. It can capture phases of your light sleep, deep sleep (REM), and moments you're awake. All of these data will get synced to UA Records so you can review how well you are sleeping and make changes accordingly to ensure a better quality of sleep because it has been well known that good quality sleep is essential to maintaining a healthy body and a healthy mind.
The band also allows you to measure your heart rate. This is enabled when you select the Heart Rate mode, but while it is reading your heart rate, you'll need to be quite still and make sure that the optical heart rate reader on the underside of the band is in contact with the skin on your wrist. Also, I notice in the Sleep tracking information screen on the UA Record app that it also detects and records your resting heart rate. As a general rule, an average resting heart rate of 68-80 is considered healthy, but for athletes and those who perform cardiovascular activities often, this number can be lower and be closer to 40.
You will also have the option to enable notifications from your phone to be pushed to the UA Band. When you have it enabled, the UA Band will vibrate when someone is calling your phone and will show who is calling. It can also vibrate when you receive a text message and show a preview of the text you've just received. This is quite useful!
As I have mentioned above, one of the most useful features with the UA Band is the workout modes. You can choose from the default modes: Run, Cycle, Gym, and Walk. The 'Walk' option can be customised to other modes like Yoga, Class, Sports, Golf, Basketball, Baseball, and General Workout through the UA Record app. When you wear the UA Heart Rate together with the UA Band on a workout session, the system enables you to record accurate heart rates throughout the duration of your workout.
UA Record
The UA Record app is the place where all the data captured on all three devices are collated and compiled into easily digestible data for you to track your health and fitness progress. Here are some screenshots of the app as I have used them.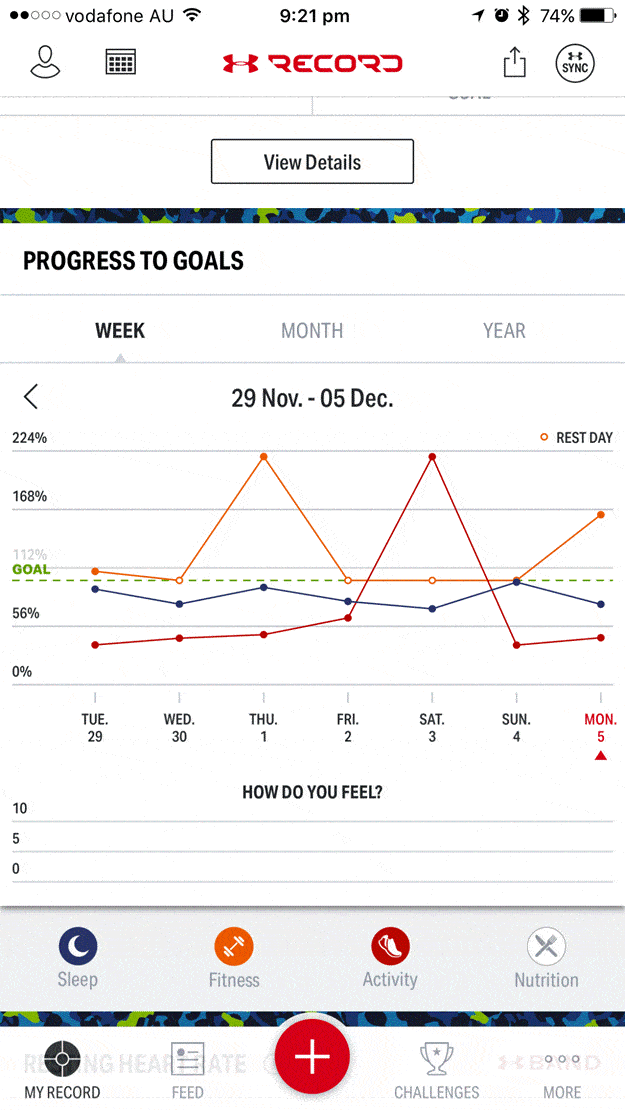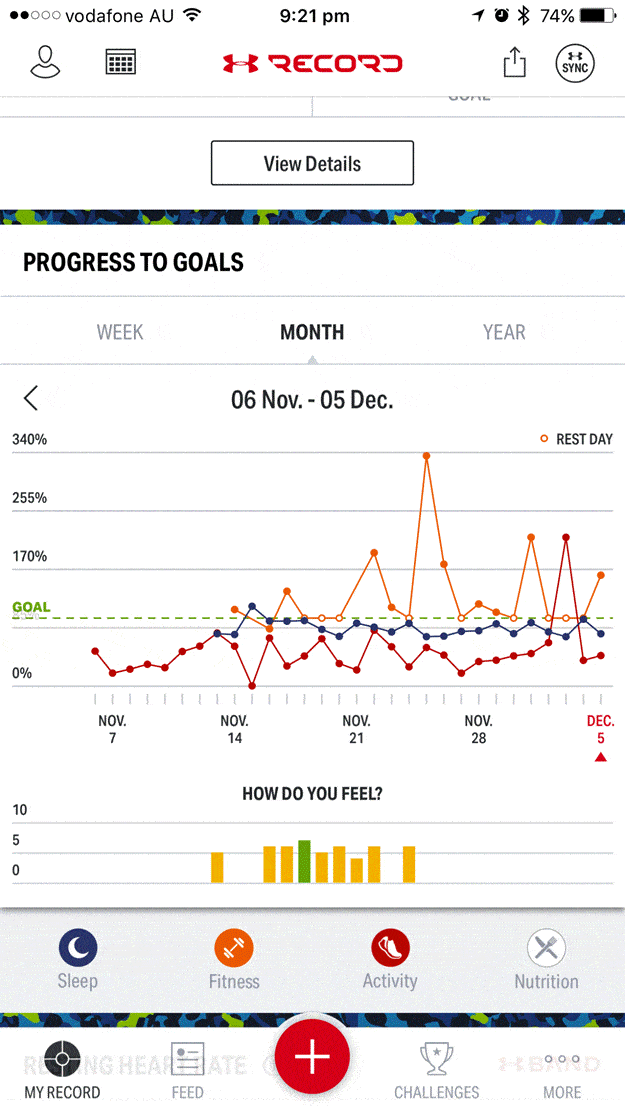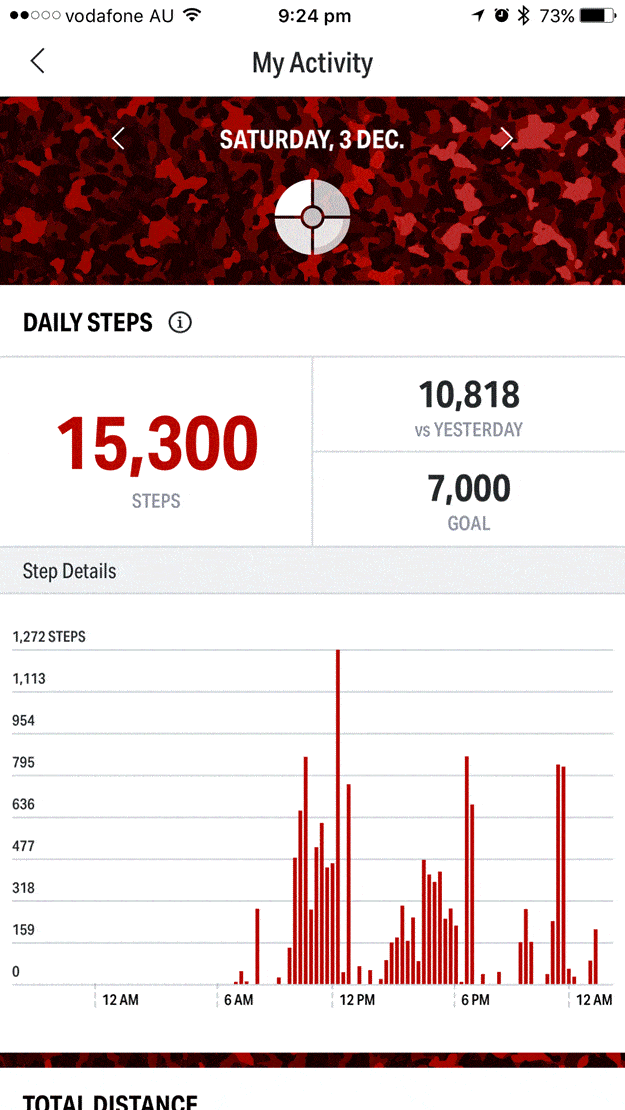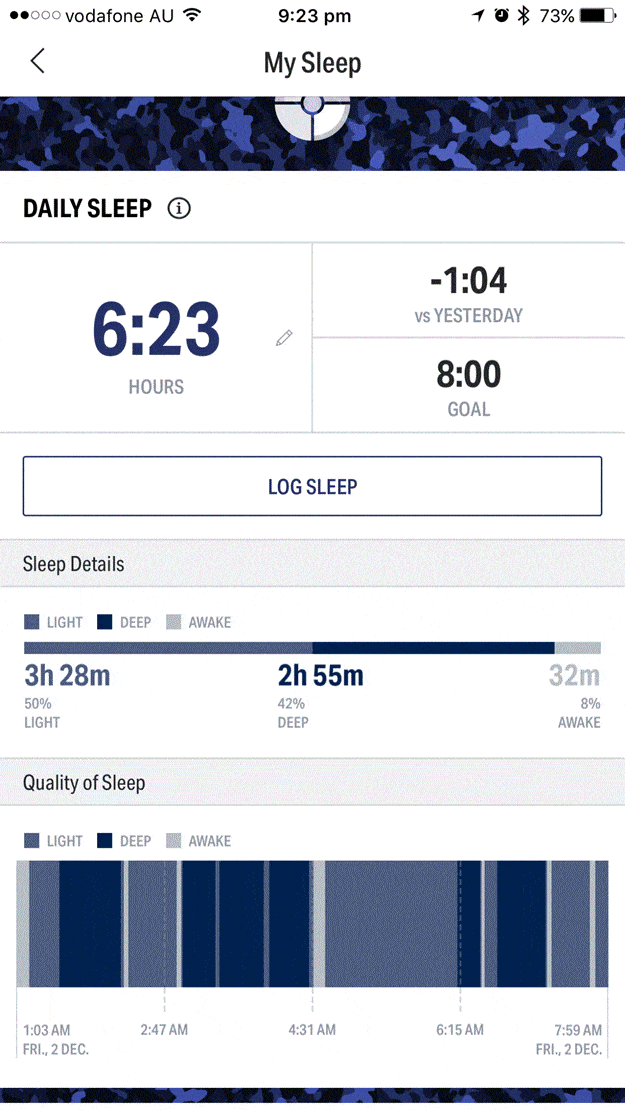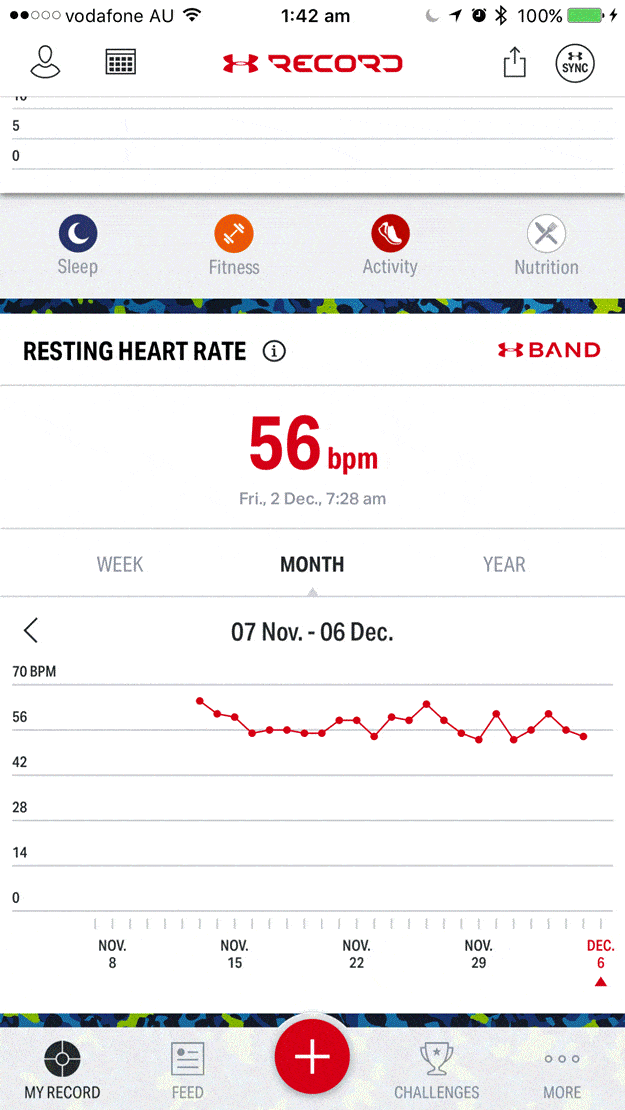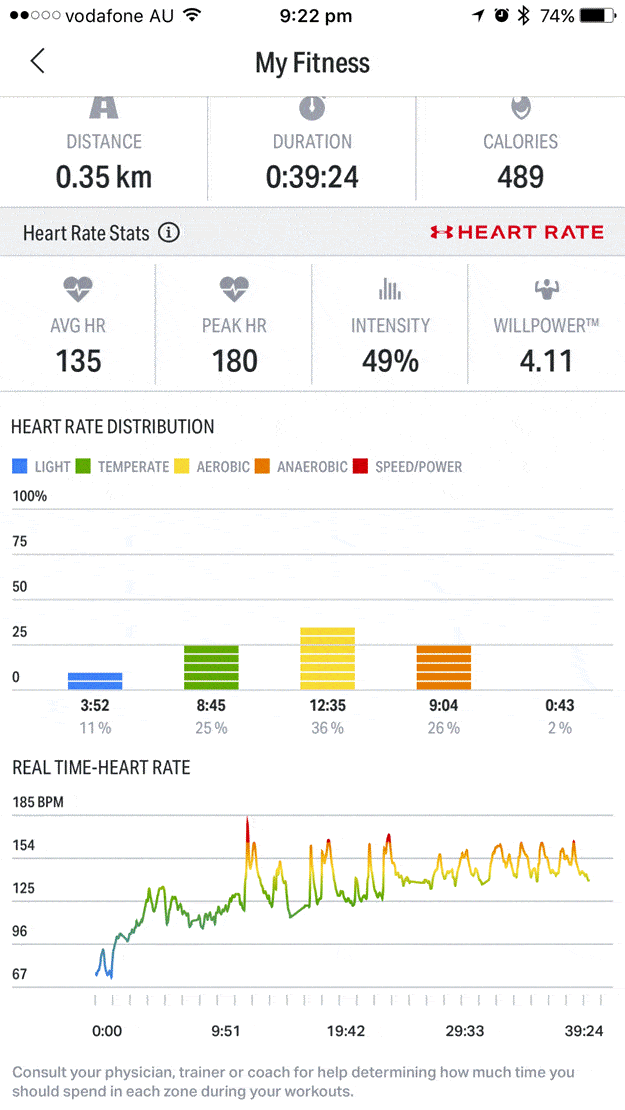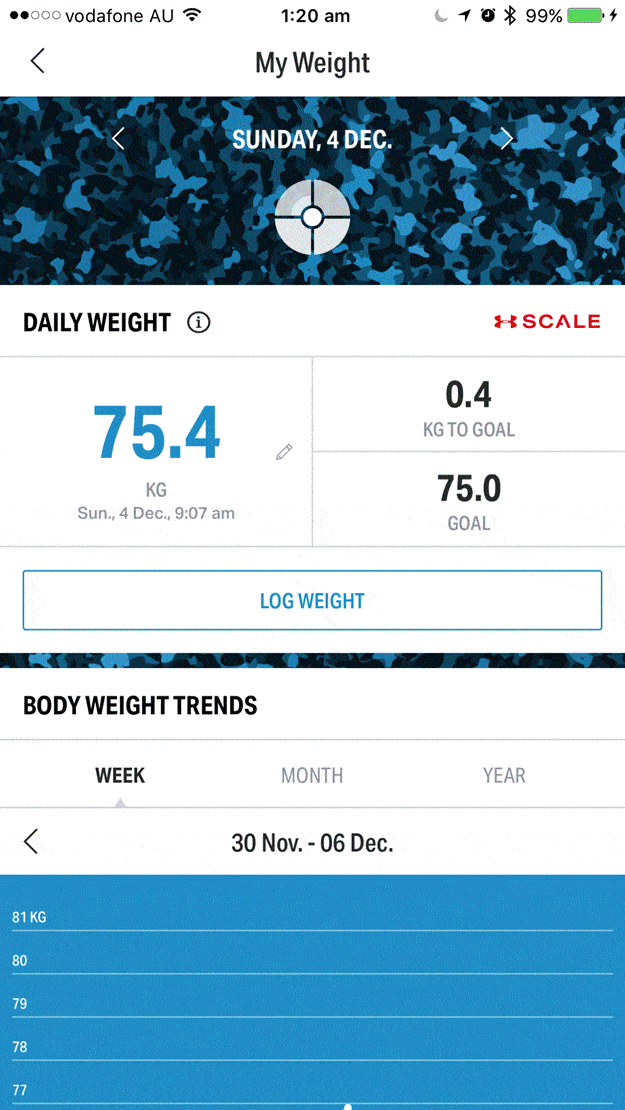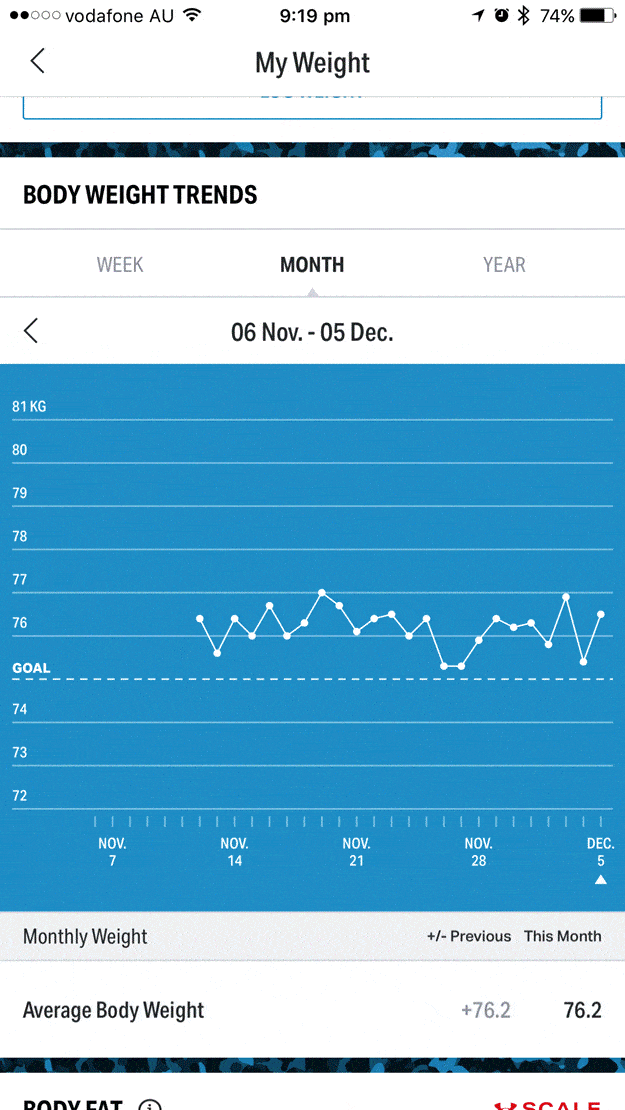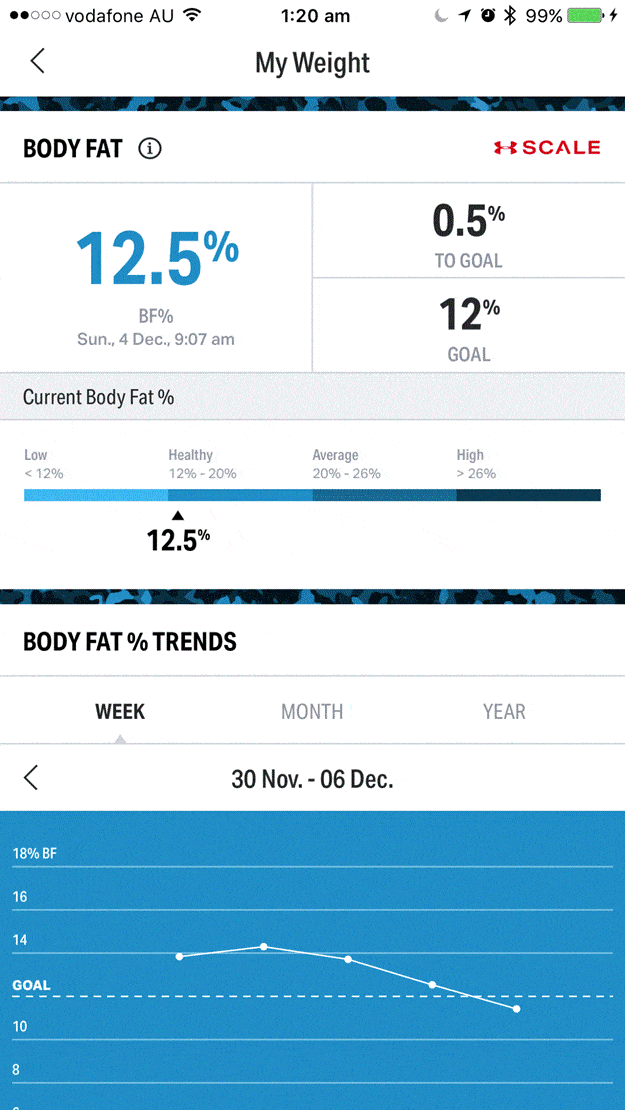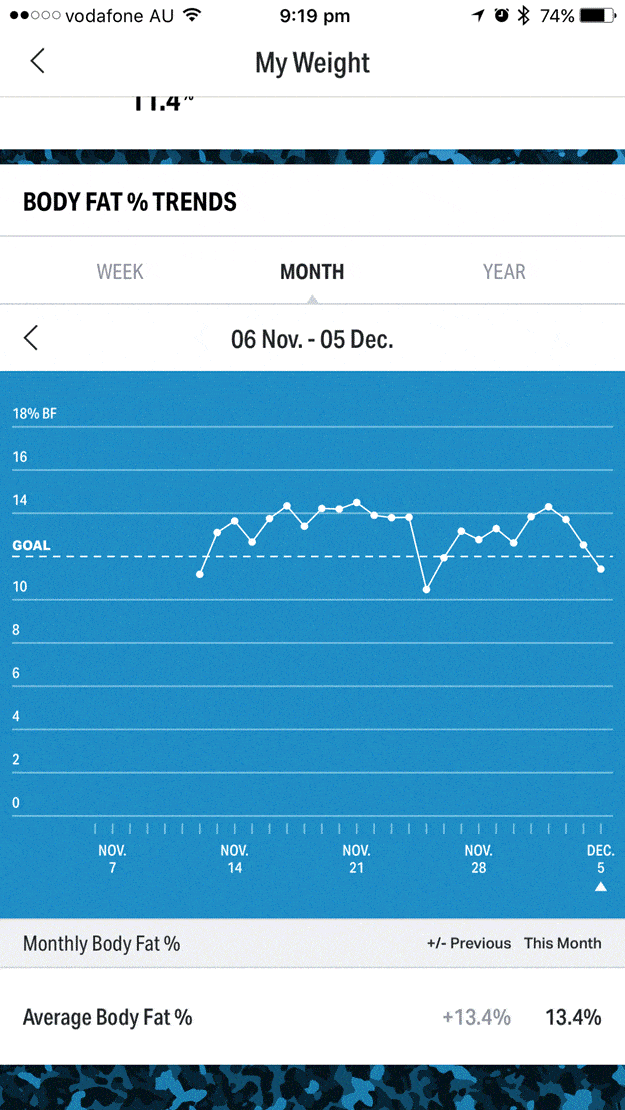 So if you're drawn to statistics and data visualisation, you'll probably really like this app.
UA HealthBox Review – Conclusion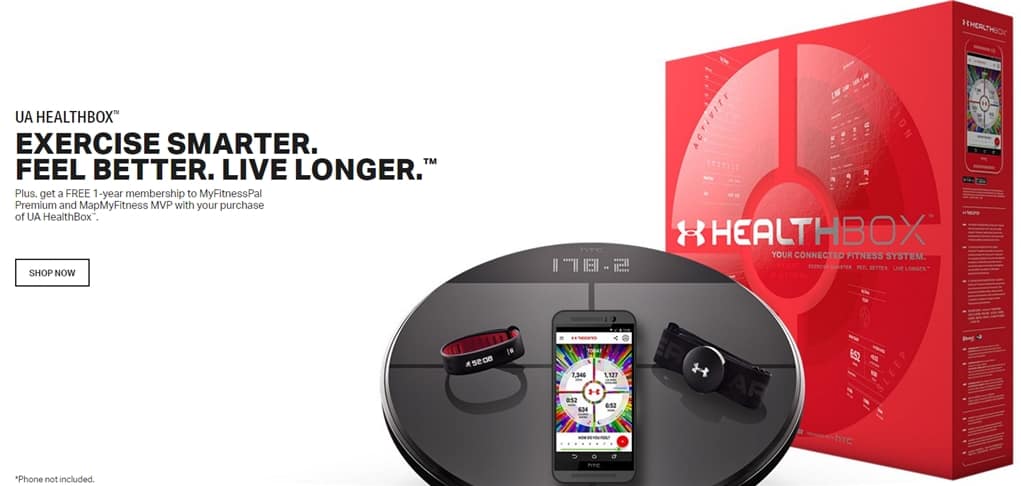 The UA HealthBox system is well designed and nicely integrated. The UA Heart Rate works really well especially when paired up with the UA Band for workouts. The UA Scale has some inconsistency problems but I really hope that it will level out and become more precise as I keep on using it. And finally the UA Band with its multiple useful features allows me to track a range of aspects of my health and fitness.
The devices will help you in some ways but will not do everything for you. Now that the tools are in your hands, it's then up to you to stick to the discipline of tracking what you are eating, making sure that your workouts are intense and challenging, and take measures to ensure good quality sleeps nightly and track the trend of your body weight and body fat percentage.
Disclosure: Sample was supplied for reviewing but all opinoins are mine and not paid