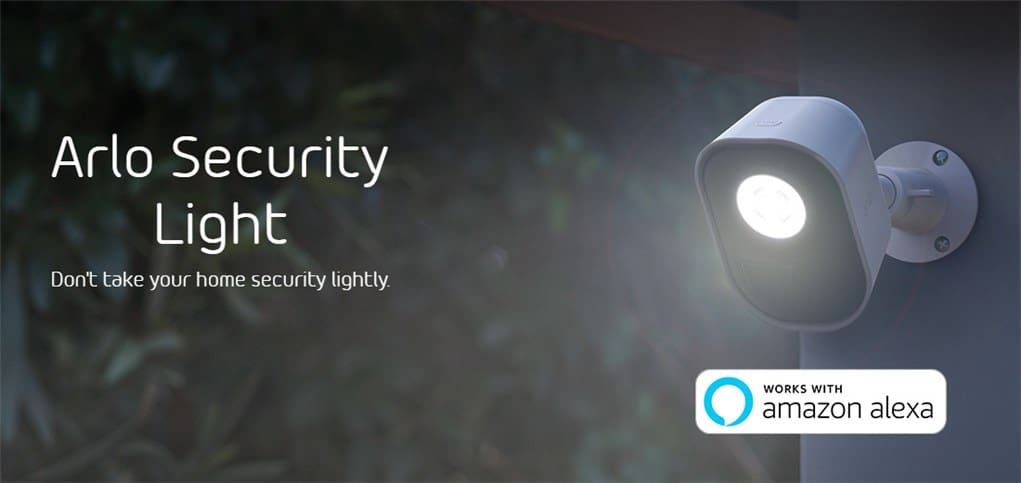 While most of the Arlo security cameras have no problems recording in complete darkness with its night vision feature, videos can certainly look sharper and better with illuminated lights.
But Arlo Security Light does not just illuminate, it is also smart-home-connected (Amazon Alexa, Google Assistant, and IFTTT support), has a motion sensor so it can send you instant notifications when something happens, and also works with your existing Arlo security cameras set up.
For Arlo security cameras, check out our review on the original Arlo and Arlo Q.
Arlo Security Light is a completely wireless solution with rechargeable battery. It's not clear how long can the battery last, because it depends on how often you turn it on (you can turn it on remotely, set a schedule, or set it to on when the device detects a motion). But there's always a solar panel option to get separately if you have the money and don't want the hassle having to recharge it.
Thanks to this flexibility, you can mount it anywhere you like to either complement the existing camera set up, or to simply cover more path and doors around your property.
You can even change the light colours, pattern, and adjust the beam width if you wish.
The Arlo Security Light System is available now through authorised Arlo partners and other reseller channels, ecommerce sites, and major retailers.
Arlo Security Light System with 1 Wire-Free Smart Light (ALS1101) — $249 RRP
Arlo Security Light System with 2 Wire-Free Smart Lights (ALS1102) — $399 RRP