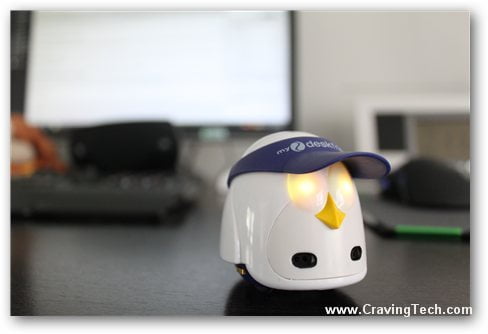 Pingo, a.k.a WeeWee a.k.a PooPoo a.k.a Lyonnie (you can change its name), is a lovely cute penguin robot from Arimaz to accompany you, geekily. I admit that I have a small obsession on penguins (I find them very cute) so this product can relate to me quite well.
You can think of Pingo, MyDeskFriend, as a Tamagotchi style gadget – you need to take care of it by feeding or showing your compassion which will affect its mood. Is that all that Pingo can do though?
MyDeskFriend Review – Pingo
Before we move on to features and what Pingo can do, let's have a look at the design and specifications. Pingo comes in white color (body color) but I believe there are different caps' colors (no idea why they imagined a penguin with a cap when they designed it). Mine is in blue:
It also comes with a docking station to charge Pingo's internal battery. The docking station also serves as the wireless transmitter where Pingo connects to the net to download certain information (more on this later):
The docking station has some light indicators to notify you that it's charging Pingo or when it is connected online.
MyDeskFriend Review – Features
To get the most out of MyDeskFriend, you need to install its application on Facebook and also on Windows. Through the applications, you can set Pingo up to receive news, feed him/her, and access other features. Without the Facebook application, you can still have some fun with Pingo, but it may get boring pretty quickly.
Pingo as a pet
Just like a real pet, you can:
Name it
Pingo is its real name but feel free to rename it something else or even change its gender altogether :) The name will be important later on because when you call it by name, it will trigger its voice activation commands automatically.
Feed Pingo through the Facebook application.
Pingo won't die or anything though if you don't feed it regularly.

Pet Pingo (or Slap him/her hard if you are into it :D)
Pingo has built-in sensors so you can use your fingers to actually pet Pingo. If you are in a bad mood, feel free to *ahem* abuse Pingo to make you feel better (not recommended). It will either get happier or angrier. It'll shout and its eyes turned red if you do poke Pingo hard enough.
Ask Pingo to follow your finger
By tapping in front of Pingo, it will start following your finger (it's equipped with 2 wheel drive underneath so it can move around). At times when you are not interacting with Pingo, it will also roam your desk freely by itself (unless if you set the motor off through the application).
Unfortunately MyDeskFriend's sensor doesn't work on a black or dark colored surface, so my Pingo has been living on a piece of paper for now, bummer. So make sure about the surface you will be running Pingo on before you buy the product.

Put him to sleep.
Put Pingo at the palm of your hand and swing it around consistently. It will start purring like a cat and went to a deep sleep (after a snoring sound is heard). It's quite a cute thing to do and hear.
Pingo as a desktop companion
Pingo notifies you about the weather, stock quotes, news (RSS feeds), email, and when your friends send you a message through its Facebook application.
Set the city/region through the Facebook application and you can then let Pingo read today's weather for you out loud. You can set Pingo to grab the info and read it for you on some time intervals or only when you call out its name and ask for the weather.
The same goes to reading news, etc (simply set them up and let Pingo will read the updates out loud). Sites with lots of new feed updates might get annoying though as Pingo will take some time to finish reading all the feed updates.
These notifications are quite cool because you access them by calling Pingo by its name (whatever name you set it to) but you need to record your voice through the Facebook application first. Although I find it faster to just point my browser to check for my weather, getting the info from Pingo is cooler and doesn't require any hands. In a hurry? Knot your tie while asking Pingo about today's weather, for example.
MyDeskFriend Review –  Overall Impressions and Conclusion
Pingo is a good companion when you are bored or when you just need a bit of fun in your own room. Of course, it can't substitute your real life friends or even the excitement of having a real pet. It's fun to play, feed, and watch at first but the excitement doesn't last very long, unfortunately. They need to come up with something fun because as of now, it doesn't really matter whether you pet or feed Pingo (apart from seeing his red eyes and low mood meter). MyDeskFriend is a totally new innovation and having a private robot inside your home has now become a reality. Pingo is a sophisticated gadget especially with built-in proximity sensors, wireless connection, sensors, and voice activations. The possibilities are actually endless but it's all up to the developers whether they can come up with something better on every version release.
Although having MyDeskFriend on my desk is a great thing to have, I honestly find that the features are still lacking and there are lots of wishes that I want to see:
You need to put Pingo manually on the docking station. I wish it can find its own way when the battery is low (like my Robomaid vacuum cleaning bot)
Its voice when reading the weather or news is still like a real human (robot) instead of something cute, like when it's going to sleep or shouting "Yippee!".
Wish it can read the messages coming from the Facebook's native messaging system and not messages sent through the MyDeskFriend application (I don't think my friends would want to install an application simply to send me a message through Pingo).
It doesn't have an alarm system of some sort. I'd love to be able to call Pingo while I'm still on bed, asking what time is it now. Or even set an alarm for Pingo to wake me up ("Wake up, wake up! Yippee! Yummm!" or other annoying voices).
The Facebook applications need some finishing touch (there are still a few spelling mistakes, kinda slow, and we need more stuffs in the application)
Thankfully, it seems that many of these features are upgradeable through the firmware so I'm pretty sure that the developers still have plenty of ideas that they want to implement. If you are quite happy with the features I explained above (and have some hope of more features coming), Pingo is a good companion to own and accompany you when you are doing your work in front of the computer.
Note: Review unit provided by Arimaz. Photos taken with Canon EOS 500D.