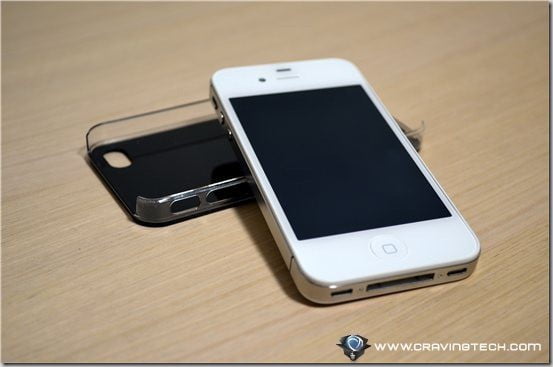 The packaging comes with a leather cleaning kit like the Aranez iPad 2 Case I reviewed earlier.
Aranez Mirage iPhone 4S Leather Case combines leather and hard transparent plastic to produce a minimalist and stylish design:
It comes with an option of having a black-leather or white-leather backing to suit your style. The sample that I've got for the review is the black colored one which suits my white iPhone 4S really well actually, giving it a contrast sexy look. I'm not sure whether the white looks good on a white iPhone 4S, you may have to wait for other reviewers for that, I guess. UPDATE: Here are some photos of Aranez Mirage iPhone 4S in white color! Thanks to them for sending me the white colored version so I can update this review post! It looks beautiful and honestly, I'm in dilemma now whether I like the Black or the White. In short, you will not be unhappy should you choose either one. They are both sexy!
From the front, the Aranez Mirage iPhone 4S Leather Case doesn't take away the aesthetic on my iPhone 4S and it looks as if you don't have a case on, thanks to the transparent hard plastic material.
While at the back, the Kangaroo leather is looking good too, giving the case a unique contrast look with the surrounding clear/transparent material: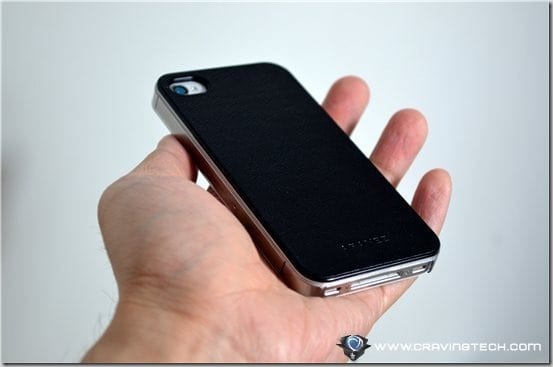 The Aranez Mirage iPhone 4S case also has cut-offs at the right places, leaving your ports and jacks exposed, so you can recharge your phone while it's in the case and you can also have access to the camera right away:
The case adds a few mms of thickness so you have to press down the volume buttons a little bit to register though this happens to most of the iPhone 4S cases I reviewed so far. The power (standby/wake) button has a larger cut-off so it can be pressed repeatedly with ease.
The other side of the case (with the SIM slot) has no openings at all so unless if you have to change your SIM card every day, this shouldn't matter much. If you take the case in/out too often though, tiny dusts and particles tend to coagulate a bit like you can see from my photo here (though you have to look extremely close to see it):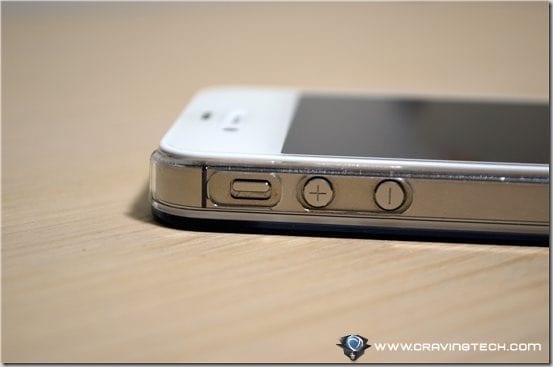 Overall, however, I'm extremely pleased with Aranez Mirage iPhone 4S Leather Case. It's minimalist and also very stylish. I was in a dilemma whether I should let my iPhone 4S naked (without a case) as cases tend to dull down the iPhone's sexy look. However, after I tried the Aranez Mirage case on, I'm sold. This is definitely going to be my most favorite iPhone 4S case so far. The transparent, clear material on the case does not take away the aesthetic of the iPhone while at the same time giving it a good amount of protection from bumps and scratches. The case also makes it less slippery to take my iPhone 4S out of my pants pocket and adds a better grip.
The Kangaroo leather at the back gives a more elegant and professional look.  The leather is durable and one of the highest qualities. Not to mention that it somehow smells nice (one of my friends actually like to sniff the case out every time he comes over, really).
If you are looking for a snazzy case for your new iPhone 4S, I would highly recommend the Aranez Mirage iPhone 4S Leather Case. It doesn't add too much bulk to your iPhone 4S, yet gives protection, functionality, and most importantly to me, style!
Aranez Mirage iPhone 4S Leather Case Review Conclusion
ARANEZ MIRAGE IPHONE 4S LEATHER CASE REVIEW – NOW THAT MOST OF PEOPLE HAVE GOT THEIR IPHONE 4S (IF YOU ARE STILL WAITING, I'M SORRY!), ONE WILL DEFINITELY SEARCH ALL AROUND THE PLACE FOR A GOOD IPHONE 4S CASE FOR THEIR PHONES. LOOK NO FURTHER THAN THE ARANEZ MIRAGE IPHONE 4S LEATHER CASE THAT I'M REVIEWING HERE! IT'S A CASE THAT COMBINES THE BEST OF BOTH WORLDS – BACK PROTECTION WITH HIGH QUALITY LEATHER (KANGAROO LEATHER IN FACT – MORE ON THIS LATER) AND ALSO THE "NAKEDNESS" OF THE IPHONE 4S, FOR AESTHETIC PURPOSE, OBVIOUSLY.
Aranez Mirage iPhone 4S Leather Case Review – Pros
+ Stylish
+ Minimalist
+ Has cut-offs for charging, earphones, etc
+ Keeps the aesthetic of the iPhone 4S intact, thanks to the clear material
+ High Kangaroo leather quality on the back of the case
+ Comes with a leather cleaning kit to keep it in tip top shape
+ Smells nice (have to add this in as a pro!)
Aranez Mirage iPhone 4S Leather Case Review – Cons
– Add a little bit of weight to the iPhone 4S
Note: Aranez Mirage iPhone 4S Leather Case review sample was provided for the review