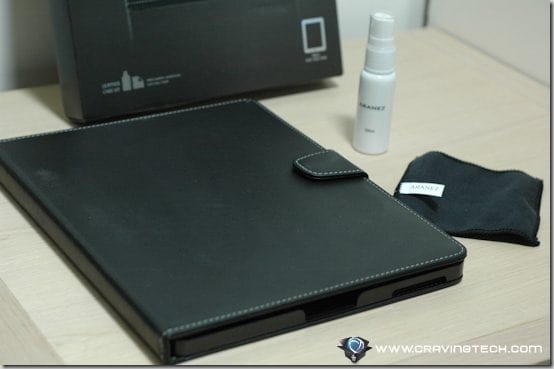 Aranez iPad 2 Notebook Kangaroo Leather Case
Michael Aulia
Aranez iPad 2 Notebook Kangaroo Leather Case Review – Aranez is a new company founded by Arnold Aranez, a good friend of mine who is also known as "Mr. Gadget". Having owned mrgadget.com.au for 8 years, he decided to create and sell his own leather cases company named after his surname. So why another iPad 2 case? Don't we have enough in the market yet? Well, not quite, as Aranez iPad 2 Notebook case is actually made of Kangaroo leather and that makes it special. Is that a good reason for people to buy the case, though? Let's take a closer look on this iPad 2 Notebook case.

The packaging comes with the folio-style case and also a care kit: a 50ml of liquid leather conditioner and a fiber cloth to keep your iPad 2 screen sparking clean. This is the first time I've seen a case packaged with a cleaning kit.
Though I don't have an obsessive-compulsive disorder, it's definitely good to know that I can clean my iPad 2 screen easily from fingerprints and dirt with this kit when need be :)
One thing I can definitely say for Aranez iPad 2 Notebook case from the moment I look at it: It is pretty. Honestly, I've seen similar design cases and what I thought of similar leather quality. Apparently I was wrong as Aranez iPad 2 Notebook case is probably the simplest yet prettiest case (in an elegant way) that I've ever reviewed. It also sparks "luxurious" from the smell of the leather, the quality of the craftsmanship, and from the design overall.
You insert the iPad 2 into the holder by sliding it from the top into the hard plastic area. Now, you need to be careful if you have a screen protector applied to your iPad 2 here. It is very tight and as a result, the screen protector might come off if you are not careful.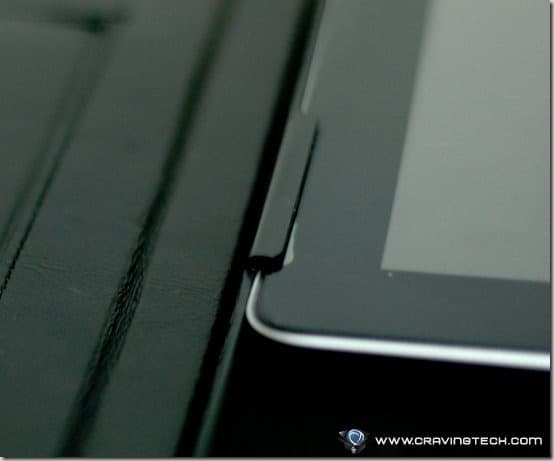 But as long as you slide it slowly and carefully, you have nothing to worry about (unless if you need to take the iPad in and out of the case daily). Once inside, the iPad 2 is securely hold in place and won't bulge.
What I love about the design is that it doesn't cover the aesthetics of the iPad 2. Many case offers more protection by covering the iPad 2 body but it hides away the true beauty. As people say, Apple products look better naked.
All ports, camera, and the audio jack are exposed properly, allowing you to charge your iPad 2, listen with an earphone, and change the volume without having to open the case up.
Inside, you'll find business card holders with one at the front having a transparent plastic window: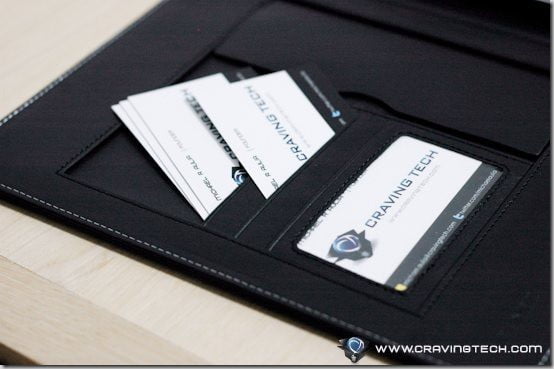 For typing in Landscape, there is a fold-out stand next to the business card holders, which is great when you need to make notes (or blog) in meetings or conferences:
There is unfortunately, no fold-out stand to watch movies on a flat surface but if you rarely watch movies on your iPad 2, this shouldn't be a show stopper.
Aranez iPad 2 Notebook Kangaroo Leather Case Review Conclusion
Overall, I really love Aranez iPad 2 Notebook Kangaroo Leather Case. The Kangaroo leather has a distinct nice smell to it. According to the official product page, Kangaroo leather is known for the best performance leather as it is light and tough. Though the case is not as light as I thought, it still is pretty light compared to a few cases I've reviewed in the past.
The design is luxurious and elegant, definitely designed for corporate use or for those who just want to look good and professional. You definitely pay for the luxury as this case is not like those ordinary $20-30 cases that you can find on eBay. You pay for the price but it makes you want to have a look at it all day just like the iPad 2.
The iPad 2 Notebook case does have a few drawbacks such as not having fold-out stands to watch movies and it does not automatically wake your iPad 2 when you open the case. However, if you want to get a good case to complement your iPad 2, then this is the right way to go assuming you don't need the things I mentioned in this post.
Having your iPad 2 inside the Aranez iPad 2 Notebook Kangaroo Leather Case is like getting an upgrade to the aesthetic look and protection of your iPad 2! Love it.
Note: Aranez iPad 2 Notebook case review sample was provided for the review
Aranez iPad 2 Notebook Kangaroo Leather Case Review – Pros
+ Beautiful
+ Elegant
+ Luxurious
+ Protect your iPad 2
+ Doesn't take away the aesthetics of the iPad 2
+ Secured tightly
+ Kangaroo Leather, light and tough (and unique)
+ Has a stand for typing
Aranez iPad 2 Notebook Kangaroo Leather Case Review – Cons
– Need to insert carefully if you have a screen protector applied
– No movie-watching stand
– No sleep/wake function when you close/open the case