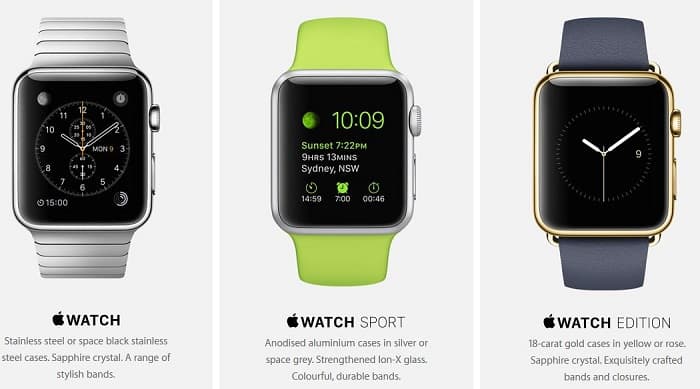 Apple Watch reviews are out and there were already a bunch of fans in Sydney trying them out at the Apple Stores today. Though only a handful of tech sites were given the privilege by Apple to test the Watch before everyone else, you may not have the time to go through all of these reviews yourself.
Here are some major points that these reviewers write about the Apple Watch, so you don't have to go through the hundreds of texts.
Apple Watch Reviews Summary
[1] Reviewers praise of its design and quality
All of them like how Apple Watch looks. They don't look geeky and praised as one of the best looking smartwatches around. Obviously, the Watch and Watch Edition look better than the Sport – but from what I've read today, it looks like you can mix and match any unit with a band (including third party bands) later on.
In my opinion, there are other cool watches like the Moto360 and Activite, but Apple Watch is not bad either.
[2] Notifications can get overwhelming, unless if you configure them individually

The point of wearing a smartwatch is so that you can have a quick glance at it when a message comes (compared to looking at your phone). However, in a sense, wearing an Apple Watch is pretty much the same thing. Notifications after notifications can bug and distract you all the time – but thankfully you can set which ones are important. For example, you can turn Facebook notifications off completely to your Apple Watch or set a VIP list.
From what the reviewers say, the list can be quite long (if you have lots of apps installed) and can be tedious to configure.
[3] Takes some time to get used to
There are different input methods you can do on the Watch and they can get quite confusing. For example, there is that digital crown, a side button, and screen presses. Not to mention the different swiping motions. Don't hold back from buying an Apple Watch because of this, however. The effect is minimal and you'll get used to these in no time, I'm sure.
[4] It's more fun to use if you have friends wearing an Apple Watch
Sending emojis, heart beats, and drawings is cute. But if you have no one to send to, the fun is no more. Apple Watch is great if your close friends have one too – which I assume, will not be that many.
[5] Apple Pay works flawlessly, assuming  it has launched in your country
Paying with the Watch is really easy and seamless. Not to mention that it's a cool thing to do as well in front of the cashier. The problem is that Apple Pay is not available globally just yet, which includes Australia. And iPhone 6 & 6 Plus have been around for some time.
[6] Intuitive, clever
Apple Watch is intuitive to use and reviewers love it. You can quickly reply a message with a tap (from a list of answers that iOS has predicted from the incoming message) or use your voice through Siri. Zooming in and out with the digital crown feels natural, and the new taptic engine is cool too (rumor is that the iPhone 7 will have this as well).
[7] Application launch can be slow and laggy
Some reviewers are complaining that some apps can take a while to launch and slow to communicate with your iPhone. I'm sure this can be patched through future software updates so this shouldn't be a biggie.
[8] Apple Watch can last a day comfortably
As for battery life, from what I've read, Apple Watch can last a day before you have to recharge it again (some reporting 20-50% of battery left at the end of the day). Assuming you don't normally wear a watch while you sleep, this is acceptable.
[9] Apple Watch is something you want, not needed
Though most reviewers like the Apple Watch, the one question remains. Do you really need it? Only you can answer that. It seems that the first iteration may not offer much yet and it will be some time before the Watch matures. We are also still waiting for that really cool app to wow Apple Watch users. Sure, a tap on a watch to order an Uber car (or taxi) is cool, but you can also do it on your iPhone. So, do we really need an Apple Watch? Or a smartwatch, for that matter?