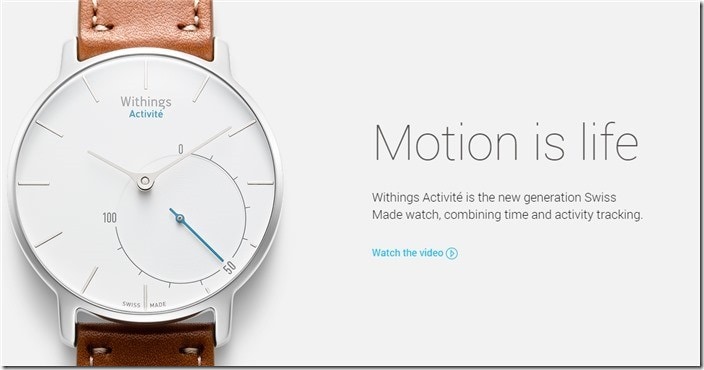 It's unclear whether Withings Activite can actually be called a smartwatch. If by definition, a smartwatch is "a mobile device with a touchscreen display, designed to be worn on the wrist", then I guess the Activite is some sort of a smartwatch.
You cannot change the watch face and there is no swipe motion to be performed on the watch screen, but it still comes with smart and cool stuffs.
Being made in Swiss and designed in Paris, the Withings Activite looks as good as it can be. It certainly looks like an ordinary watch at a glance. Deep down, however, the watch tracks your movements like steps, distance, and even your sleep patterns. If you like swimming, Withings is planning to add a swimming tracker through a free firmware update. This is because Activite is waterproof for up to 50m.
Most of the features such as stats, can be accessed on your smartphone (iOS at the moment with Android compatibility coming soon).
There is no need to charge the watch every night too because it's powered by a cell battery that will last around 8 months.
Check the official video below:
This is the watch that I expected Apple to unveil. Something classy, elegant, and doesn't look like a geeky watch (though Apple Watch still looks better than some of the competitors'). Withings Activite is definitely something that I would wear as a fashion accessory, while tracking my sleep and activities throughout the day in discreet.
For more information, check out Withings Activite.