Adobe Premiere Elements is a cut down version of the Adobe Premiere Pro, a video editing and publishing software for professionals. Even if it's being scaled down, Adobe Premiere Elements is still a powerful application. I've made quite a lot of videos using Adobe Premiere Elements in the past and I can't recommend it any better, especially if you are new into video editing. Unfortunately, there are so many features in Adobe Premiere Elements 8 that I just can't cover all of them in a single post.
Adobe Premiere Elements 8 Interface
Adobe Premiere Elements 8 is probably not as simple as a Windows Movie Maker, but it's perfect for those who want a powerful video editing software even if they have no knowledge or background in video editing before. I actually learnt to use Adobe Premiere Elements by myself quite easily. Not to worry still, there are plenty of help and manuals available should you really need help.
Adobe Premiere Elements 8 is divided into 4 main sections:
Organize
This is where you (obviously) organize all of your available media (photos, videos, etc)..
Edit
Add movie effects, transitions, titles (texts on your movie), themes, and cliparts.
Disc Menus
If you want to create a DVD (so you can play your movies on a DVD player), Adobe Premiere Elements 8 has made everything easier for you. Use pre-set DVD menus and interface so you can produce a fully working DVD movie.
Share
Burn your edited movies to a disc or even upload it directly to YouTube. I use this all the time to upload CravingTech's unboxing videos easily to YouTube. You can also export your final movie in different movie formats.
Adobe Premiere Elements 8 Review – Organize
First you need to import your movies, sounds, or images that you want to include in the final movie. You can simply drag and drop the files from your Windows Explorer to Adobe Premiere Elements 8. I wish that you can simply drag the files straight to the timeline though rather than having to drag it first to the "Library" area and then drag it to timeline. Thumbnails are automatically created, so you can differentiate your movie clips before you drag it into the main editing area. Videos and photos can also be previewed full screen in the Organizer.
You can also grab videos from your webcam which is a good tool to have if you want to do some video reviews, interviews, or anything like that and include them in your final movie.
Adobe Premiere Elements 8 Review – Edit
You'll spend most of your time in this section, as this is where you put the finishing touch to your movies. Before you start adding text effects, animations, and other stuffs, you need to drag your media first into the main editing area. It's pretty straight forward and you can add more layers as you go along where media on the upper layer will be displayed above the layers below it. You can separate the audio from a video clip, mute the audio completely, split the video clips, and a few other tricks.
On every video clip in the timeline, you can also change its basic properties such as scaling, opacity, brightness, etc:
For power users, you can even use the Keyframes feature to further customize the clip effects and properties at certain period of time.
Adding video and transition effects is as easy as dragging the effect to a clip. Adobe Premiere Elements 8 previews the effect when you roll over your mouse cursor over it. This way, you can preview it before you add the effect into your clips. You can preview it straight away on the mini player too so you can review whether the effect is suitable for your clip. You can add multiple effects at the same time on a clip to create more powerful effects. Each effect normally has its own settings that you can tweak further. For example, the "Old Film" effect has a few properties in which you can tweak, such as the Wear Pattern, the Color Sepia level, and a few others.

There is also a new feature called the Motion Tracking. Using the new motion tracking capabilities, you can add graphics, texts, speech bubbles that follow a particular object on your movie. You can set it to automatically identify and follow objects on a movie clip or you can assign a path manually. The automated process took quite a while to determine the objects so I took the manual approach.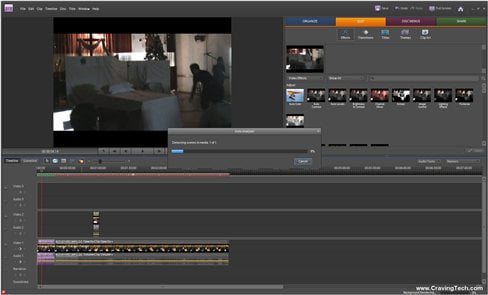 You can see it in action in my video here (the speech bubbles at the beginning of the movie):

Not really a great example, but I'm sure you can imagine how it works from the video.
Adobe Premiere Elements 8 Review – Disc Menus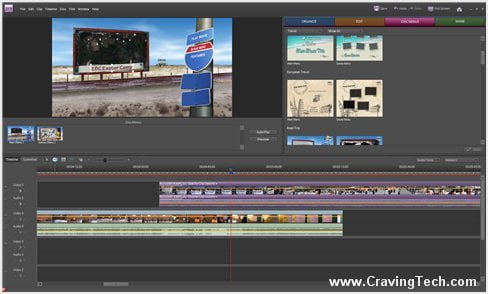 Creating a full DVD video with the menu (scenes, special features, etc) is very easy with Adobe Premiere Elements 8. There are plenty of themes available for your DVD (travel, events, etc) so you can just pick the one you like from the library. Scenes can be selected using the Scene markers on the timeline and you can even add your own music into the DVD main menu.
Adobe Premiere Elements 8 Review – Share
Finish with the editing? Now it's time to share your video. Of course, after hours of your hard work, you want people to see your masterpiece right? This is where the "Share" section comes into play. You can export your final video into different formats and different sizes. Or there's even a straight upload to YouTube from Adobe Premiere Elements 8. If you want to upload your video to Facebook, you can export the movie to the Flash video format, which is much smaller in size. HD format is now supported as well in Premiere Elements 8.
Adobe Premiere Elements 8 Review Conclusion

There are still lots of other great features of Adobe Premiere Elements 8 that I haven't mentioned here. Even though the Premiere Elements is supposed to be a cut down version of the Premiere Pro, its features are endless, leaving you with simply a creativity to do what you want your final movie to be. Its interface is very simple to understand and most of the time, you won't probably need to look for a manual unless if you are diving into a more advanced feature of Premiere Elements 8.
Adobe Premiere Elements 8 definitely gives you a complete package from the start to the finish of the video editing process. Whether you are a video editing beginner or a pro, Adobe Premiere Elements 8 doesn't disappoint. This makes me wonder what the Pro offers though as Premiere Elements already provides so much features and content.
There are a few minor things to consider, such as the long start-up time, the annoying background process that took 99% CPU Usage of my system (can't remember the name of the process now, but you need to turn the background rendering setting if this happens to you), and the tedious process of adding titles in your movies. Nevertheless, these are minor issues and nothing compared to what you get with the application. All of my videos over at YouTube were made with Adobe Premiere Elements if you want to check them out. If you are looking for a powerful and easy to use video editing software, look no further than the Adobe Premiere Elements 8!