Morphee Review – Did you know that a few minutes of meditation could change your whole day? This is not my opinion. But research already confirms that meditation can reduce your stress, and even help you to sleep better. 
However, given there are plenty of meditation apps available now, I still have a problem with falling asleep every now and then. I've tried many meditation apps in the past, but it's been hit and miss for me. Sometimes it worked, sometimes it didn't. I believe it's because I was still using my phone to fall asleep.
As you would know that your phone's blue light affects your brainwave which causes you to be awake. I wonder if there is any device that might solve my sleeping conundrum. 
Well, if you can relate, today might be your lucky day, it's because there's a device called Morphee. I was intrigued by the value proposition of this device. 
What is Morphee?
Morphee is a non-digital meditation device created by sleep experts. All right, you might ask, what exactly does it mean? Well, it has no Wi-Fi and no Bluetooth which means it is a standalone portable device. You don't need to pair it to your phone or upgrade its firmware. 
It's well-designed and made from high-quality materials (especially the beechwood shell). You can plug in your earphones or headphones via the headphone jack. Alternatively, you can just use the built-in speaker.
Please note that the default language is French and you will need to change it to English by holding the play button and the plus button at the same time.
Morphee Packaging/What's in the box?
1 x Morphee device
1 x Beechwood shell
1 x Charging cable (micro USB)
1 x User manual
Who is Morphee for?
Morphee is designed for people who have difficulty going to sleep. As we all know, if you have trouble with your sleep, it will affect your energy levels, your moods, your health and your quality of life. 
What does Morphee do?
Morphee has 210 guided meditation sessions. Its purpose is to help you fall asleep. There are two voices to choose from, they are male and female voices. For me, I just choose the default male voice.
Firstly, you choose the theme by turning the first key (on the left), there are 8 themes: 
Body scan – this takes you to focus your attention on your body which helps your body to relax.
Breathing – this shifts your attention to your breathing so that you can calm your mind.
Movement – this allows you to focus on your feelings and release muscle tensions.
Visualisation – this invites you to unwind by imaging you're on a journey (beach, mountain, or bike ride).
Cardiac coherence – this slows your heart rate (reduces the number of your inhales and exhales)
Napping – this starts with 4-minute relaxation then 8 or 20 minutes of silence and will wake you up with natural sounds.
Relaxing – a collection of soothing music composed by the French composer, Gilles Maugenest
Nature (i.e. sea, jungle, rain, log fire)
Secondly, you choose the session by turning the second key (on the right), there are 8 different sessions in each theme. 
Lastly, you turn the third key to choose the duration (either 8 or 20 minutes).
My personal favourite would be the breathing session as it allows you to disconnect from your attention and focus on your breathing only which helps me fall asleep. 
The other one would be the napping sessions as you can use them during the daytime for taking a quick nap for a quick siesta recharge.
And, Morphee turns itself off by itself at the end of each session.
The battery life is superb too, it's more than enough for your needs. It can last up to 3.5 hours per full charge (via micro USB).
Power & Battery
Battery life: over 3 hours 30 minutes
Charging time: 2 hours
Red light: the battery is low
Charging Morphee: an indicator light flashes 3 times
Orange light: the device is fully charged
Mophee Review – Verdict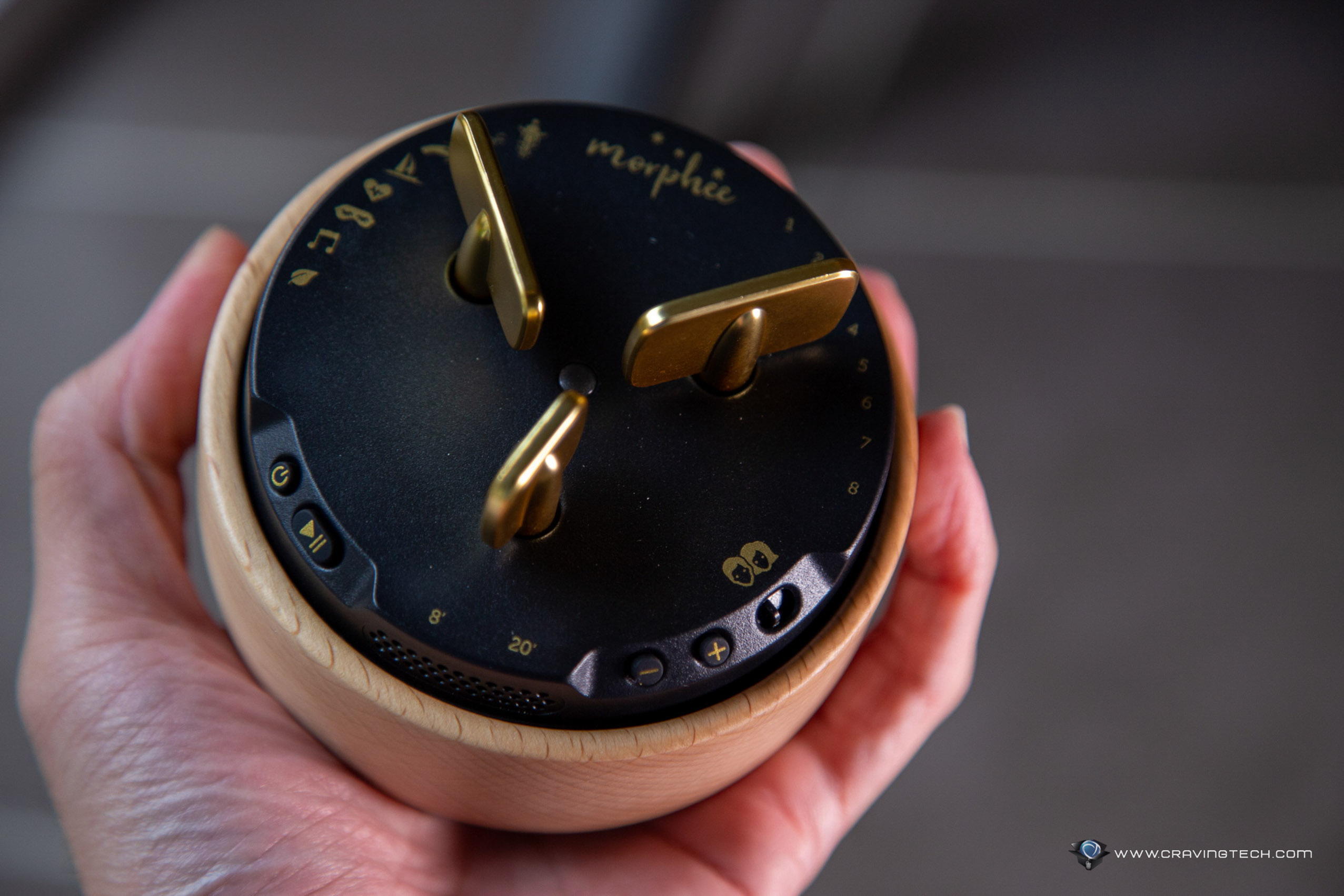 If you have difficulty falling asleep and you've tried many meditation apps before to no avail, then Morphee will be suitable for you. You can buy one at Morphee's website for A$149 (price is correct at the time of writing). 
Disclosure: Morphee review sample was supplied for reviewing