V-Fitness Activity Monitor Review – It's a known fact that wearables seem to be ubiquitous these days. Many brands are attempting to create the perfect fitness tracker, from Fitbit to Garmin.
Firstly I had been a Fitbit Alta HR user since early 2016, but I stopped using it when its battery started draining fast. So I've been looking for an alternative for a few months now.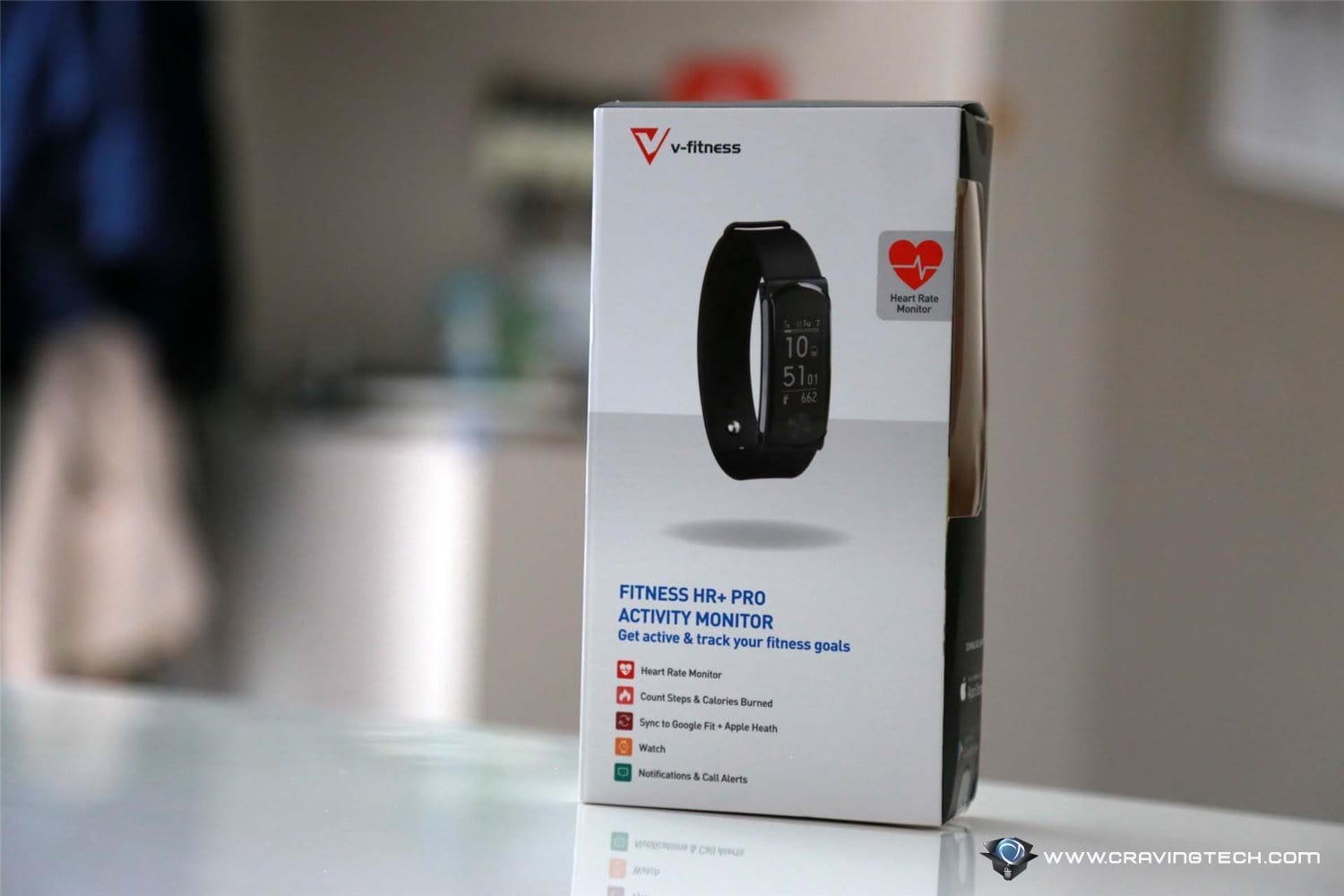 Last week I was given the opportunity to review the V-fitness HR+ Pro Activity Monitor by Laser (sold exclusively at Big W for AU$69). The specs look good on paper plus given its affordable price point and I was hoping this tracker to be a worthy replacement for my broken Fitbit.
V-Fitness Activity Monitor Review – Features
Here are some of the product features:
Tracks activity (steps, distance travelled, calories burnt, sleep monitor)
Measures heart rate
Comes with its own mobile app (both Android and iOS)
Sync to Google Fit + Apple Health via Bluetooth
Receive message alerts
Slim size & big screen
IPX7 water resistant  (rain-proof, splash-proof, sweat-proof)
Comes with 2 wristbands (black and red)
Snap-lock fastener for easier adjustment
Made of soft easy wear silicone
USB Connection to PC
Battery run time of up to 7 days
Weighs only 100 grams
I've been using this V-Fitness tracker for a few days now and here are my two cents. Initial setup is pretty easy, all you have to do is download the app and then connect it via Bluetooth as per usual.
The Looks
The first impression, this tracker feels much lighter (give its featherweight 100 grams). 
In fact, I can wear it on the same wrist where I wear my normal watch. Please note that it's recommended by the product user guide to wear this tracker 3-4 cm below your wrist in order to accurately track your heart rate.
Battery Life
Before you can use it, you'll need to charge it for 2 hours to be fully charged and it will last up to one week.
Charger
It comes with a unique charger that can be plugged into a computer or power adaptor.
The Modes
It's pretty nifty that you can select 4 modes by long-pressing the button until you see 4 icons and tap the button twice to toggle the selection.
The 4 modes are:
1. Daily (the default mode): analyses your daily data (steps and calories)
2. Sleep: tracks your sleep pattern and quality
3. Sports: tracks your exercise and display all the usual information (duration, steps, calories, and distance)
4. Nap: gives you a wake-up alert via soft vibrations.
Not surprisingly, the mode that I use the most is the daily mode. It pretty much covers most of the things that you need. 
The App
The overall feel of the UI of the app is quite intuitive. Here are what you can do with the app. (Please note I'm using Samsung S9+).
Dashboard
Here you can check out your steps, calories burned, hours of sleep, and exercise (you have to activate the Sports mode in order to track this).
Workout
You can set a daily workout goal so that you are able to measure the progress on a day to day basis.
Fitness Pals
Like the usual, you are able to add friends by hooking up your Facebook account and compare your activities.
Silent Alarm
You're able to set up your morning alarm as well as the snooze function. Plus there is a power nap function too.
Notifications
This is to activate your notifications (calls, mail, SMS, WhatsApp, Facebook, etc.)  
Data Backup
You can even back up and restore your data using your Google Drive account.
Settings
All the other settings are located here (your daily steps goal, calories burned, reminder, etc.).
V-Fitness Activity Monitor Review – Verdict
Things I like:
1. Initial setup is quite easy and seamless.
2. The button is quite sensitive that you can turn the display just by gently touching it (rather than tapping it).
3. It's reasonably priced.
4. It has notifications for your incoming calls, SMS, email, and even third party apps like Whatsapp. Obviously, this may affect your battery life.
5. Water resistant. It's worth noting that you can use this V-Fitness tracker in the rain, but you simply cannot use it underwater (i.e. swimming)
Things for future improvements:
1. USB C port for charging directly (so that it only requires a USB C cable, rather than a charger)
2. The live heart rate monitor seems to be a little bit laggy. Not sure why though. 
I'd highly recommend this V-Fitness Activity Monitor from Laser which comes with bells and whistles to someone who is new to the wearable market and does not want to spend too much (only AU$69 and it comes with 2 wristbands). To put that into context, Fitbit sells its Alta wristband for AU$49 each!
Last but not least, this tracker has been a worthy replacement for my worn-out Fitbit Alta HR.
Disclosure: Laser V-Fitness Activity Monitor review sample was supplied for reviewing but all opinions are mine and not paid 
V-Fitness Activity Monitor Review