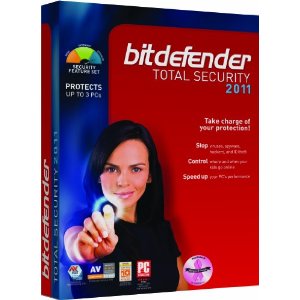 Alright, guys! Here is another great contest at Craving Tech to win a license out of 10 licenses for the BitDefender Total Security 2011. BitDefender Total Security 2011 is an all in one security suite for your PC which includes antispam, firewall, antivirus, and many more. Check out BitDefender Total Security 2011 review here at Craving Tech to make you excited about the contest. If you are still using a free antivirus/security software like Avast or AVG, it's worth finding out why people would pay for other security/antivirus packages.
Details of the contest below.
How to win a year's license of Total Security 2011 for 3 PCs (worth 74.93 AUD)
Download BitDefender Total Security 2011 3-month trial from BitDefender Australia Facebook page.
Write a short review/opinion about BitDefender Total Security 2011 (can be short paragraphs, words, or even in point forms so don't be afraid if you are not a writer). You can talk about its strength, weaknesses, what it does well or what can be improved in the next version. Be honest and winners are chosen by random anyway, so being honest about the product is important for the BitDefender team. Just make sure it's a constructive feedback.
Your review/opinion must be posted on this comment form (so I can pick a winner) AND also on somewhere else (your Facebook wall, a forum, your blog, or anywhere online). Post the link to your post on the comment form here as well.
Q & A about the contest
Q) Who can participate?
A) Anyone, anywhere :)
Q) Why the hassle in installing the trial?
A) So you can have a taste of BitDefender Total Security 2011 and can express your honest opinion about it. Besides, if you want to win a license, it doesn't hurt to install the trial first anyway, right?
Q) I don't have a Facebook account or any social networking, I'm not a member of any forum, and I don't have a blog. Can I still participate?
A) Of course. Just post your opinion/review here on the comment form.
Q) What if I don't win? :(
A) It's okay. If you write a good review, the BitDefender team said that they might use a quote from your review and post it onto their website. You can then boast about it to your friends!
Ten winners will be chosen a day before Christmas (24th December 2010). All the best, everyone!