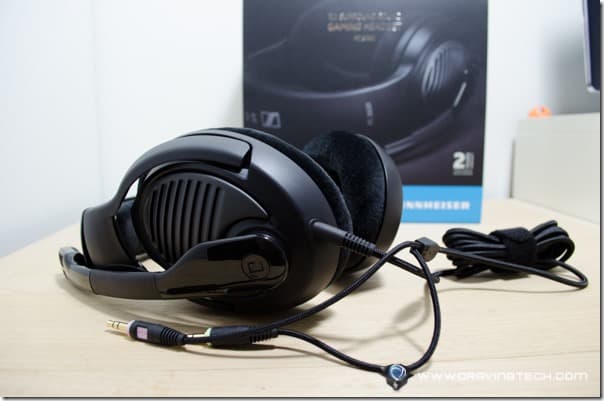 Sennheiser PC 363D gaming headset review – The only negative feedback that gamers had on the Sennheiser PC 333D gaming headset (check out my Sennheiser PC 333D review) is how tight the headset is to the head. The design team at Sennheiser seemed to listen to the users' feedback and built an all new gaming headset that is not just more comfortable, but sounds as good as the PC 333D with a higher frequency response.
The PC 363D from Sennheiser also includes a 7.1 USB sound card with Dolby sound technology and a noise cancelling microphone.
Sennheiser PC 363D Review – Packaging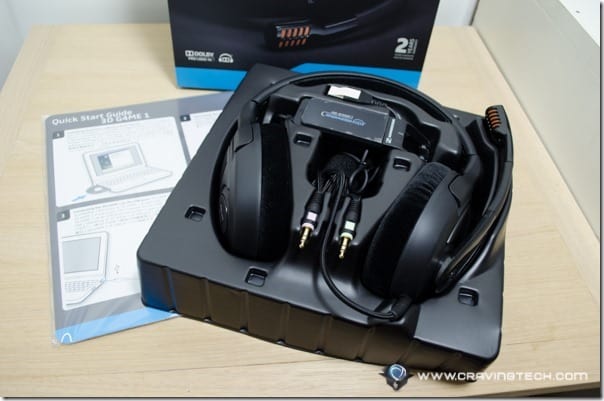 Packaging includes:
The PC 363D headset including the USB sound card/adaptor
Quick Start Guide
Driver CD
Sennheiser PC 363D Review – Design & Features
The Sennheiser PC 363D is a well-built gaming headset. It may not look as sexy as some of the competitors' gaming headsets, but beauty is in the eye of the beholder. The headset is well designed and made with sturdy, great quality, materials.
The microphone boom arm can be raised or lowered easily and also auto-mute the microphone when raised. It is also a noise cancelling microphone so your voice can be heard crystal clear on the other end.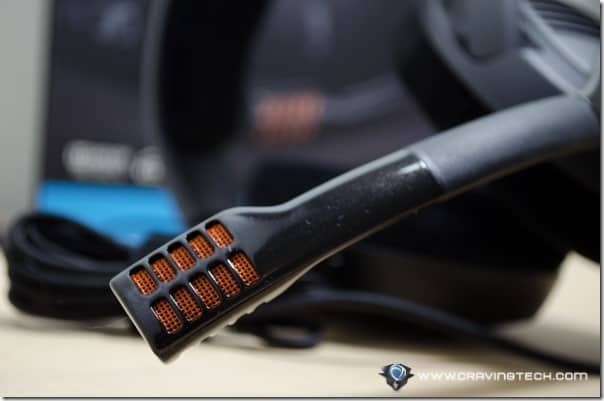 There is also an integrated volume control on the right ear cup so you can adjust the volumes without having to distract you while you game.
The open-design ear cushions are extremely comfortable to the head and allows plenty of room for ventilation. I like this design more than the PC 333D as it feels much more comfortable to wear. The over-sized ear cups are not tight and pressed to the head, which is good.
The headband is also padded, which adds up the points of comfort further to this headset.
Sennheiser PC 363D is equipped with its own USB sound card, delivering 7.1 virtual surround sound powered by Dolby technology. The 7.1 Dolby sound card is shaped like a dongle and also optional (plugged with a headphone and microphone jack). This way, you can plug the headset to your laptop or any portable media players that you have.
An extension cable is also included though I haven't found the need to use it so far.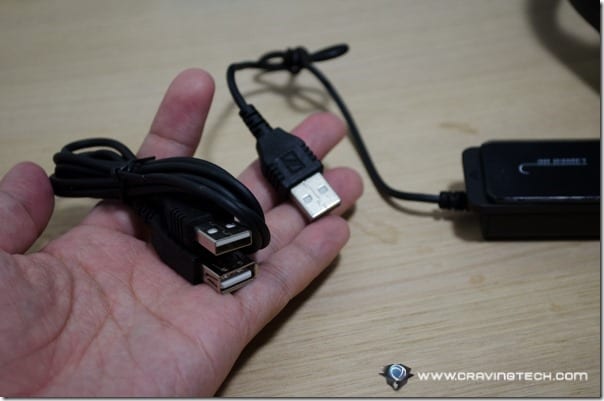 You can switch between the Stereo mode and Dolby Headphone mode by either sliding the switch on the USB sound card or clicking on the system tray icon.
Sennheiser PC 363D Review – Sound Impressions
Please note though that the headset gives a virtual surround sound, so this may not be the best headset to get if you are already using a third-party 7.1 sound card. The sound quality of Sennheiser PC 363D is awesome, though, especially when the Dolby Headphone mode is turned on. It feels as if the sound are not coming from the headset and comes to life. There were some moments when I felt like the sound actually came from inside my room and I sort of had to lift the headset up to check that it wasn't the case.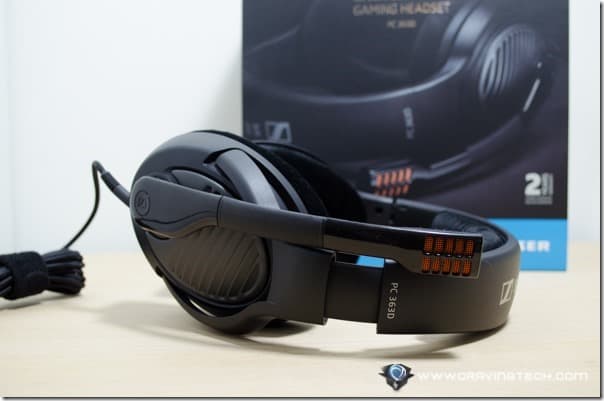 I tested the headset with different games such as Left 4 Dead 2, Counter-Strike: Global Offensive, The Walking Dead, and Battlefield 3. The sound quality did not disappoint even when I cranked the volume up.
The sound of explosions and the environment, again, come to life and there were moments when I jumped out from my seat while I was playing The Walking Dead with the PC 363D. It's not because it is loud, but because I was so immersed in the game with the headset (or maybe I was just a chicken).
The 7.1 virtual surround audio positioning is good too but it definitely cannot beat a true 7.1 sound card. Nevertheless, I found that I could still pinpoint the position of a footstep or when an enemy spawn comfortably with the Dolby Headphone mode turned on. With music listening, I prefer to have it in Stereo mode.
Sennheiser PC 363D Review – Conclusions
Make no mistake, the Sennheiser PC 363D is a remarkable gaming headset. Though it's made mostly from plastic, the material is of high quality and durable. The headset is light-weight, comfortable to wear for hours, and sounds really awesome. If you don't have a decent 5.1 or 7.1 sound card yet, then you will love the PC 363D because it has its own USB sound card which delivers great sound quality of its own.
The PC 363D is definitely built with quality, comfort, and sound in mind and will not disappoint most gamers and sound enthusiasts. If you haven't had a decent sound card in your PC yet, grab this gaming headset from Sennheiser.
Note: Sennheiser PC 363D Review sample was sponsored by Sennheiser for the review. All opinions are 100% mine

---
The Sennheiser PC 363D establishes a new performance standard in surround sound gaming headsets. Combining Sennheiser headphone and microphone engineering with Dolby Laboratory 7.1 surround sound techhologies takes gaming to another dimension. Sennheiser's "Eargonomic Acoustic Refinement" (EAR) technology angles the drivers in the ear cups channeling the sound directly into your ears. This improves sonic detail, definition and dynamics. Dolby's 7.1 technology comes via a USB sound card providing headphone control and remarkable spacial effects letting you accurately pin point sounds with 3D like dimensionality. The PC 363D uses open back, full size metal cups fitted with luxurious velour covered ear cushions producing an extremely comfortable fit ideal for long gaming sessions. Many games incorporate player to player communication, so microphone performance is a very important element in premium headset performance. The PC363D incorporate a pro quality microphone delivering exceptional clarity. It's cleverly fitted on a boom that automatically mutes when raised. The headsets volume control is conveniently located on the right ear cup for easy level adjustments. The braided cable has a great feel and is extremely durable. The PC363D is a best in class gaming headset that will improve your skills and take you to new levels!
The following two tabs change content below.
Owner, Founder
at
Craving Tech
A technology enthusiast, blogger, gamer, and reviewer. Proud owner of Craving Tech
Latest posts by Michael Aulia (see all)