Nowadays, it's so cheap to buy a 1 TB or 2 TB hard drives for the desktop. Unfortunately, the solution is not that cheap for notebook/MacBook users. My MacBook Air only has 128GB of space, for example (thanks to the pricey SSD drive). This means that some of us will definitely have to use the space as efficient as possible.
Apart from removing music files that we'll never listen to, Xslimmer comes to the rescue to further trim unneeded files from the Mac OS system and installed applications.
From the product page, the main features of Xslimmer are to:
Remove unnecessary code from fat binaries
"Xslimmer determines which code your machine needs and removes the rest. This is achieved by removing the code inside the Universal Binaries that does not fit with your machine's architecture, a code that never gets executed and just wastes your disk space."
Strip out unneeded languages
"Safari is available in more than a dozen languages, Adium in more than 20. This is great, but how many of those do you need? Xslimmer allows you to select how many languages you want to preserve in your apps and will remove the rest, recovering lots of precious free space from your disk."
Now those are some features! Removal of language files is a familiar concept for me but removing codes that do not fit with my machine architecture sounds quite new (whack my head for being ignorant, perhaps?). The best of all, Xslimmer works for newbies like me who don't understand much about the technicalities underlying the Mac OS system. I just want to open Xslimmer and let it do its own thing (most of us want the same thing too). Thankfully, Xslimmer delivers that expectation really well.
My MacBook Air is currently taking up 17 GB of space (this was taken before I installed Google Chrome, a couple of games, and a few other small productivity apps):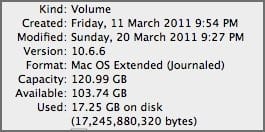 and I haven't even stored my photos and music collections on it yet.
Curious at how much space can Xslimmer reclaim, I ran the app and greeted with the main window:
Xslimmer lists all applications, along with the size and the projected size after the slimming process (click to enlarge):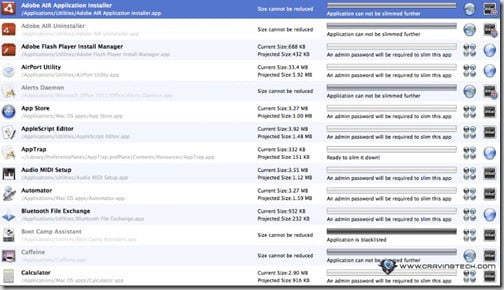 Although reducing an application from 3 MB to 1.5 MB may not sound much, imagine having lots of small applications in the machine. These little things will end up being hundreds of Megabytes (if not more). In my case, Xslimmer reported that it could save me 867 MB out of 2.10 GB.
Now that's a huge saver on a 128 GB drive space! If you have tons of applications (Aperture, Adobe products, etc), I'd bet that you will save so much more. The Microsoft Messenger can even be cut down to almost half of its original size. Don't know about you, but 30 MB sounds quite a lot to me!

So I clicked the "Slim!" button and a Warning window popped up: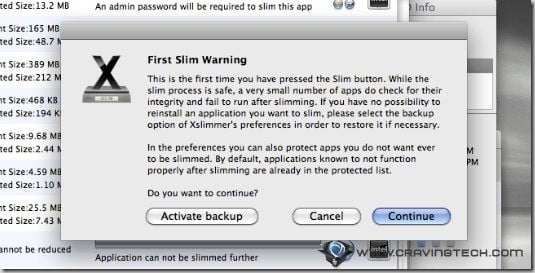 Since I felt a bit scared, I did a backup before I let Xslimmer "mess" my system around. The slimming process itself is quite simple and you can monitor the progress of the slimming process: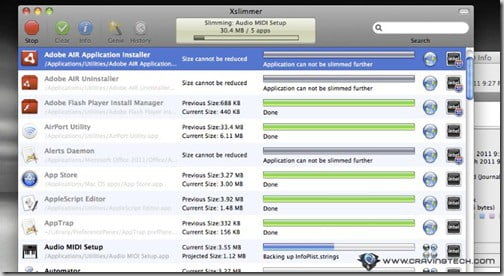 At the end, I found that applications are still running as normal and I haven't detected any anomalies at all for at least a week so far. Things run as they should be and I ended up moving my backup to Trash bin before I wrote this review away.
Xslimmer also has an online database which blacklists applications that cannot be slimmed and they regularly update their database so you don't really have to worry. If you are still paranoid about it, feel free to back up your Mac OS using the TimeMachine or use the Xslimmer backup mechanism. If something goes wrong after, you can easily restore the application back to its original state. Or..you can just reinstall it back.
You can define the languages you want to keep and trash the others away through the settings.
Xslimmer will then trim the other languages during the slimming process.
Xslimmer Review Conclusion
Overall, Xslimmer is a powerful yet automated application for the Mac. The interface is really easy to use and there's practically only one step needed to start the slimming process. Xslimmer gives detailed information before you start the slimming process and there's also a handy backup in case things go wrong and if you need to restore your applications back. Of course, this is just a matter of precaution, because Xslimmer keeps a blacklist file online to exclude applications that are not supposed to be slimmed down.
If you want to save hundreds of Megabytes (and more), then you should consider purchasing Xslimmer. Owners of MacBook Air should seriously consider buying this application. I know there are a few free applications to strip the unneeded languages out, but I don't think they can strip out unused codes.
Note: License was provided for the review
Xslimmer Pros
+ Easy to use, clean interface
+ Remove unnecessary codes and languages
+ List detailed information on what it's going to do
+ You can clearly see the total space you will save
+ Support all application that I've tried it on
+ Has a blacklist file to exclude apps that shouldn't be tampered with and the exclusion process is automated
+ Have a built-in backup mechanism
Xslimmer Cons
– None that I can think of, apart from having to pay for the app