They are here! The next Mac OS X, codenamed Lion, the new MacBook Air 2011, and the new Mac Mini 2011 have made their ways officially on the Apple store. I'm not really interested in the Mac Mini but I'm all ears for the launch of Mac OS X Lion and the new MacBook Air 2011. Unfortunately I have already bought a MacBook Air early this year so I shouldn't upgrade mine again this soon :(
Mac OS X Lion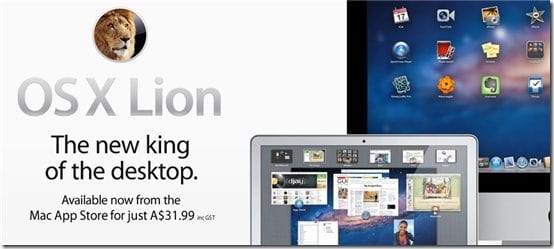 Mac OS X Lion is the 8th major release of Mac OS with more than 250 new features and can be downloaded from the Mac App store at AUD 31.99. The Mac OS X Lion has new multi touch gestures, full screen support, Mission Control, app shortcuts (like iOS' home screen), auto save, Resume, and many more. The upgrade is around 4GB so if you want them on a USB thumb drive, you can also order it through the Apple Store later in august for AUD 75.
MacBook Air 2011
The new MacBook Air 2011 comes with the Core i5 and i7 dual-core processors, Thunderbolt I/O, and a Backlit Keyboard. The latest Intel Core i5 and i7 means that the new MacBook Air is twice as fast as the previous generation, meaning you'll have more power to do that photo or video editing. It comes with Intel HD Graphics 3000 and offers up to 4GB 1333MHZ RAM.
The Backlit keyboard makes a comeback and uses a sensor to automatically detect a change in ambient lighting and adjust the keyboard brightness automatically. How cool is that?
It makes me sad to see that an i5 Macbook Air of 13-inch with 4 GB RAM costs around AUD 1,449 – about the same price as the previous generation but with an old Core 2 Duo processor and 2 GB of RAM :( oh well.
Will you be upgrading your MacBook Air? I don't think I need to ask about upgrading your Mac OS X to Mac OS X Lion