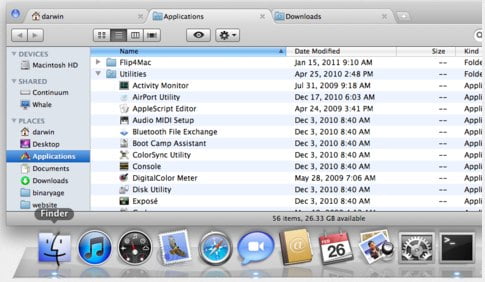 Fancy to have some tabs on your Mac OS' Finder? Then look no further than the TotalFinder app. The TotalFinder application for Mac OS is developed by Antonin Hildebrand, an indie developer from BinaryAge.com. TotalFinder does not just add fancy tabs to the Finder, it does a lot more than that. Let's have a closer look.
The TotalFinder is pretty unique. It integrates smoothly with the OS and acts as if it's a version upgrade to the default Mac OS' Finder. If you notice it though, your Finder icon evolves a little bit after you install TotalFinder, which is pretty neat.
Finder icon in Dock:
Total Finder icon in Dock:
TotalFinder Features
Tabs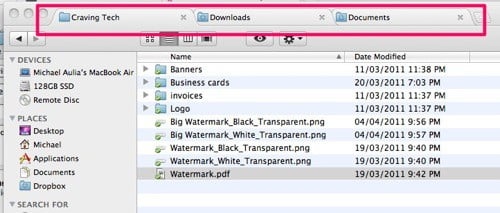 Using the same code from Google Chrome's browser, TotalFinder introduces tabs in Finder and lets you interact in a similar way. You can switch between tabs, pull a tab out, drag and drop files between tabs, and many more. It's a really nice concept and works really well. Since I use Google Chrome most of the time to browse the web, I found that I didn't really need to learn anything to get familiar with this feature. I love how I can open different directories in different tabs and drag files around different tabs easily.
Using Finder cannot get any easier than this.
Dual Mode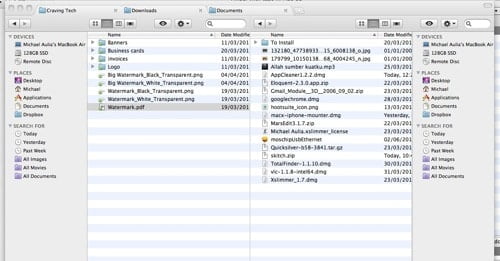 TotalFinder can display 2 Finder windows side by side. It's like having two Finders mirrored and being glued with one another. If you come from a Windows based environment, you may remember a similar third-party file explorer called Total Commander. The Dual Mode makes it easier to copy and move files between different directories. Although you can use the tabs, it's so much easier to see the contents of 2 different directories at the same time.
The Dual Mode is also useful when you want to compare the files between 2 directories at the same time.
Folders on Top
There is also an option to list all folders first before the files in List mode. I prefer this mode as I can find my files/folders quicker than before. This feature is pretty straightforward so there is not much to explain here. It's definitely a small addition to TotalFinder but makes Mac OS Finder a more productive system tool.
There were a few other features that you can enable such as the Visor (a sliding window from the bottom to top), the Asepsis (preventing a .DS_Store files being created in local folders), the cut and paste (I miss this so much, coming from a Windows background), show system files (for expert users), etc.
TotalFinder Review Conclusion
Overall, TotalFinder is like putting Finder on steroids! This is how Apple should have designed the Finder – with tabs, dual mode, and other nifty features. Some features look minor but they make the experience in using Mac OS more enjoyable and better overall. TotalFinder is definitely a must have app on Mac OS to improve your productivity!
Note: Review license was provided for the review
TotalFinder Review Pros
+ Easy to install and integrates with Finder
+ Add tabs to Mac OS Finder
+ Dual mode adds productivity to the table
+ Can display folders first in List mode, more organized
+ Many other small features that make a difference
TotalFinder Review Cons
– Tabs do not feel Mac OS-y (like Google Chrome)