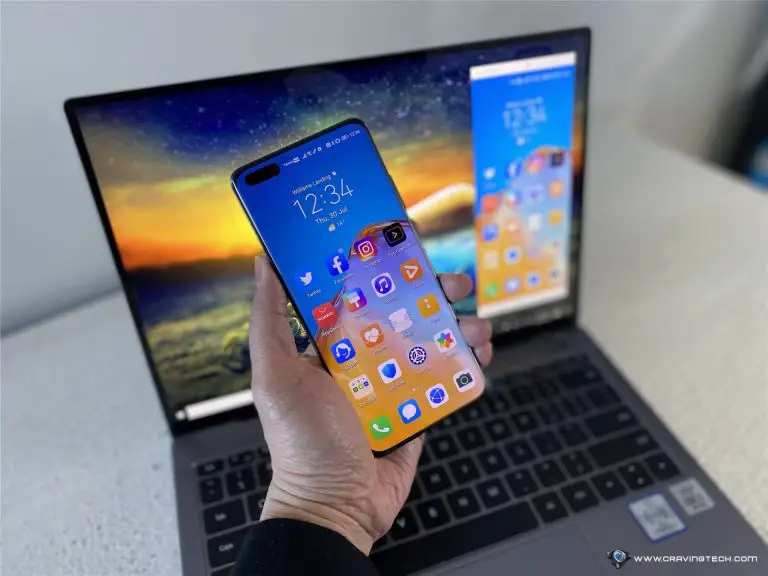 Seamless connectivity and transfer between devices have always been the dream for many. Being able to do a "hands off" from one device to another and continue where you left is not just convenient, but improve your productivity. This is why many companies like Apple (and Huawei now) don't just want you to own their product, but tie you in the ecosystem so that every device you own works with one another seamlessly.
And from the recent announcements and product line ups, Huawei is trying to push their 1+8+N ecosystem where everything works together intelligently, seamlessly, and effortlessly with the smartphone at the center of it all (the "1").
Huawei's smartphone with NFC and EMUI 9.1 or later like the Huawei P40 Pro (check my review out) will be at the central of the ecosystem , connecting and controlling other devices in the 8 categories: PC, Tablet, TV, Speaker, Wearable, FreeBuds, Car/Automotive, and AR/VR. So, these mean products like the Huawei FreeBuds 3, Watch GT 2 (check my review out), Sound X, MatePad Pro, MateBook X Pro (which I'm still reviewing) and HUAWEI Vision. 'N' is the layer where everything comes together (which includes millions of IOT devices/smart appliances effortlessly connected using Huawei HiLink technologies).
Huawei Share is Huawei's take on wireless sharing technology and in my opinion, is a revolutionary experience in bridging between different devices, making them seamlessly connected as if they are just a single device experience. The best user experience is the simplest and if you have Huawei Share supported devices like the Huawei P40 Pro and MateBook X Pro, you'll see how simple and intuitive the experience is.
By utilising NFC, Bluetooth, and Wi-Fi, a single tap from your Huawei's phone to the laptop is all you need to trigger Huawei Share which enables Multi-Screen Collaboration, File Sharing, and Data Syncing.
Once the "magic" tapping is done, a virtual version of your phone will be projected on the laptop. You'll see exactly what you have on the phone and can even interact with it as if you are sticking your phone on the laptop screen.
This makes answering messages and chats really easy because you can just type your replies on the laptop keyboard. Not just that, it is now easier to see the notes you've written while you are on the go with your phone side-by-side with the document you have opened on the laptop.
Another crazy thing? You can copy the notes off your phone and then paste them into your working document on the MateBook X Pro. It's that seamless. You can also sync any recent documents so you are always on top of everything. Being a professional on the go where you have multiple devices and are always on the move, you'll love this.
Or perhaps you are a street photographer who utilises a smartphone to take pictures on the go. It is much easier to edit photos on the laptop's larger screen of course, and thanks to Huawei Share, you can open and edit these photos directly. Dragging and dropping a photo or video from the virtual phone to the laptop (and vice versa) will also initiate a transfer seamlessly. Image quality is also retained.
For a quicker transfer (called OneHop), open a photo (or select multiple photos) from your phone's Gallery and do the magic tap. The files will be auto-transferred instantly to the Huawei Share folder on your laptop and opened.
Imagine attending a seminar, class, or media event with you typing notes on a Huawei laptop. Then, you might want to take a photo of the live event to add to your document. With Huawei Share, you simply take a picture with your phone, then just drag-and-drop it to your document. No more messing with cables, going to iCloud.com to grab the photo to your Windows laptop, or use a third party app to transfer wirelessly.
Hate playing games on a small screen? While it's not exactly an official feature, you can mirror the game on your phone to your laptop's bigger screen. The phone can then be used as a controller. It looks like the framerate is good too as you can see from my video playing Asphalt 9 below.
---
There were times when I had to email myself the photos I take with my phone so I can grab them on my laptop. Or, put them in Dropbox, WeTransfer, and alike. Sure, if you have an iPhone and a MacBook, you can AirDrop them, but what if you have a Windows laptop?
Huawei Share doesn't just enable you to transfer files (photos, videos, documents) seamlessly between its phone and machine, but also projects a virtual version of your phone. Apart from file sharing and data syncing, you can reply to messages on your MateBook X Pro, do screen recording, and more. With Huawei Share, you'll never need to touch your phone while you are working on your MateBook X Pro (you can minimise the virtual phone on the screen).
All these can be done by just tapping your phone to the Huawei Share sticker and behind-the-scene technology will then take care of the rest. Make sure to check out all the things you can do through Huawei Share.
Stay tuned for our full review on the Huawei MateBook X Pro 2020. If you haven't, check out all the awesome photos that Huawei P40 Pro can take.