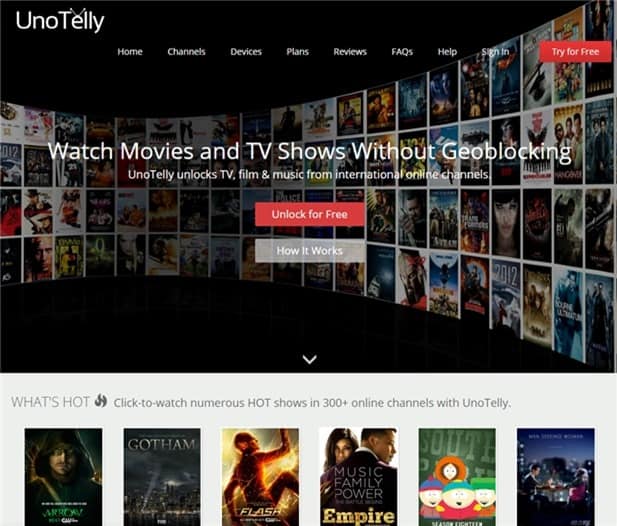 Living outside the U.S sucks sometimes. For example, here in Australia, we've only had a very limited selection of Netflix movies compared to our U.S friends. According to UnoTelly, Australian Netflix only offers around 2,000 titles at the moment, compared to U.S' 15,000 titles! You don't know what you are missing out. It's abysmal.
UnoTelly is providing a service to let you access sites and contents that are normally geo-blocked in your country. For example, your country may be blocking particular sites like YouTube or Vimeo (based on where you are located). Or in our case here in Australia, we don't have access to many contents in Netflix (no Breaking Bad series, for example, and many other top selling movies and TV series). With UnoTelly's help through their UnoDNS and UnoVPN services, these pesky problems will be no more.
Make sure to read my coverage on UnoTelly if you want to know more how it works. I'm still happily using their service up til today and don't know how I can live without it. If you do a lot of travelling and care about privacy, their VPN service is one of the best too.
Good news for you, UnoTelly has kindly sponsored a few of their Gold plan licenses away for a giveaway here at Craving Tech! There are FIVE UnoTelly Gold licenses (which includes UnoVPN and UnoDNS) for a year to be won. So if you've been itching to get yourself a free UnoTelly Gold plan, this is it!
How to win a UnoTelly Gold License for 1-year (5 prizes in total)
Use the giveaway widget below (your email will only be used to notify & send you the license if you win) to:
Visit UnoTelly website
Answer this question (on the giveaway widget): "What content or website you can't access at the moment and why can't you live without it?"
Terms and Conditions:
Eligibility: Worldwide
Giveaway starts on 2 June 2015, 10PM AEST and ends on 16 June 2015, 10PM AEST.
The prize is one of 5 UnoTelly Gold licenses for 1-year, valued at $59.95 each.
Prizes cannot be exchanged or redeemed for cash.
Five winners will be picked.
The winners will be announced on this same post after the period is over and the license will be sent to the email used on the giveaway widget
This is a game of skill, not chance. Winners will be picked based upon the best answer to the question.
Giveaway Widget: