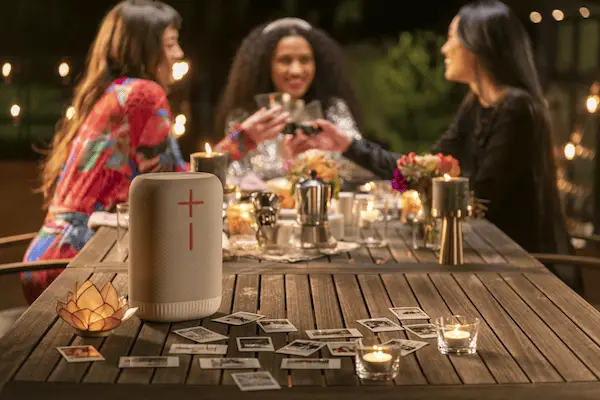 Ultimate Ears, a Logitech brand just introduced EPICBOOM, the newest member of their esteemed range of portable Bluetooth speakers. Crafted from 100% recycled polyester fabric and at least 59% recycled plastic, EPICBOOM features an inventive oval design for a ground-breaking 360° sonic experience, offering an incredibly full sound for its size.
With its unique oval form, EPICBOOM maximises interior acoustic volume, further enriched by a 4.6-inch woofer for precise bass and immersive audio. With its IP67 rating, the speaker is water-resistant and dustproof —perfect for memorable times both indoors and out. Its built-in microphone dynamically adapts EQ settings to ensure consistent audio quality regardless of the setting.
EPICBOOM comes in two colour schemes: Cotton White + Lipstick Red and Charcoal Black + Lime. The speaker offers up to 17 hours of playback and a Bluetooth range of 55 metres. A one-touch NFC function makes setup straightforward for NFC-compatible Android smartphones, version 8.0 or newer. Additional features include an LED battery life indicator and a USB-C port.
An updated BOOM app, launched today, provides a selection of preset EQ settings, such as Signature, Bass Boost, Game/Cinema, Podcast/Vocal, and a brand-new Deep Relaxation mode. Customise the sound frequencies to match your individual taste or the occasion. The popular PartyUp feature allows you to synchronise multiple Ultimate Ears speakers for an amplified audio experience.
Logitech is devoted to positively impacting the environment and communities through its products. EPICBOOM is constructed from recycled materials, and its paper packaging is sourced from FSC-certified forests. Every Logitech product is certified as carbon-neutral, reducing its environmental footprint through thoughtful design and sustainable manufacturing practices.
Ultimate Ears EPICBOOM Availability and Pricing
Ultimate Ears' EPICBOOM will be available in Australia with an RRP of AUD $499.95, starting 25 September 2023. Visit www.ultimateears.com for additional information.