Note: This is a guest post written by Dan Martin – Innovation is generally referred to as, the development, improvement, adoption, and commercialization, of new products. It is an idea of practicing a new thing by an individual or other unit of adoption. This is the key for enablers to innovate useful innovation tools. These tools streamline us to achieve the innovation, collaboration, and the right strategy we need. Here is how you can harness the full potential of innovation management tools to revitalize the organization and the strategies to uplift sustainable growth.
Tips for Effective Innovation Management
Innovation should drive growth and this should consequently, improve shareholder value. Business measures like balanced scorecards related to finances, processes, employees, and customers should be used to find out the benefits of innovation for example new product revenue, time to market, customer and employee perception & satisfaction. Organizational capabilities can be evaluated through various evaluation frameworks. Innovations are pursued when their estimated benefits outweigh the total estimated costs. 
Challenges we face while managing the innovation
Lack of risk-taking abilities
Non-availability of adequate resources like finance, and technical manpower.
Low linkage with the external environment
Difficulty in testing
Difficulty in conducting a market survey
Difficulty in commercialization
Difficulty in marketing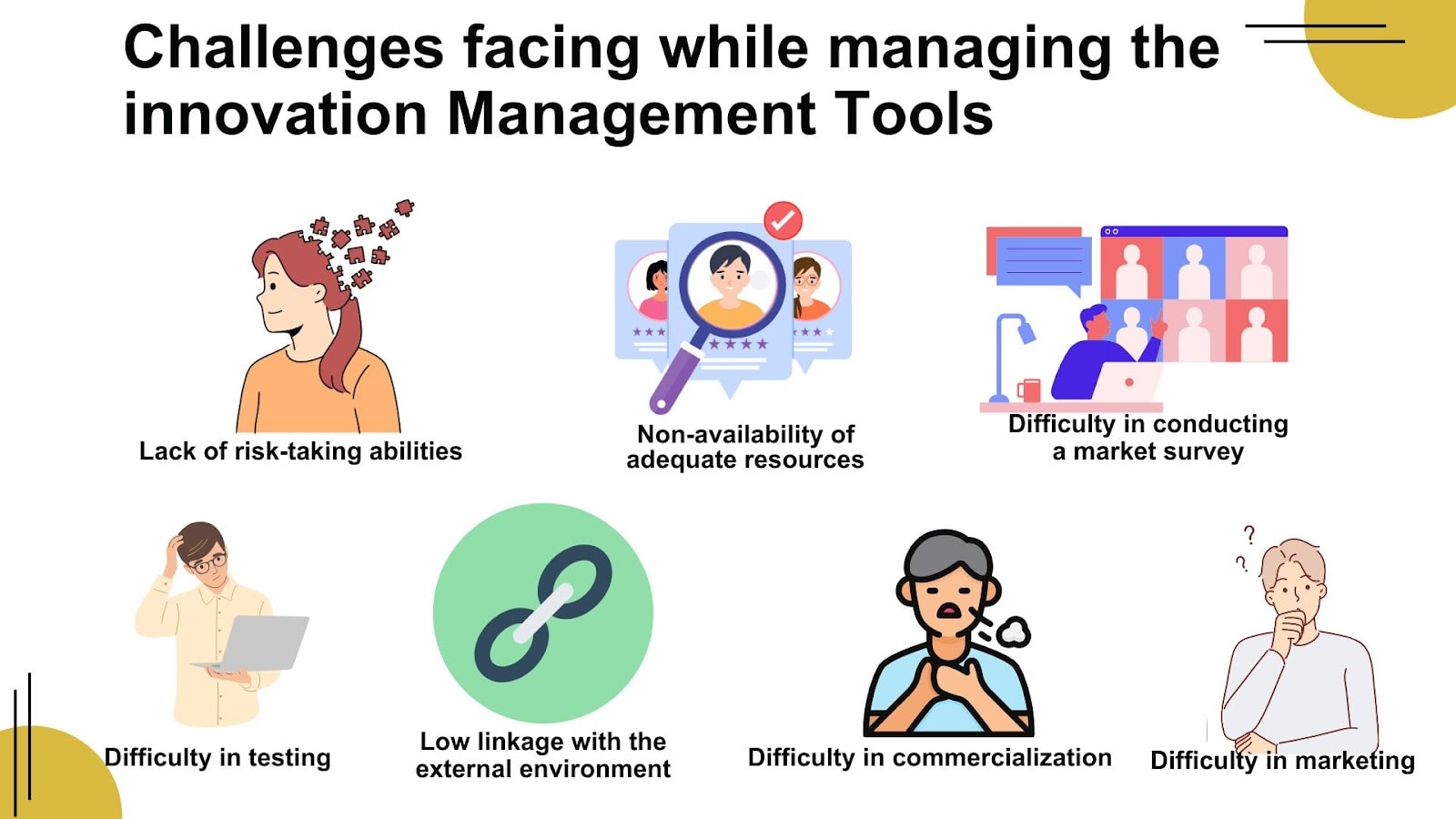 How to manage proper Innovation management 
To ensure proper innovation management by using the innovation management tools the following should be concerned
Likely failures should be identified and screened out as early in the process as possible.
Exceptional productivity is concentrated among a few people. There is a need to employ, develop and retain exceptionally talented inventors. 
Seeking maximum participation of all the concerned individuals. Individuals are the 'atom' of the organization close to the minutiae of daily activities.
Strong integration & orchestration of cross-functional activities.
Top management's commitment and support
Working with external partners and stakeholders makes the innovation more deliberate.
Managing the strategic features makes the innovation more reliable.
Some Important Characteristics to Achieve Innovation 
Let us consider that there is an object or target which is being changed. It can be a product, a process, an individual's lifestyle, an organization's strategy, or a society's culture. Innovation varies in extent or magnitude i.e. the degree to which one deviates from the past. It is closely related to problem-solving since the generation & implementation of ideas for change never transpire without difficulty. A final characteristic is the impact of the change, the significance or range of its effects. 
Factors Depending on the Innovation Management 
The innovation strategies of an organization depend upon the following factors:
Government support and policies for technology and
innovation Risk-taking abilities of the organization
The risk-taking Attitude of Top Management Organizational goals & policies
Degree of technological changes Degree of competition
Availability of funds / budgetary support for the innovation process
Age of organization like new vs old organization
Management in Organization Degree of formalization, formal structures, systems & procedures 
Centralization
Resources available
Openness to external information
Degree of informal communication
Understanding of Innovation Management Tools
Before diving into the innovation management tools, let's understand what they are. Understanding Innovation management tools are software solutions that are designed to facilitate the entire innovation process, tracking, and implementation. It enables us to capture, assess, and prioritize the ideas related to the current marketing trends and customer-satisfied needs.
 Cultivate a Culture of Innovation
If we need to implement the potential of innovation management, it is essential for us to establish a culture that values innovation. They need to feel free to share their ideas and make sure that they are taken into consideration. An active lead should promote a culture of communication and innovation. When everyone stays focused on the goal to achieve innovation, these strategies will become more effective.
Encourage Cross-Functional Collaboration
We know that innovation is the intersection of different disciplines. We need to encourage cross-functional collaboration, which will bring ideas of innovation. We need to facilitate collaboration by providing a platform where your team can share the knowledge or idea of what they know without any hesitation and create solutions for their own mistakes. 
Embrace a Systematic Idea Evaluation Process
We need to generate ideas on the basis of critical,  systematic, and objective evaluation. Innovation management tools offer an idea based on the criteria such as feasibility, market potential, and alignment with business objectives. If we evaluate these ideas, we can focus on our resources to enhance efficiency and hit success.
Implement Agile Project Management
Innovation always integrates and uplifts project management methodology. It also enables the teams to execute the projects more effectively. It promotes development and allows them to respond, making it a valuable output. This makes it easier to adapt to the trending marketing conditions and keep creativity projects on track. 
Analyze and Learn from Data
Innovation management tools help to collect a vast amount of data. It includes the idea of generation rate and feedback from stakeholders. This analysis will identify the patterns and spot the mistakes and make them to optimize the innovation strategy. If we continuously learn from failure and success it will improve innovation.
Key Takeaways
The concept of innovation is nothing new to the business world. It has been in the system for decades. However, today, it has become a prerequisite to business growth and prosperity. While in the past a company dares to innovate just to make an edge to the industry, nowadays, it has become an essential factor in business design for the company to survive and profit. The company shall implement, maintain innovation, and make an environment that encourages innovation.
The company's workforce is a valuable asset to allow their process to happen and the use of these assets is beneficial to the process in various ways. This approach is so significant that even those businesses that have been around for decades get into the stressing stage of redrafting and reshaping their fundamental principles and business values to create an innovative environment. If a company desires to survive today's market competition, they have to produce an innovation culture.
Frequent Queries
Do innovation management tools work for small businesses too?
Yes, Absolutely innovation management works for small businesses too. It's not only limited to large enterprises. This enables them to foster innovation effectively.
What are the common features of innovation management tools?
Some standard features are collaborating with the workspaces, analyzing dashboards, managing capabilities, and giving and asking for feedback. If we foster them in the workplace these features result amazingly.