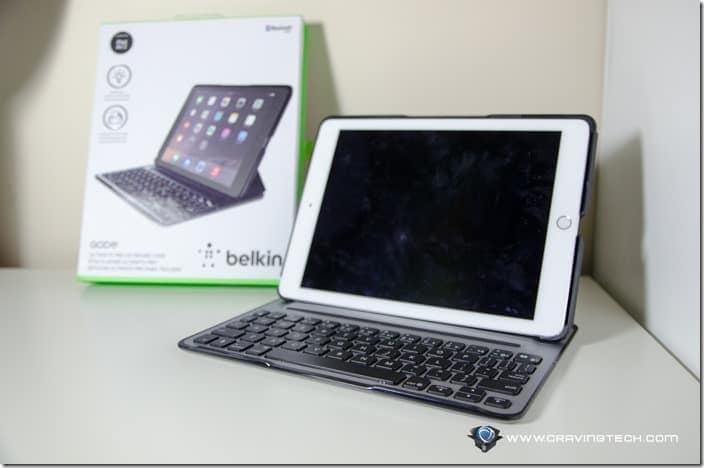 Belkin QODE Ultimate Pro keyboard case for iPad Air 2 Review – Belkin QODE for the iPad Air that I reviewed when I had the original iPad Air was an amazing keyboard case. That statement still stands true for the second model, Belkin QODE Ultimate Pro for iPad Air 2.
It's a full keyboard case that combines the best typing experience on the iPad with protection and versatility.
Packaging
The Belkin QODE Ultimate Pro for iPad Air 2 is basically:
A protective case for your iPad Air 2 (protects the back of your iPad)
A keyboard case that docks nicely to your iPad Air 2
A Bluetooth keyboard for your iOS devices
These are made possible because the QODE Ultimate Pro are being separated into components (like LEGO in a sense), so you can sort of do a mix-and-match, depending on your situation. Want to read a book on your iPad? Take the iPad Air 2 out of the case. Want to travel around with your iPad? Place it inside the protective hard case. Need to type something with your iPad? Make sure to carry the keyboard along as well by attaching it to the case.
So, rather than having to carry the whole deal even when you feel that you are not going to need a keyboard, Belkin QODE Ultimate Pro gives you options. And options are good.
Design & Features
Protective Case
The protective case is a hard cover case to protect the back of your iPad. The case itself doesn't weigh a lot, but still add bulkiness to the iPad Air 2. The case works with the Smart Cover, so if you have one, they will match rather perfectly (assuming you have the right color combination).
The case has all the openings of ports and controls, so if you always want your iPad Air 2 to be protected, you'll never have to detach it from the case. Ever.
The SoundFlow design also directs the sound coming from your iPad speaker towards you, which is a nice add-on.
Keyboard Case
The best feature of the QODE Ultimate Pro is of course, as a keyboard case. It's just perfect. The design is really sleek, the features are nice and well-thought of, and you get everything you can think of from a keyboard case. In order to use the keyboard case, however, you need to have the iPad inside the protective case (for the magnetic solution to work).
Design
It's made of an Aircraft-grade aluminum alloy to make it light, yet durable. The keyboard case attaches nicely with the protective case and when closed, gives a shiny and elegant look.
Keyboard keys
I really love typing with the Belkin QODE Ultimate keyboard, especially compared to typing with the iPad's on-screen keyboard. If you do lots of typing (such as writing documents or articles) with your iPad, I truly recommend grabbing this awesome case. The keys don't feel cramped and it didn't take me long to adjust myself to them. I've typed hundreds and hundreds of words for the past couple of weeks, testing the keyboard inside out.
Backlighting
The keys are backlit (with 3 different brightness levels) so you can use it completely in the dark and still type comfortably. It's quite useful on the plane when cabin lights are off, or when you are sharing a hotel room with someone and he/she is already asleep with the lights off.
Portrait and Landscape mode
This is probably the most unique feature I've ever found on a tablet case. As if the different viewing angles feature is not enough, you can re-position your iPad in either Landscape (for watching movies or typing) or Portrait (for reading or typing). There are not many cases that offer this and even if they do, they are pretty flimsy. In Portrait mode, the iPad still sits sturdily even as I type on my lap. Having more paragraph lines to see and work with is awesome.
Smart auto off and on
You won't find any power button on this case. That is because the case has a smart-sensing auto on/off technology, which knows when to turn itself on and off. Attach the iPad onto the magnetic stripes and the keyboard case turns itself on. Close the case and it turns itself off. No more battery wasted because you forgot to turn a keyboard case off.
Long battery life
Belkin promises up to 1 year battery life, which is amazing (based on a fully charged keyboard used continuously with backlit keys turned off) and makes me wonder how they did it.
Can be used while detached
The Bluetooth-powered keyboard case can also be used with the other Apple devices (such as an iPhone, iPod Touch, or even a MacBook or Mac). You can also pair up to 2 devices at the same time so you can switch over between your iPad and iPhone pretty seamlessly, for example.
Belkin QODE Ultimate Pro keyboard case for iPad Air 2 Review Conclusion
Look, there are just so much to love about this keyboard case. Belkin QODE Ultimate Pro has pretty much everything you want from a case. It offers so much flexibility and versatility, packaged in a neat, elegant design.
Backlit keys? Check. Long battery life? Check. Portrait and Landscape mode? Check. Awesome keys to type? Check. Detachable keyboard? Check. Detachable case that also works with the Smart Cover? Check. I can go on and on. This is truly the ultimate keyboard case for the iPad Air 2 and you will not be disappointed.
Disclosure: Sample was sponsored for the review but all opinions are 100% mine and not paid.