TyperShark is an old Flash-based game developed by PopCap Games. The idea of the game is about a diver who searches for treasures at the bottom of the sea.
You are that diver and of course, searching treasures have never been easy. Sharks and piranhas are there to tear you to pieces. Not unless you have a good KPM (Keywords per minute) rate.
PopCap TyperShark is a typing game, in which you have to type series of words (or letters) to kill the sharks and piranhas before they can get to you. You will be rewarded with points every time you kill the sharks and piranhas, and you will also be rewarded for your typing accuracy.
If you are not yet confident with your typing skills, do not worry. TyperShark gives you a typing tutorial session as well. Although if you chat a lot online, you can certainly be sure to skip the tutorial altogether :)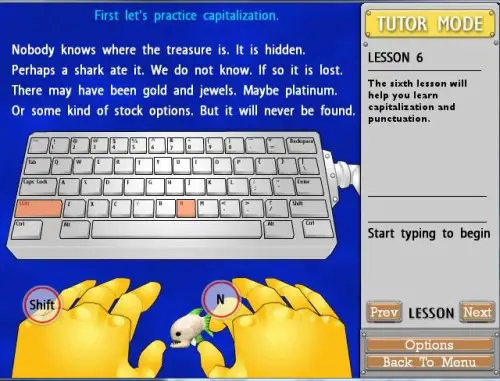 You can select different difficulties in the game, but these basically only affect the speed of the fishes before they can get to you.
There are also a few boss battles and bonus rounds. However, none of them are interesting enough to give a sense of victory and achievements.
You browse through the game "missions" through the map, and each part of the map has different variety of sharks and piranhas. For example, you have to type 2 correct words to kill a Hammerhead sharks, etc.
There doesn't seem to be an ending to the story, though. After you have completed the map and reach the "finish" line, you basically have to do extra missions while the difficulty is tweaked higher and higher. The question is, how long can your fingers survive?
TyperShark Deluxe is a fun typing game and typing tutor. The graphic is quite standard (Well, the game was released back in 2003) but the game play is strong. Unfortunately, it doesn't really have the RPG elements to make the game more interesting (gaining an ability or experience after completing a mission, etc). The variations of the sharks and piranhas will keep you going (out of curiosity), however I'd still suggest getting other more recent PopCap games if you are thinking to get it (You can also check my BookWork Adventure review here). If you are looking for a game that will train you to type faster, then look no further than the fun of TyperShark!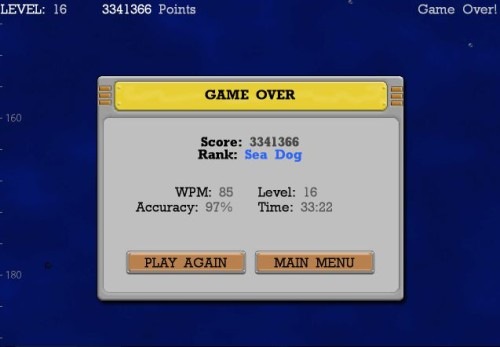 You can always try the game first at PopCap TyperShark page before you decide to buy it.
If you love to download and play Flash games, you may want to check out a friend's site for more Flash Game Downloads.