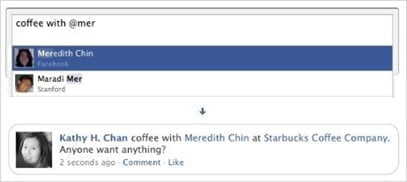 Soon you can tag your specific friends to be mentioned on your status updates. They will be notified of your status updates, making sure that your friends will not miss them. Similar to the @ in Twitter, you'll also be using the @ symbol on Facebook. It's a similar concept to the photo tagging, basically.
The update is rolling but not every Facebook user can use this feature just yet. So keep on trying (by simply typing "@" in front of your status updates and if you can see some friends suggestions, then the update is on for your profile!).
So the war between Twitter and Facebook rages on!
Source: Facebook blog