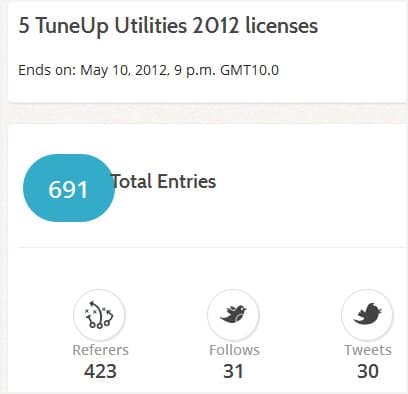 Lots of entries and interests on the TuneUp Utilities 2012 giveaway, glad you all like it! Entries were in and the winners have been selected based on the number of entries (by referring the giveaway to friends and sharing it on social media).
The 5 winners are……
TuneUp Utilities 2012 Giveaway Winners
Mohammad Wasiullah (78 entries)
Zack Cardona (67 entries)
Rust Hawk (44 entries)
Den Den (29 entries)
Akshat Mittal (23 entries)
Congratulations once again, guys!
I kept on looking the same winner names every time (not that it's wrong) but you all need to catch up and do more if you want to beat these guys :) How? Keep on sharing about the giveaway and invite your friends to check it out. The more friends you invite, the more points you'd have. To those who win again, congrats, your effort is deserved to be rewarded.
If you didn't win, don't get discouraged. We still have another giveaway running for a few more days, so give it your best this time!
I'll be sending emails with the license keys soon to you.