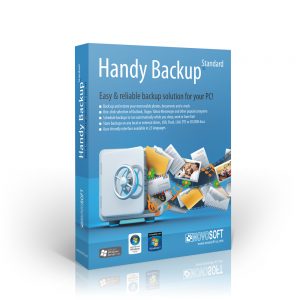 10 x Handy Backup licenses giveaway – Looking for a commercial solution for your backup needs? Craving Tech and Novosoft LLC. are happy to announce a great giveaway to offer you this solution for free (if you win).
TEN Handy Backup licenses for Home Standard are to be given to TEN winners of this giveaway.
If you are wondering what Handy Backup can do, make sure to check Craving Tech's Handy Backup review.
How to win a Handy Backup license
As usual, use the widget below this post to participate and to gain entries/points. Keep referring friends to this post and you'll gain an extra entry for each visit. Participants with highest entries will win the licenses!
If you help by answering these short survey questions below on the comment form, you'll also get 5 extra entries/points! All the best, guys!
Survey questions:
What data loss cause would you want your backup software to prevent in the first place?
a. Hardware malfunction or loss (God forbid laptop stealing and hard drive failures!)
b. Virus attacks eating my data
c. Someone deleting something valuable to me
d. Software malfunction
e. All that
f. Other / What?
What exactly do you think deserves to be backed up?
a. Docs
b. Pics
c. Videos
d. HDD snapshots
e. Databases
f. Servers
g.Email messengers
h. Application data
i. Other / What?
Like the idea of Instant availability and top security for data, stuff stored to the Cloud?
a. Yes
b.No
What's your favorite blog besides Craving Tech?
Survey sponsor: Handy Backup, the meaningful backup software