Still searching for the ultimate backup software solution? Here is another great application for your consideration: Handy Backup. Most backup software provide the same things: backup scheduling, encrypted/password-protected backup, offline/online backup, and a few more others.
So what differentiate Handy Backup with tons of other backup software? Let's take a look at the features.
Unfortunately I haven't been exposed to much backup software before so I can't make much comparison. In this review though, we'll have a look at what Handy Backup provides and how useful the features are for backing up.
Handy Backup Review – Interface
Handy Backup has a windows native looking interface; not too fancy, but pretty straight forward. Most actions are guided through a series of steps (Wizard) so you'll always know what to do/set-up at any given time during the backup/restore process.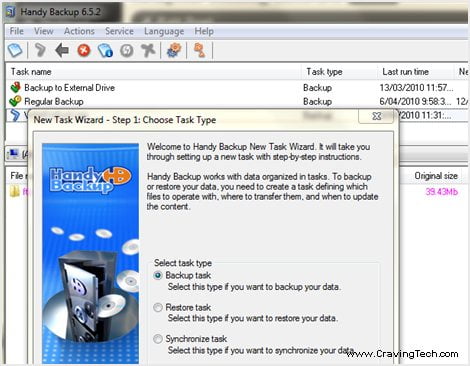 Handy Backup Review – Backing Up
Here are some Handy Backup powerful features:
Excluding files to be backed up
You can go crazily specific by using a file mask filtering to exclude files that you don't want to back up. Rather than going folder by folder, you can exclude certain files in folders that you don't want to back up. For example, if you just want to backup your music files and not every possible sound files in your computer, you can filter them out by excluding all .wav files (music files aren't normally in this extension type). The possibilities here are quite endless and you can be as specific as you want (excluding non .doc files in your Documents folder, etc).
Backup Scheduling
Backups can be scheduled in Handy Backup and all the advanced features I mentioned above are made available in scheduled backups. The scheduled backups run very quietly in the background when the time comes. I couldn't even see any pop-up message or bubble dialogues on my system tray. I actually prefer this as I want the backup process to be as seamless as possible. Some paranoid people might want to see some form of feedback though when the scheduled backup happens, for a peace of mind.
Plain, Compressed, and/or Encrypted Backup
With Handy Backup, you can choose a backup type that you like. I choose a plain backup, meaning all backup files are just plain copies of existing ones. This means if something happens, I can simply copy the files back without the need of decrypting or using Handy Backup to restore it. Others might want to encrypt the files for privacy reasons. Your call.
Full vs Incremental vs Differential

You can also choose whether you want a full, incremental, or a differential backup.
"Select full backup if you want to back up all files each time a task is run. Select incremental backup to back up only changes since the previous backup (file level), or differential backup to back up changes since Full backup (byte level)."
I find that the incremental backup serves me well as it keeps my files and folders synchronized with each other.
Outlook Backup
Now, I haven't seen this feature on any backup software I've reviewed or tried before. Normally you have to download a third party Outlook backup software to backup your Outlook. Thankfully, Handy Backup Standard Edition includes backing up your Outlook PST file (although it does as easy as copying the PST file across, most users don't even know how or where). One catch though, that you have to close your Outlook first if you want to back it up because the file will be locked when Outlook is opened.
Handy Backup can also backup other popular email clients such as Mozilla Thunderbird and Windows Mail. I haven't tried these though but the Outlook backup served me well.
Website Backup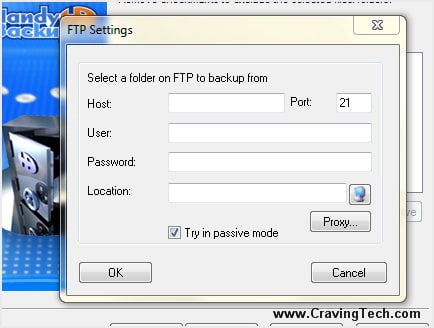 Own a website or a blog? No worries. Handy Backup can auto connect to an FTP address and keep a backup of your whole site offline in your computer. There's also a Database backup feature if you have the Professional license and you'll be able to backup your MySQL, Oracle, and other supported database. It allows remote database backup, including a WordPress backup (you need to set-up the Remote MySQL in the cPanel first, though).

Multiple Media Supported
Handy Backup can backup your files to various storage devices such as a drive partition, an external drive, CD, DVD, Blu-Ray, USB Flash Drive, and even to an FTP server remotely.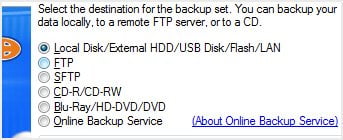 Handy Backup Plug-ins
One of the reasons why Firefox is so famous and downloaded by millions of people is the Extension support. Handy Backup happily supports third-party "Firefox extensions" alike. These plug-ins make it easy for you to install and add additional applications that you want to backup through Handy Backup. You can even create your own plug-in if you are really into that sort of stuffs (the programming reference/API can be read on their site).
At the moment, there are plug-ins that allow you to backup Mozilla Firefox, Winamp, Skype, Windows Media Player, and many more. You can count on more plug-ins being added in the future.
Handy Backup Review Conclusion

Even though Handy Backup doesn't look sexy, it gives tons of features at your finger tips:
Superb flexibility in choosing which files to backup, giving you the option to backup only what you want to backup
Different type of backups for different purposes
Support almost every single storage device, including online FTP servers (and SFTP on Professional Edition)
Support backing up your website files and database automatically
Third party plug-ins allow endless support to backup new applications (assuming they are being constantly developed/updated)
Disk Image backup (if you have the Professional Edition)
Backup servers (MS Exchange Server, Lotus Domino, etc) if you have the Server Edition
Allows Outlook and other email clients to be backed up.
The only problem that I see in the software is the amount it takes to refresh the index file (happens when you open Handy Backup window). It can take up to a few minutes and you won't be able to manually run your backup task until the program has finished refreshing. It's nothing major but can be annoying to wait this long to start using the application.
Handy Backup is powerful for both home and professional users. For businesses, Handy Backup is a great backup tool as it supports backing up servers & computers in a network environment. Handy Backup Standard is priced at $39 when this review was written but the price is nothing compared to what you get in this software. Not to mention that having a backup actually worth millions of dollars? :)