Tt eSPORTS Volos Gaming Mouse Review – MOBA (Multiplayer Online Battle Arena) and MMORPG (Massively Multiplayer Online Role Playing Game) games require gamers to unleash heroes' abilities by pressing a certain sets of shortcut keys. Whether it is done on the keyboard or mouse, it does not matter. Often, these abilities are so many that there are just not enough keys to bind them to, without doing some awkward moves and taking your eyes off screen.
The Volos gaming mouse from Thermaltake Tt eSPORTS is designed specifically for these types of games by including extra buttons ready at your fingertips, plus a few other bits and pieces.

Tt eSPORTS Volos Gaming Mouse Review – Unboxing Video
Tt eSPORTS Volos Gaming Mouse Review – Packaging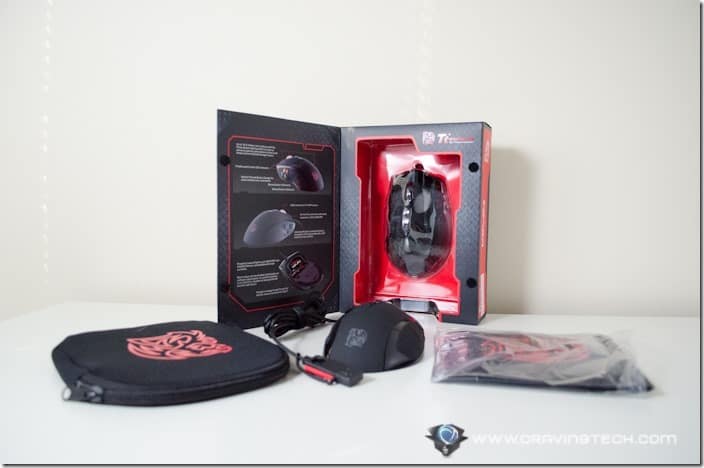 It comes with a nice soft pouch to carry the mouse to a tournament or a friendly game.
Tt eSPORTS Volos Gaming Mouse Review – Design, Features, and Gaming Experience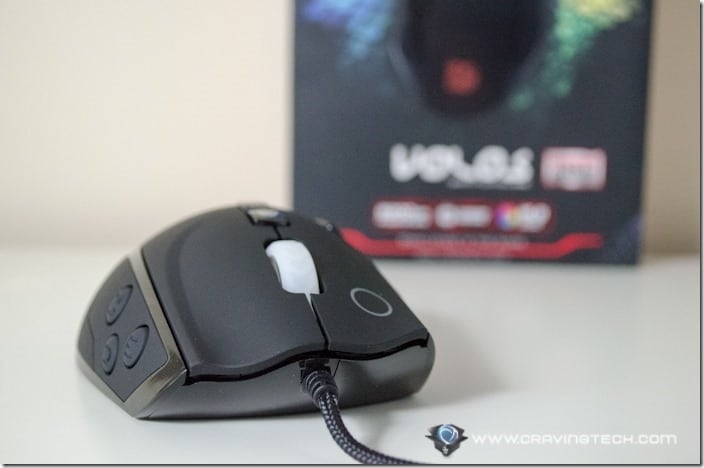 Coated in either Black or White (my review unit is the Black version), the mouse bears a resemblance to the other Tt eSPORTS gaming mouse arsenal (check out Craving Tech's review on the Theron, Saphira, or the Level 10 M Gaming Mouse). It comprises of different textures that make it sweat resistant, grippable, and durable at the same time. On the surface where you'll most likely be gripping the mouse to glide it around, we have rubber textured surface (for the thumb and pinky).
The mouse itself can be considered as a medium-large sized mouse, which should cater those with bigger hands. For those with smaller hands like myself, fret not, as I find the mouse to be not overwhelming in size and can be gripped quite comfortably. Thanks to the customisable weights system, the mouse can be tailored to your preference. Having small hands, I prefer my mouse to be lighter so I can glide it without any extra effort. I assume those with bigger, stronger hands want their mouse to be as sturdy/heavy as they can. Anyway, there are plenty of weight customisation options here, so you can keep on testing until you get the perfect balance (7 x 4.5g weights to be adjusted).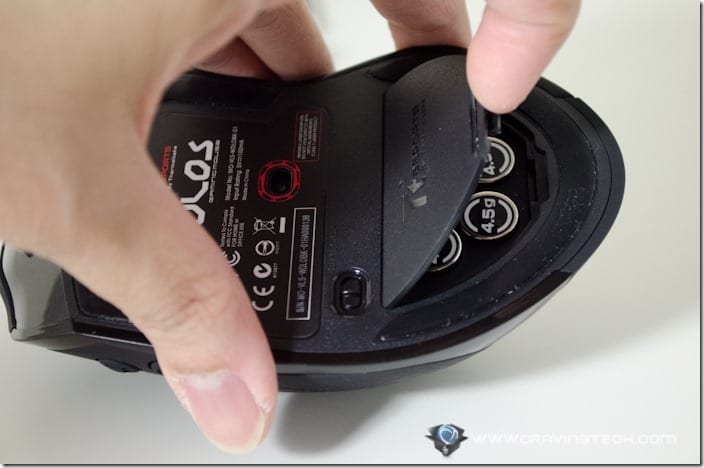 The Volos is filled with extra buttons which can be customised through the software easily for commands, including macros. There are 6 buttons on the left side of the mouse (4 Xbox-like colored + 2 more labeled as A & B), 3 on the right side (labeled as C, D, & E), and 3 on the top (minus the usual left, middle, and right buttons).
However, I find that the 4 colorful buttons are kind of hard to reach without having to shift my grip, especially the Blue one. This will either make me pause in whatever I'm doing or accidentally click on the "E" button by mistake – as that is the spot where I normally grip my mouse with). It is as if these buttons are designed primarily for those who game with a palm grip (as the thumb will sit nicely on top of these buttons). I'm more like a fingertip gamer so it feels like an extra effort to actually reach for one of the color buttons. The A, B, C, D, E buttons are not out-of-reach, thankfully, so you can still make use of those even if you are not a palm grip gamer.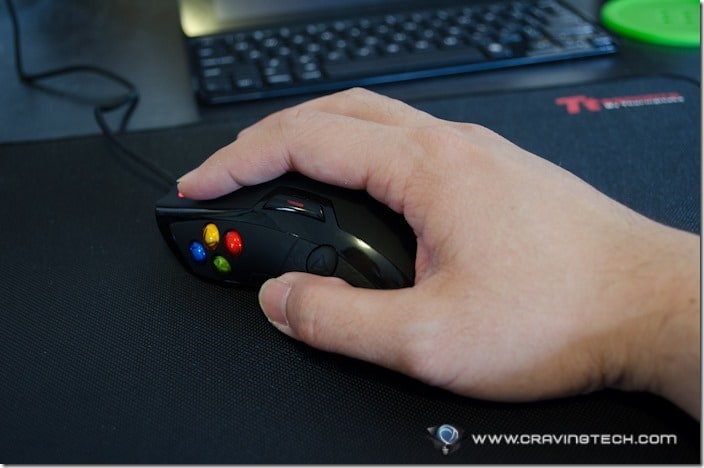 You can set up to 10 different gaming profiles and scroll through them quickly with the profile switcher button (by default). A nicely designed indicator ring will lit up with different color as you make the switch (plus a nice overlay notification on your monitor). DPI switching can also be done pretty much instantaneously with your finger, using the DPI Up and Down buttons (by default).
If APM (Actions Per Minute) matters to you, then you can set the LED light colors on the Volos to automatically change depending on how active you are (called the "Battle Mode"). It's a cool feature but I'm not convinced that competitive gamers actually have the time to make a quick peek at the mouse. In darker environment however, you should be able to notice the color change without having to stare at it directly.
Though the mouse is designed with MOBA/MMORPG games in mind, I don't see any reason why it does not shine in FPS games. It has one of the highest DPI that a gaming mouse can offer, plenty of quick buttons that can be used as macros (for quick-typing or buying weapons in CS:GO). I also had a blast in Battlefield 4 as the mouse is comfortable to hold and has a nice rubber grip on some parts of the surface. The sensor is accurate on the Tt eSPORTS Ladon and the main buttons have great tactile feedback.
MMORPG games like the Star Wars: The Old Republic and Final Fantasy XIV: Realm Reborn are perfect examples of games to take advantage of the extra buttons. Rather than pressing SHIFT-6 to execute an ability during a PvP match, a simple button press on the mouse is a godsend.  I don't play DOTA or LoL, unfortunately, so I haven't tested this on a MOBA game.
Tt eSPORTS Volos Gaming Mouse Review – Conclusion
Overall, the Tt eSPORTS Volos gaming mouse is a great gaming mouse, especially for palm grip gamers. The mouse is comfortable to hold and its weight balance can be tailored perfectly for you. It is almost entirely customisable to get better performance and personalisation out of your mouse. However, there will be problems for reaching out some of the buttons if you are a fingertip (or claw) gamer.
For MMORPG and MOBA gamers on a palm grip, this mouse makes a huge difference in life and death, as you can cut away a fracture of a second to unleash that one ability (compared to using complex keyboard shortcuts with SHIFT, ALT, or CTRL). In PvP games, one second ahead is all you need to win a fight and the Volos will make sure you have that.
[AMAZONPRODUCTS asin="B00EVVNMWW"]
Disclosure: Tt eSPORTS Volos review sample was sponsored for the review. Opinions are 100% mine.