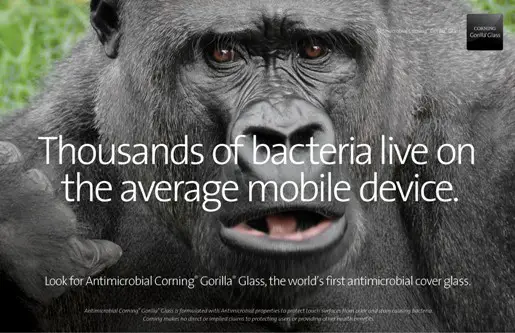 If you are the type who likes to pick nose after playing with your own smartphone or tablet, then think again. You are literally transferring bacteria, fungi, and their circle of friends fresh into your nose (and lungs?). A touch screen is a perfect host, among other things like keyboard and anything touch-able in a public toilet (but surely you know that).
Corning, the maker of Gorilla Glass – which screen powers almost every smartphone in the world (including the iPhones, Android, and Windows Phones) recently announced an Antimicrobial Cover Glass.
"Corning's Antimicrobial Gorilla Glass inhibits the growth of algae, mold, mildew, fungi, and bacteria", according to James R. Steiner, Corning's Specialty Materials' Senior Vice President and General Manager.
I don't know how many times you clean your screen with a spray or even with a wet cloth, but this is certainly good news. Assuming, of course, that the glass is as scratch resistant as we all know it.
This does raise a few questions whether every smartphone in the future will still be using Corning's Gorilla Glass. Rumors circulating around the upcoming Apple's iPhone 6 points to an all Sapphire touch screen, ditching Corning's Gorilla Glass. However, this is still a rumor, so we aren't sure whether this is true or not until the day iPhone 6 is literally out/announced.
I'm pretty happy with Corning's Gorilla Glass, but it's funny how a tiny dust or sand can actually scratch the screen where as a knife can't. Which one is more likely to scratch your screen? You tell me.
Source: Corning's press release