Imation 2-in-1 micro USB Flash Drive for Android Review – Loving your new Android smartphones or tablets? A 16GB or even 32GB of storage space may sound much, but taking tons of pictures and storing media files will quickly fill the space up like there is no tomorrow. Most Android devices give you an option to add a microSD card in it, but transferring files in between can get tedious (you may have to open the back case to take the card out and you also need a card reader on your computer).
Imation's 2-in-1 micro USB Flash Drive for Android gives a seamless access between your precious files and your Android smartphone/tablet. Simply plug the USB drive on the phone to access the files in it and plug to your computer to transfer files to it. Buy this in bulk and you can practically have an unlimited storage space on your Android phone or tablet.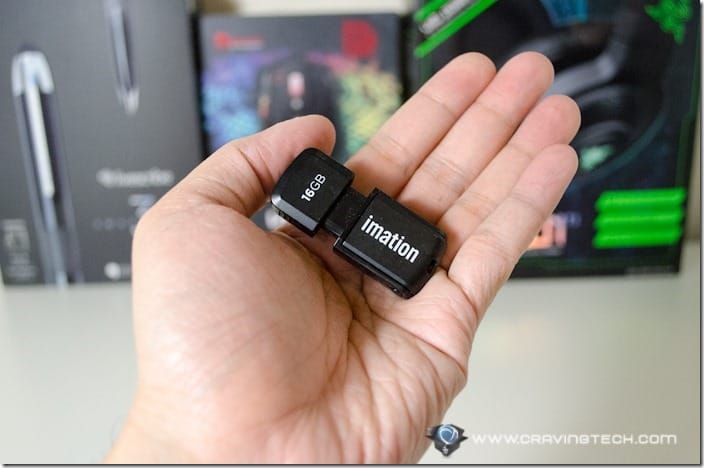 The Imation USB Flash Drive for Android looks just like an ordinary USB Flash Drive, except that it has an extra microUSB plug on the other end (to be plugged to your Android device).
It also works out of the bat and does not require an additional cable or power. The design makes it portable so you can carry it every day inside your pants' pocket with ease. It can also be attached easily to your key ring.
The swivel and slide capless design ensures that you do not lose the protection cap (that we do so quite often).
Although Imation recommends installing the free ES FileExplorer App to get the best performance, I found that the USB drive works great even without. I was using ASTRO File Manager on the HTC One and file operations were working just fine. Any files you have inside the drive can be seen and accessible directly on your phone. Please check their official page to find out whether the drive is compatible with your Android device before purchasing.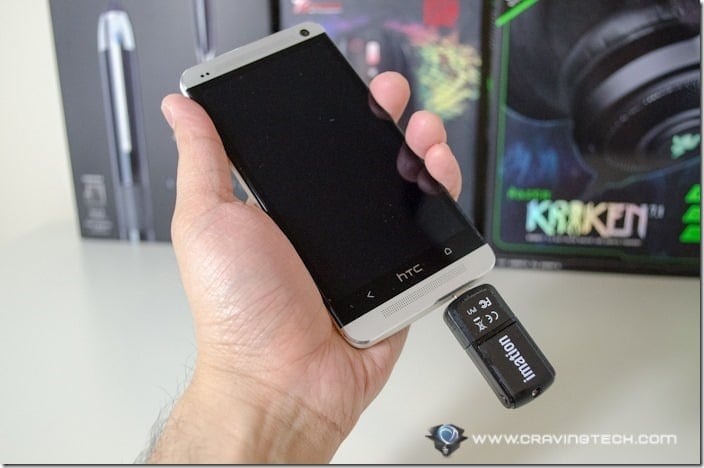 CrystalDiskMark benchmark result: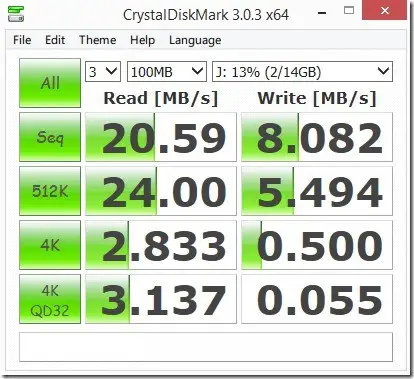 on larger datasets:
If you don't like seeing benchmarking reports and bars, then here is a real life example. I copied a 2GB movie file in HD quality into the drive and played it on the HTC One. There was no stutter during the playback, which means the read transfer rate is fast, although it may take you a while to copy files into it due to the slow writing speed.
Imation 2-in-1 micro USB Flash Drive for Android Review – Conclusion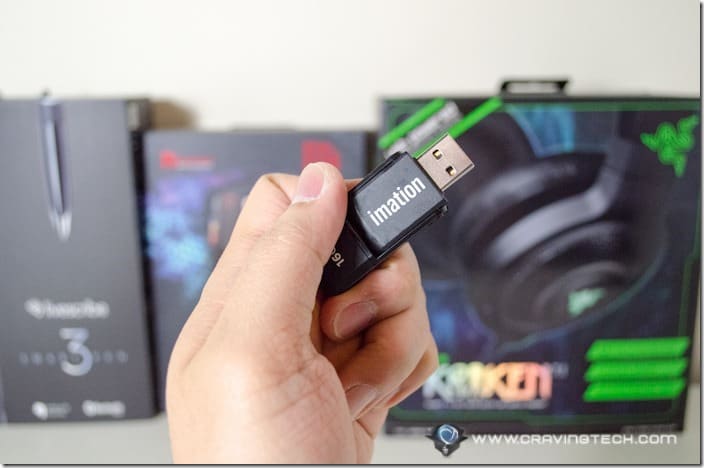 Overall, the drive is a perfect, compact, tool that dynamically adds an extra storage for your Android phone or tablet. You can store your photos in the drive or copy your movie files to be watched later on the plane. Without having to carry an extra cable or anything else, you have an extra storage space with you at all times. Or when you need to copy files on the go from a computer, you can simply plug the Imation drive and access it later on your Android device. Really, really, handy indeed.
The storage drive is available in 16GB, 32GB, or 64GB. According to Imation, an iOS version for the iPhone and iPad is in the works.
[AMAZONPRODUCTS asin="B00GROX5IW"]
Disclosure: Imation 2-in-1 micro USB Flash Drive for Android Review sample was sponsored for the review. Opinions are 100% mine