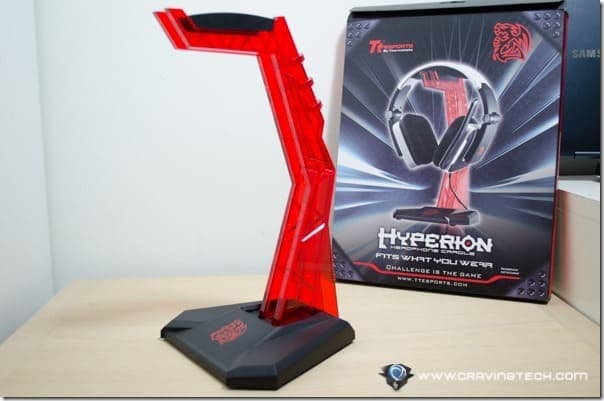 Tt eSPORTS HYPERION Review – Real gamers use gaming headsets to play competitively online. With a 5.1 gaming headset, for example, you can identify your enemies long before they can see you in a first-person shooter (FPS) game. The only problem with a gaming headset is the way it is stowed when you are not clicking your weapon away.
Though some gaming headsets include a nice carrying case (soft or hard), it is just not practical to put the headset in and out every time. What most people do is to stow the headset on the table when they are done playing for the day, or inside a drawer. It's messy.
Thanks to Tt eSPORTS HYPERION, you can now rest your gaming (or non-gaming) headset/headphone safely, in style, ready to be used in times of need.
The HYPERION is pretty much a simple headphone cradle. It consists of easy-to-assemble/disassemble parts which makes it portable.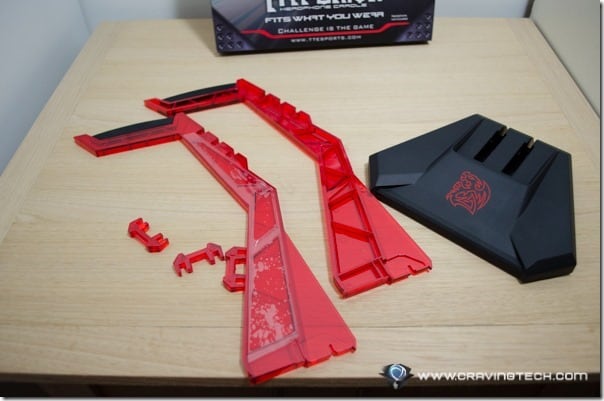 Its design highlights the Tt eSPORTS Battle Dragon color and coolness factor. Shaped like a scorpion tail, the pillar stands tall and sturdy.
At first sight, however, the HYPERION may look cheap, flaky, and weak. When I hold the foundation base for the first time, I was disappointed because I expected more weight and I wondered whether the HYPERION would fall over after placing my headset on it.
I was wrong, thankfully. The 3 claws that clip the 2 pillars and HYPERION's overall design hold the HYPERION together.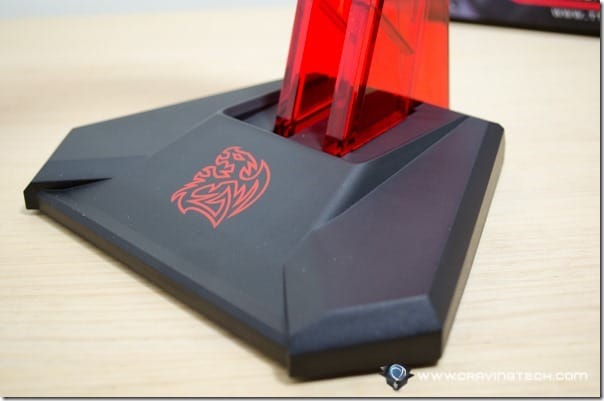 I've tried a few headphones/headsets on the HYPERION and it still sits sturdily on the desk. Even if I "accidentally" slap or hit the headphone or HYPERION on the table.
According to  Tt eSPORTS:
HYPERION is designed with specific geometric calculation on the precise angle to withstand the weight of the headphone when placing on top . Test and re-test with different sizes and weights in the Tt eSPORTS Material Science facility, HYPERION passes all samples with perfect score.
It does feel as if placing a headphone on the HYPERION actually makes it sturdier. Thanks to this lightweight yet sturdy design, you can even carry the HYPERION inside your bag to a LAN party or tournament.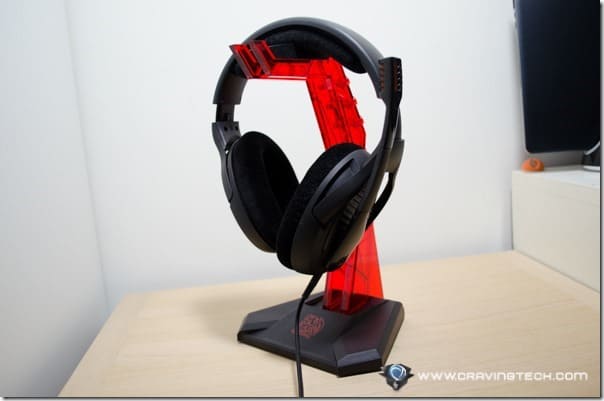 The team also designs a soft rubber area where the HYPERION meets your headphone, to ensure a shiny and scratch-less headphone.
Tt eSPORTS HYPERION Review Conclusion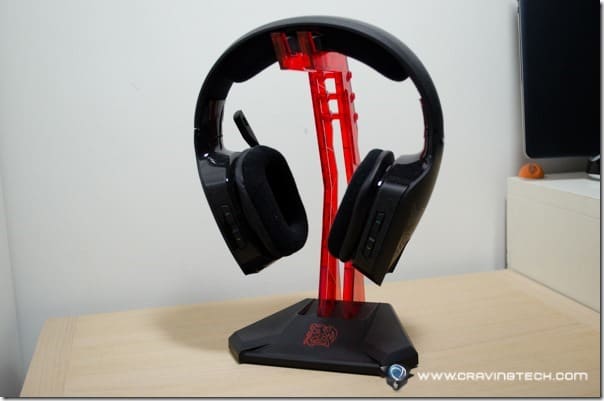 Tt eSPORTS HYPERION Review Conclusion
MANY HEADPHONE CRADLE VENDORS CHEAT BY HAVING A HEAVY CRADLE BASE TO MAKE SURE THAT THE WHOLE CRADLE IS BALANCED AND STURDY. TT ESPORTS, HOWEVER, GOES OUTSIDE THE BOX AND MANAGES TO DESIGN A CRADLE THAT IS COOL-LOOKING, LIGHTWEIGHT, AND SOLID LIKE A ROCK.
WITH THE 3 CLAWS THAT CLIP ONTO THE PILLAR, THE HYPERION'S 14 POLYCARBONATE SEGMENTS, AND A METICULOUS CRAFTSMANSHIP, THE TT ESPORTS HYPERION CAN DEFINITELY HANDLE ANY HEADPHONES/HEADSETS YOU CAN THROW AT IT.
Tt eSPORTS HYPERION Review – Pros
+ Stylish, cool, unique design
+ Lightweight, portable
+ Easy to assemble/disassemble
+ Amazingly sturdy
+ Cheap, highly affordable
Tt eSPORTS HYPERION Review – Cons
– Looks flaky and easy to tip over (but it's not!)
– The red theme may not fit your desktop (if it's in blue or any other)
Note: Tt eSPORTS HYPERION review sample was provided for the review