HAVIT KB-390L Review – When HAVIT says that the KB-390L mechanical gaming keyboard is a low profile keyboard, they truly mean it.
In all angles (looks, weight, key caps, mechanical switches, dimensions), the HAVIT KB-390L mechanical gaming keyboard is a compact, mechanical keyboard that you can place even on the tightest space of your desk or inside a small to medium-sized bag.
It only has a 22.5mm thickness and truly is the slimmest mechanical keyboard I've ever seen so far. It does not have the num pads, so if you crunch numbers very often in an Excel spreadsheet, you'll be having trouble for sure. However, as a gaming keyboard, you do not need them and for occasional use of entering your passwords and credit card numbers, you'll be fine.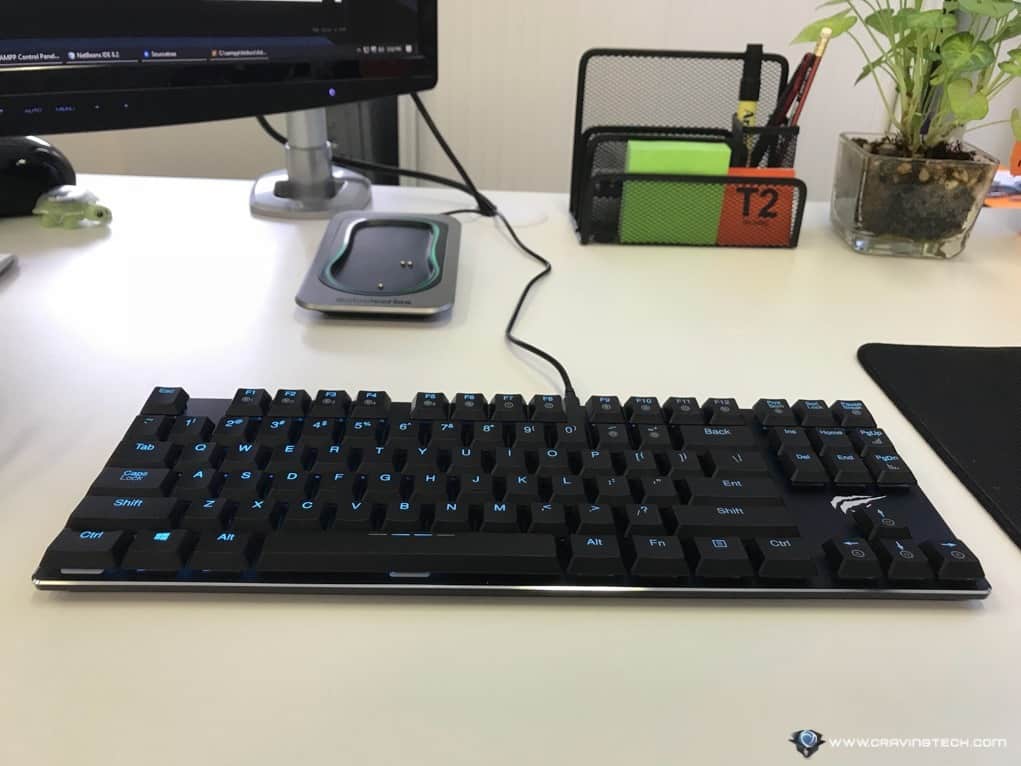 The mechanical switch is powered by Kailh PG1350 low profile blue switch, which typing experience feels like the CherryMX Blue switches (i.e the bouncy-ness and clicky-ness). Compared to the CherryMX Blue, the Kailh PG1350 is more superior though:
Kailh PG1350: 3mm of total travel and about 45g of actuation force
CherryMX Blue: 4mm of total travel and about 60g of actuation force
As a result, typing and playing experience on the HAVIT KB-390L is better as keys registered faster (executes an action faster in-game) and more responsive. The switch definitely gets a big approval from me. I even asked around the office for an honest opinion and the switches were loved.
I was a bit skeptical at first looking at how compact the keyboard is. I was worried the typing experience would degrade, thinking the keys must be squished closer or have smaller caps. Thankfully, this is not the case. The keys are all in standard sizes, so typing and using the keyboard are totally natural with the HAVIT KB-390L!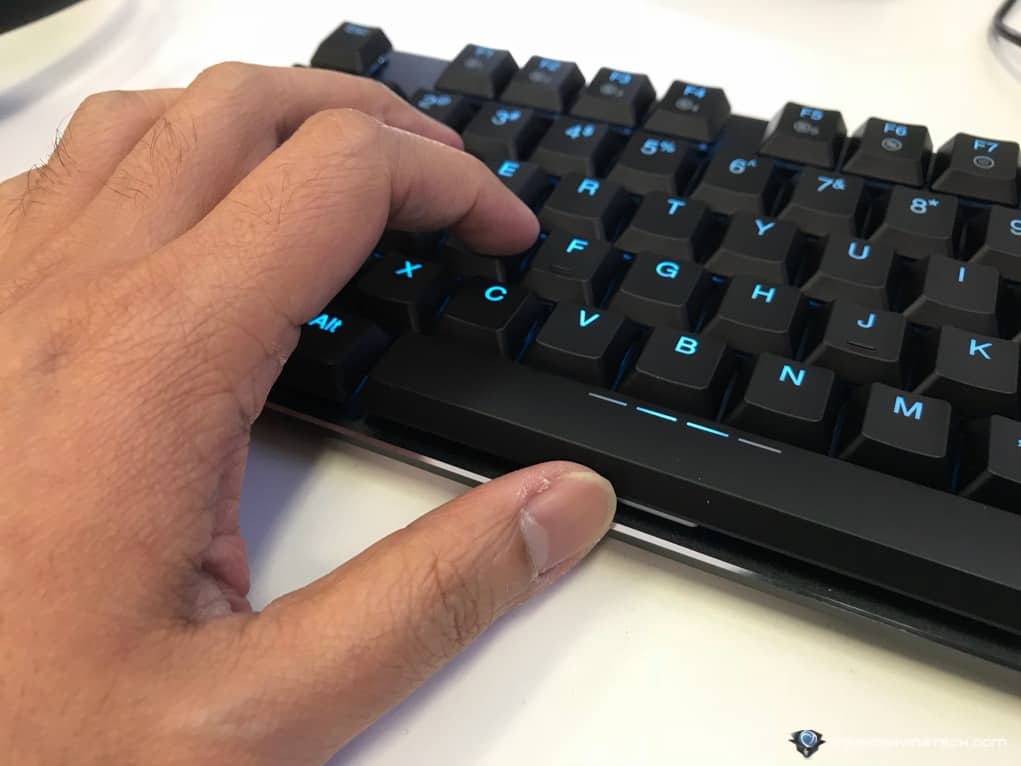 Again, I like the small footprint as it can fit on a small desk and better, can be unplugged and carried around while you travel. It does not have the standard, thick keyboard cable but a slimmer microUSB. However, this means that the cable is not as rugged as it is not braided for the extra protection.
Due to the limitation of keys, it also does not have any multimedia controls such as play/pause or volume. There is a Function key that will make do of the current keys for alternate uses, but they are reserved for customising the backlighting options. You can, however, have media controls set up on your own through the installed driver interface. Note that you do not need to install any driver to use the keyboard, only if you want to customise it further.
HAVIT KB-390L has extensive options to customise your own lighting key per key, but it only has one colour which they call an Ice Blue. I find that the lighting presets are good enough to get me started but feel free if you want to customise them to your liking.
HAVIT KB-390L Review Conclusion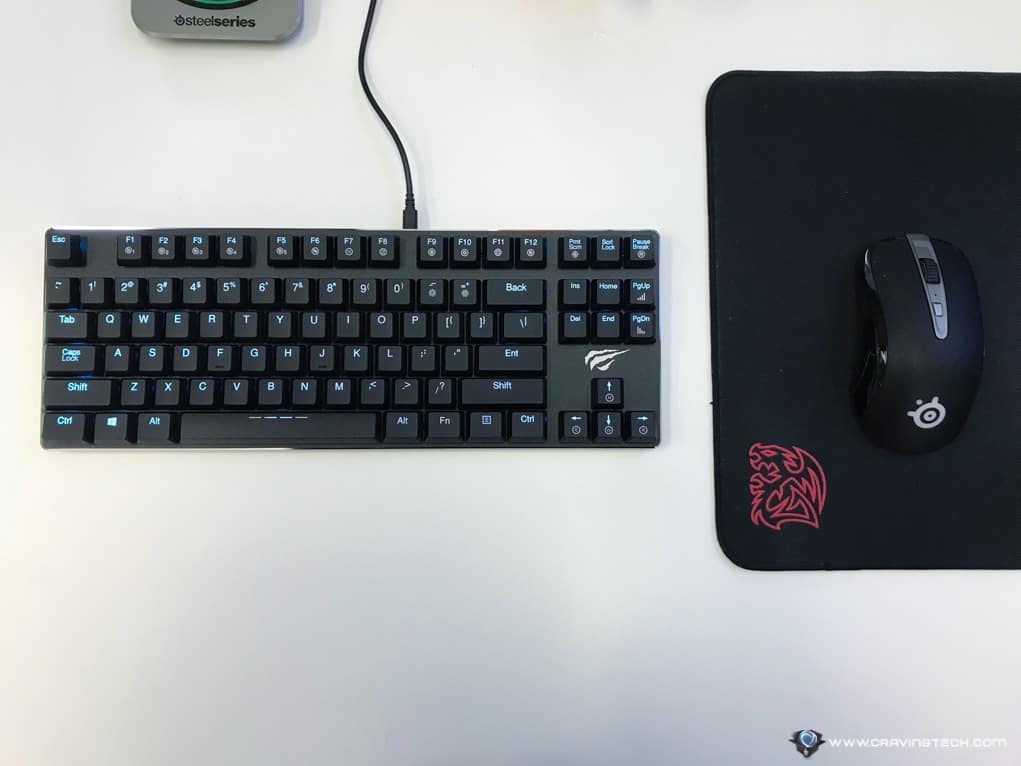 HAVIT KB-390L may not have fancy 16 million colour backlighting options, extra pass-through USB slots, numpads, or other bling-blings, but it excels in compactness, playing and typing experience, and in the functions department.


HAVIT KB-390L low profile design allows you to have an excellent mechanical gaming keyboard even with the tightest of space, and the Kailh PG1350 Blue switches are superior for both gaming and typing.
Definitely recommend this if you are looking for a compact mechanical keyboard without sacrificing typing and gaming experience.
Disclosure: HAVIT KB-390L review sample was supplied for reviewing but all opinions are mine and not paid