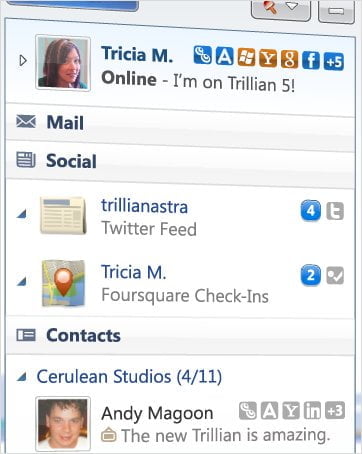 This news is probably a couple of weeks too late but still worth mentioning! Cerulean Studios recently released news of the upcoming Trillian 5 for Windows and it looks sexy!
Trillian, in case you don't know it, is a powerful instant messaging client that supports multiple networks such as Windows Live, Yahoo, Google Talk, Facebook Chat, Skype, etc. Their previous version, Trillian Astra, looks great but many consider it too bloated-looking.
No more, as the latest Trillian 5 (not released yet unfortunately :() looks really minimalistic yet makes me drool! It's designed natively for Windows 7 and smoothly integrates with the operating system's look and feel.
To find out more about Trillian 5, features, screenshots, AND to be notified when Trillian 5 is available for download, head off to Trillian 5 for Windows page!
I used Trillian Astra or quite a while last time and I actually liked the whole interface and design. Although it looks kinda bloated, overall it is nice to look at and you can also chat with multiple instant messaging network, which is a plus.
The latest Trillian 5 looks simpler and minimalist on Windows 7 – and I prefer an application, especially an instant messaging application to be that way. Let's hope that Cerulean Studio keeps on updating and releasing tweaks and features to this application.
Source: Cerulean Studio's blog post