In a fight against security and privacy breach when someone loses a USB flash drive with sensitive information, Kingston releases a few USB drives with built-in protection against such breach. Ranging from a high end to entry level degree of data protection, you can browse the one that suits your needs the most: Kingston DataTraveler 5000, Privacy Edition, Locker, or the Locker+.
A few of these review units are heading my way to be reviewed so stay subscribed at Craving Tech for the upcoming reviews! Official press release from Kingston Australia below.
Sydney, Australia: July 12 2010 –  The transfer of sensitive data via a USB Flash drive can pose an enormous risk for personal users and organizations alike. If the personal drive lacks a data protection function than any private information stored on the USB can easily be accessed by anyone who may come across it.
The loss of a USB drive, reported in Hong Kong news recently, highlighted the quintessential importance of data protection. A clerk at the School of General Nursing of Kowloon Hospital stored the personal data of around 300 student nurses in a personal USB Flash drive for daily contact purposes. On the evening of June 12, the clerk found she lost the USB drive at a LRT station.
The Nursing School was faced with the task of informing and apologising to all pupil nurses concerned. Kowloon Hospital is investigating the incident and will take the appropriate disciplinary actions for the concerned clerk. After this case, Kowloon Hospital has reminded all crew that they must strictly follow the guidelines on personal data protection and all data must be stored in encrypted storage devices.
Simple mistakes such as these can happen at any organisation at any place across the world and just as easily confidential and personal information could become available to anybody, anywhere, who finds it.
For keeping your important data safe, Kingston has presented secure solutions that are tailored to your needs, from high-end to entry level, including DataTraveler 5000, DataTraveler Vault-Privacy Edition, DataTraveler Locker+, and DataTraveler Locker. For more information on Kingston's secure drives product family, visit www.kingston.com/anz.
DataTraveler 5000

FIPS 140-2 Level 2 Certified
Digitally signed firmware updates using Suite B SHA-384 and ECDSA P-384
Full Privacy – 100 percent of stored data is protected by 256-bit Advanced Encryption Standard (AES) hardware-based encryption
Ruggedized – waterproof and titanium-coated stainless steel casing
Guaranteed – five-year warranty with free customer support
RRP: 16GB DataTraveler 5000 :   AU $434, NZ $534
DataTraveler Vault – Privacy Edition

Full Encryption – 100 percent of stored data is protected by hardware-based, 256-bit Advanced Encryption Standard (AES)
Fast – data transfer rates of up to 24 MB/sec. read and up to 10 MB/sec.
Secure – drive locks down and reformats after 10 intrusion attempts
Guaranteed – five-year warranty with free customer support
Waterproof – protects against water damage
RRP: 32GB DataTraveler Vault – Privacy Edition: AU $982, NZ $1,208

DataTraveler Locker+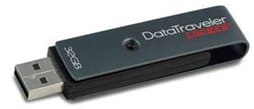 Full Encryption – 100 percent of stored data is protected by hardware-based, 256-bit Advanced Encryption Standard (AES)
Secure — drive locks down and reformats after 10 intrusion attempts.
Enforced password protection — complex password issuer set with minimum characteristics to prevent unauthorized access
Guaranteed — five-year warranty and free tech support
RRP: 32GB DataTraveler Locker+: AU $220, NZ $271

DataTraveler Locker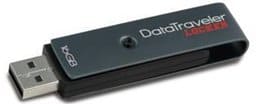 Two partitions – public or encrypted zone access (includes DT Encryptor security software for Windows to access encrypted zone); zone size user customizable.
Secure (Privacy Zone) – drive locks down and reformats after 10 intrusion attempts.
Customizable – Co-Logo program available
Guaranteed – five-year warranty and free tech support
RRP: 16GB Datatraveler Locker: AU $125, NZ $154
[AMAZONPRODUCT=B003609TEE]
[AMAZONPRODUCT=B0014IUWU0]
[AMAZONPRODUCT=B001QU7AOW]
[AMAZONPRODUCT=B002S2KTYU]