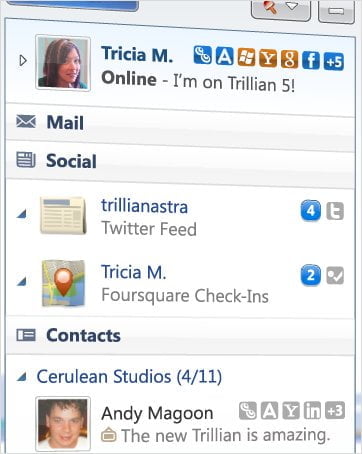 Trillian 5 Beta download is now available!!
If you haven't been following my blog for a while, I published a short post about Trillian 5, a multi instant messaging application that looks much better compared to their previous versions.
If you have friends from multiple social networks, this is a good excuse to give Trillian 5 a go.
Downloading now after publishing this post :)
According to Cerulean Studio's Blog about Trillian 5 public beta release:
Trillian 5 is a new "major release" and Pro customers will need to purchase a new license at a discount. Our 30 day pricing protection has been enabled from the point of our first announcement, meaning 30 days before July 1st, 2010. Therefore, if you purchased Pro anytime after June 1st, 2010 you've already got Trillian 5! Licenses are still on sale during our beta and will return to full price upon final release.
Synchronized activity history is not yet ready for this build and will be unveiled in a future beta build of Trillian 5. We are still hard at work on the backend to make this possible.
We will immediately begin the process of fixing bugs and tweaking features for Trillian 5.
Dark theme lovers: a black theme is on the way!
News on Trillian for Android public beta is coming next!