Treasures of Montezuma 3 Review (iOS game) – Treasures of Montezuma is back (read Craving Tech's original Treasures of Montezuma Review). The third iteration of the game is still as fun as ever! The gameplay and most of the ideas are still the same, but that does not mean it's a waste of money to buy Treasures of Montezuma 3.
If you like the first and the second Treasures of Montezuma, then you'll definitely want to get the third one as well.
If you don't know what Treasures of Montezuma is, it's basically a puzzle game where you need to match three or more jewels of the same color to score. That may sound simple and boring, but the team at Alawar Games has added bonuses, twists, and plenty of eye candies to make sure that you are experiencing this puzzle game to the fullest.
Treasures of Montezuma 3 takes animation a little bit further by having a really cool intro and also in-between levels. The animations are fluid, smooth, and feels like an overkill to a puzzle game like this (in a good way). It seems that they really want Treasures of Montezuma fans to know how much love they are willing to invest into this game.
The concept is still pretty much the same though:
The jewels' colors are the same (red, purple, white/gray, yellow, blue, green, and orange)
Gem tiles
Bonuses when you match longer tiles
Totems give bonuses when you match tiles of the same color twice in a row
Attachments on tiles (destroy nearby tokens, score multiplier, etc)
Frenzy mode
Stars to add some type of Role Playing elements into play
Treasures of Montezuma 3 is as fun as the predecessors and this time you can choose whether you want to play it casually or with a challenge. I tried the easy mode before just to have fun with it. While finishing the rounds easily, I was then offered whether I wanted to switch to Advanced mode. It's definitely harder but it adds more challenge into the mix. At later stages, I often had to replay the levels a few times (and no, I don't mind replaying them because it was fun).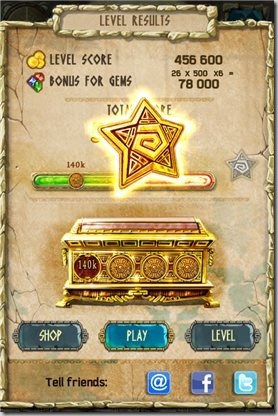 The idea is to get scores on every level according to the requirements. Once you clear a level, you'll be given a star to upgrade your bonuses. Earn a crazy score and you'll get a bonus star (yes, you can replay the level over and over). Sometimes you just have to go through the next levels, get more upgrades, and then come back to the past ones to get the bonus star.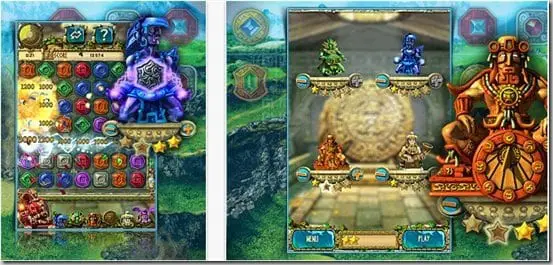 Overall, Treasures of Montezuma 3 is pretty much the same like the predecessors and that doesn't mean a bad thing. However, they have updated the animation, the graphic, and the way you go through the levels, while maintaining the fun and challenge at the same time. The music has not been changed, unfortunately, but it's that catchy tune that keeps you coming back for more and more. While playing Treasures of Montezuma 3 (and its predecessors), you'll crave for "just one more round and I will stop playing"..
Note: Treasures of Montezuma 3 promo code was provided for the review
The Treasures of Montezuma 3 – Alawar Entertainment, Inc