Note: This is a guest post written by Daniel Butler
Christmas is so close we can taste the mince pies! But it's likely to be a different kind of Christmas this year; A Christmas full of Smartphones and gadgets among the tinsel and twinkly lights.
So we've put together the top 10 apps that should be on your Christmas list this year.
Christmas!!
Advent calendars are great, right? Who doesn't love a little chocolatey treat each day in December? Even if you're a little too old to enjoy Peppa Pig or Thomas the Tank Engine, it's still a great excuse to eat chocolate for breakfast every day for a month!
Unfortunately, Smartphones and tablets can't dispense chocolate on a daily basis – yet. We're still waiting for 'Wonkavision' to be invented. But while we wait, here's a good slice of Christmassy fun. The Christmas!! App delivers your daily festive fix with a different surprise behind each door from games to camera filters, and even a couple of cracker jokes too. The best thing about this app is that it doesn't have the clunky, thrown-together, cheap feel of advent calendar apps past. It's also free, so that's a bonus!
UPDATE: App no longer exists in App Store
Good food Festive Recipes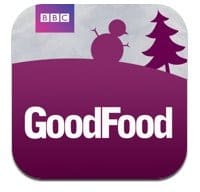 This may be a little 'Ronseal' but in this case, we want it to do exactly what it says on the tin. We're all busy at Christmas time so if we can get good, tasty recipes quickly and easily on our Smartphones, we'll take it!
You'll get loads of festive recipes with the 'good food' stamp of approval so you just know they're going to be tasty. Get the Christmas food sorted in a jiffy!
BBC Good Food – Recipes, tools & cooking tips – BBC Worldwide
Quipper
We all know that time on Christmas day when everything seems to drag a little. It's after dinner, the presents have all been opened, your uncle Frank is snoring in an armchair and the Christmas telly is just about starting to do your head in. Here's where you whip out your Smartphone, turn off the TV and save the day.
Quipper is a quiz app. It has hundreds of questions on loads of different subjects. You're sure to keep the entire family entertained for hours with this one.
Quipper Quiz – Quipper Limited.
Waze
Are you 'Driving home for Christmas'? This app will make sure you don't end up 'Top to Toe in Tail-Lights'. It's a new socially driven traffic and travel app. Using data from other drivers it tells you whether a road on your route is blocked, how fast the cars are going and, thanks to other Waze users, where the police and other hazards are lurking.
You can even have a chat with the driver next to you (if you're completely stationary that is. We don't want you to be using this while you're driving!). It's definitely the app for any savvy traveller this year.
Waze Social GPS, Maps & Traffic – Waze Inc.
Popout! The night before Christmas
Do you remember story time as a kid? It was always so wonderful to snuggle down in your duvet and listen to your dad reading stories, even better when he did the voices.
This lovely little app makes that story time even more magical. Based on the popular 'The Night Before Christmas' story, it features 'read along' and 'read to me' modes to make it perfect for any child. Watch the story come to life with fun animations and graphics that the kids will love.
PopOut! The Night Before Christmas – Loud Crow Interactive Inc.
Santa Tracker
Ever wonder how Santa gets to deliver all those presents? This nice little app will let you track his merry progress around the world!
It's not just a fun app to see which countries get to start Christmas early; it's also a great tool for teaching kids about geography. Did you know that thanks to the different time zones, Santa has 31 hours to deliver his presents! Track him through each one with this app.
Xmas frames
Trying to do Christmas on a budget? Who isn't!
The Xmas Frames app lets you create your own personalised text or email Christmas cards! All you need to do is drop a picture into one of their frames. Or if you don't have a picture, you could type their name into one of the pre-loaded Christmassy photos.
The wording is really very slick on this one so make sure you don't miss it!
Update: App no longer exists in App Store
Ifinger
At first glance, you might think this is a joke. All you see is a finger on the screen. While it is helpful to hold down paper while you're wrapping it, there are more appropriate (and less expensive) paperweights out there. But then you realise what else it does, and it becomes a valuable helper when it comes to wrapping your Christmas gifts.
Type in the height, width and depth of your gift; Ifinger will calculate the exact amount of wrapping paper you'll need and talk you through the process of wrapping. When you're ready to go, switch to the 'finger' mode and use your helping hand (or is that 'finger') to help get the best wrapped gifts under the tree!
Update: App no longer in App store
Santa voice
Voice changers are anything but new. We've seen it all from a giggling kitten down to a terrifying demon. But while they may be old news, they're still great fun! This app turns your voice into Santa's! Simply record your message and your voice will magically morph into that of the jolly old man.
Now you can make Santa say anything you like. Whether he's going to give your kids a very special phone call on Christmas eve or you're just messing around with your friends down the pub. It's simple, but brilliant, fun.
Dishy
This app is definitely one of the most intelligent on this list – and with good reason. Christmas Dinner is the highlight of the day. The family waits all day, enjoying the enticing smells coming from the kitchen, before all sitting around the table together for the most important meal of the year.
So no pressure there then.
If you get your timings off just a little bit, the whole thing could be a disaster. Remember that one time your mum burnt the turkey? Or when your Auntie didn't cook it enough? Eurgh everyone would remember that one.
Avoid the Christmas Dinner pitfalls with a festive reboot of an old favourite app. Dishy lets you pick your recipe from its database of thousands. It also creates your shopping list for you at the touch of a button!
When it's time to cook, it gives you step by step instructions and even keeps track of all your cooking timers! It's really a very useful app. So forget about celebrity chefs, and get the Christmas dinner running like clockwork this year.
Delicious!
Dishy – Cooking Made Easy – Christmas Update – Touch Fantastic Ltd
So there's our list. Now go forth and get App-ing for a Smartphone-friendly Christmas. What's your recommended Christmas-y app?
Note: This festive app article was brought to you by Santa's helpers, Prezzybox.com – helping you find everything you need for truly special Christmas presents.