Razer Blade Stealth 2017 2nd Generation Review – Razer entered the Ultrabook competition earlier last year through its first generation Razer Blade Stealth and had received quite remarkable positive responses, including awards such as Best of CES 2016 for Best PC, People's Choice, and many more.
The second generation Razer Blade Stealth I'm reviewing right now comes with significant upgrades from its first generation while keeping its core award winning value to target both portability and productivity.
The package includes the Razer Blade Stealth unit, a 45W USB-C slim power adapter, a micro fibre cloth that you will use so often later on, and some Razer-related goodies.
Razer Blade Stealth 2017 2nd Generation with Kaby Lake Unboxing Video:
Razer Blade Stealth 2017 (2nd Generation) Review – Build Profile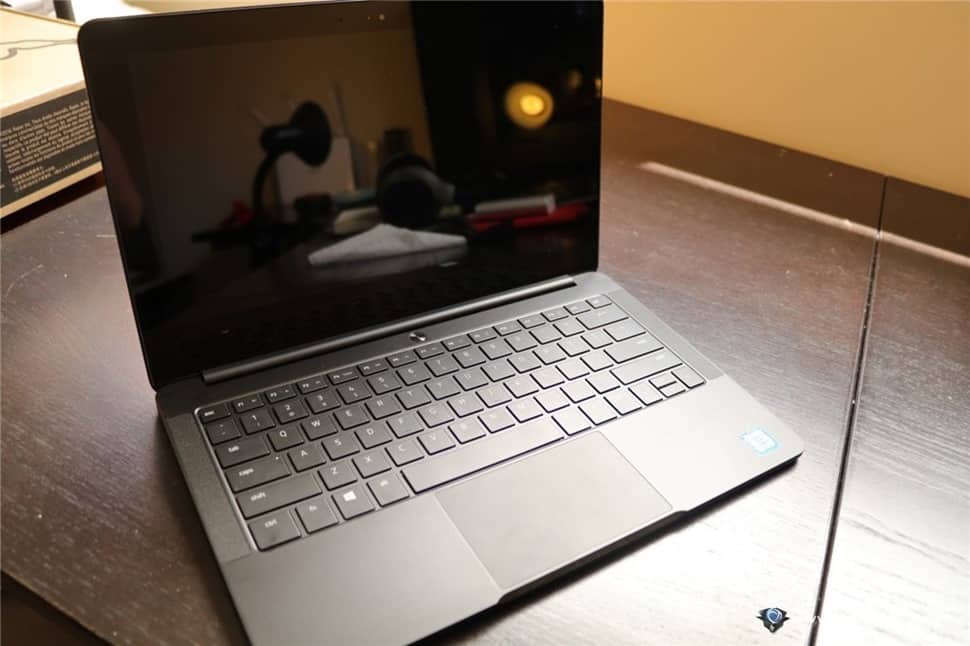 Razer is a well-known company that delivers premium-grade products and has a very established market in the gaming enthusiast community. The company's values can be seen easily from the design philosophy of the new Razer Blade Stealth.
The chassis is built from highly durable aircraft grade aluminium material. When I get my first grip on it, I quickly feel how solid the construction is. The unit comes with a sleek, Black finish profile but also prone to fingerprints and scratches. I'd recommend to put a skin on the Razer Blade Stealth or put it inside a sleeve when unused. The Green Razer logo can be found and YES, the logo is lit when the Ultrabook is turned on.
I can also say that Razer has put incredible efforts to eliminate unnecessary flex on this 0.52 inch (13.1 mm) thick Ultrabook (unless if I put a deliberate force on the audio speaker grill or near the area where the Razer logo is). Opening the lid is smooth and can be done with one hand, thanks to the two long rubber strips at the bottom, keeping the unit in place.
The new Razer Blade Stealth comes with Windows 10 64-bit pre-installed out of the box. I can quickly appreciate the quality of 12.5" display once I log into Windows. The display produces sharp colour with fantastic viewing angle and a glossy finish.
The model comes with 2 display options: QHD (234 pixels per inch) and 4K (352 pixels per inch). Both displays are multi-touch enabled and utilise less power consumption thanks to the IGZO transistor on the panel. My review unit comes with QHD resolution (2560 x 1440) IGZO multi touch display and it's amazing. I'm tempted to see how much better the 4K variant is because the QHD display comes with only 70% Adobe RGB colour space while the 4K variant comes with 100% Adobe RGB colour space.
I appreciate how Razer decides to use a traditional bezel form and prioritises function over bezel-less display normally found in Dell XPS laptops. To be honest, I'm not that interested with a bezel-less form factor since not only I'll pay premium for it, there is also a risk for a bezel-less display to show wear and tear signs quicker.
The Razer Blade Stealth keyboard is also colourful like its display. I can even customise the backlighting on the keyboard. From the various available Chroma lighting patterns, I like the Spectrum cycling pattern (where colour slowly shifts to different ones over time) and Breathing pattern with random colours most. To those who just want a traditional backlit keyboard, you can turn the lights off completely or pick just one colour to lit the keyboard up.
Typing on the new Razer Blade Stealth keyboard is quite pleasant. The keyboard has a good travel distance and easy to get used to. The Trackpad is of decent size and multi gesture enabled, which is nice and handy.
Razer Blade Stealth 2017 (2nd Generation) Review  – A Balance between Mobility & Performance
Razer Blade Stealth weighs only 1.29 kg, making this Ultrabook a very serious competitor in the Ultrabook market. With that weight, Razer Blade Stealth sports the latest 7th generation Kaby Lake dual-core Intel i7 7500U processor with Hyper Threading that is more power efficient than the previous predecessor. With the Intel i7 7500U clocks on 2.7 GHz (turbo boosted up to 3.5Ghz) and 16GB RAM, the powerhouse provides enough kicks on light productivity.
Razer Blade Stealth does not come with discrete graphic cards. It utilises the Intel i7 chip's onboard graphic: the Intel HD Graphic 620. For serious gamers, there is the Razer Blade and Razer Blade Pro versions that come with a dedicated graphics card but the Intel HD Graphic 620 can actually handle popular games rather well such as League of Legend, Guild Wars 2, Counter Strike, or Overwatch with scaled down settings to get a decent frame rate.
Guild Wars 2 performance is not great on QHD resolution (2560×1440), but I managed to get a decent frame rate at 1600×900 or 1280×720 resolution. But again, keep in mind that the Razer Blade Stealth is an Ultrabook aimed for professionals on the go or students, and not a gaming laptop like the Blade or Blade Pro. Saying that though, it's good to know that you can still play games on it.
Guild Wars 2 on 1280×720 resolution:
Excelling mobility, Razer Blade Stealth is equipped with the latest USB-C with Thunderbolt 3 port that also acts as the charging port. Thunderbolt 3 USB-C is a big deal since the technology allows you to transfer data up to 40 Gbps (~ 5 GB/s) and boosts versatility to charge an Ultrabook and to connect an external display.
The other ports that Razer Blade Stealth has are the HDMI 2.0a and 2x USB 3.0 ports. Bluetooth and a killer Wireless AC come as standard. It's a pity that there is no built-in SD card slot here, which means that people with photography & video editing background would have to carry an extra gadget to read their memory cards.
Last but not least on the mobility side, the new Razer Blade Stealth has a large capacity battery without increasing the Ultrabook size and lasts around 9 hours on the QHD model, or 7 hours on the 4K. In reality, my QHD model averages around 7 – 8 hours with Wi-Fi enabled on medium brightness. This is great as I can leave my charger back home most of the time and only need to charge it at night. Not to mention that this also translates to a lighter backpack. The rather-slim charger is great but still feels bulky to fit in my backpack.

Razer Blade Stealth 2017 (2nd Generation) Review – Competition on the Market
Should you get the Razer Blade Stealth as your next Ultrabook upgrade? Let's compare the new Razer Blade Stealth with a MacBook Pro 13 and Dell XPS 13.
Straight off the bat, the Razer Blade Stealth is thinner and lighter, but has a slightly smaller screen than the Macbook Pro or Dell XPS 13. Razer Blade Stealth starts with A$1499 which is cheaper than the Macbook Pro (A$2199) and Dell XPS 13 (A$1899).
With that price, the Razer Blade Stealth comes with PCIe storage as a standard with QHD resolution. Even with a max-out spec (e.g. 4K touch display Razer Blade Stealth with 512 GB PCIe storage at A$ 2399), none of the competitors offers a 4K display. In short, the Razer Blade Stealth offers more values per dollar.
Worth to mention that the new Razer Blade Stealth does not have 3rd party bloatware like those pesky, pre-installed anti virus that you can't somehow get rid of. The only pre-installed apps are the Razer Synapse and Razer Comms, and they're made for a purpose. Razer Synapse handles all the drivers, keyboard macros, and lighting customisation options. Razer Comms is basically a voice chat software for gaming purpose and you can also uninstall it if you wish.
Razer knows how to step up in the competition. The new Razer Blade Stealth with Kaby Lake is an Ultrabook, but what if I tell you that this Ultrabook can be connected to an extension that runs a discrete graphics? Suddenly, you can play AAA game titles on the Razer Blade Stealth.
With Razer Core (a separate product to purchase), you can install an NVidia GTX 1080 graphic card and then hook it via Thunderbolt. It's not available yet in Australia and we hope that we can get our hands on with it when it does.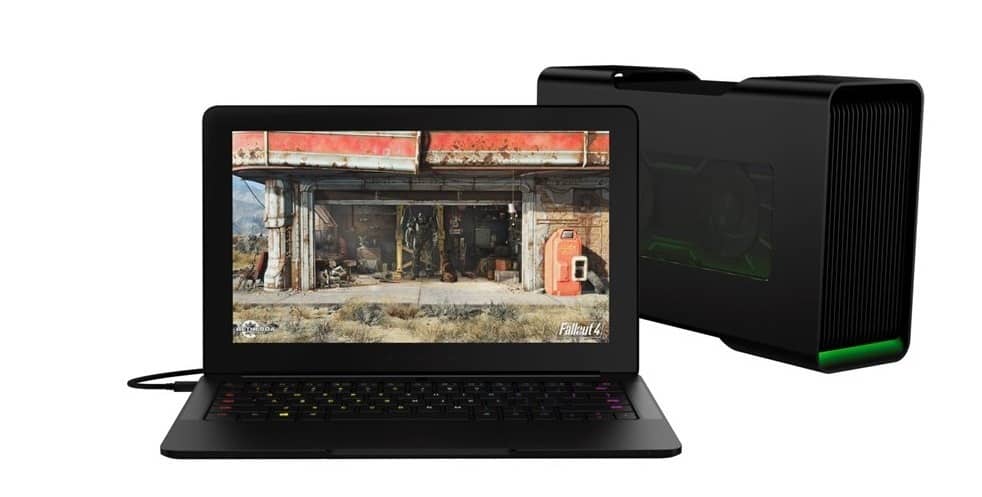 Razer Blade Stealth 2017 (2nd Generation) Review – Conclusion
Razer Blade Stealth's target audience are those seeking for an Ultrabook to be used for general usage, casual gaming, and light productivity tasks without sacrificing hardware quality.
The new Razer Blade Stealth (2nd Generation, 2017) is definitely a premium-grade Ultrabook with gorgeous display and some eye candy, such as the shiny Razer logo on the back and a Chroma keyboard with various backlighting colours and options.
Despite of the tough competition in the Ultrabook market, the new Razer Blade Stealth is very appealing and seems to be a no brainer if you want to pick the best of the best Ultrabook out there, assuming you've got the cash.