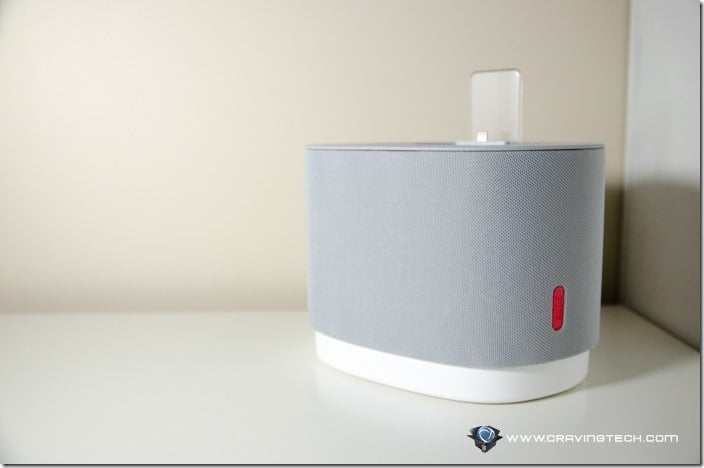 NudeAudio Studio 5 Review – The Studio 5 Bluetooth speaker with Lightning dock is not ashamed of its size. When the package arrived, I was wondering why they'd want to make a speaker dock of this size. Will I have enough room on my desk for this? Is it worth having a speaker dock of this size? Do they have to make it this big?
When I first played my music through the Studio 5, I instantly shut all my negative thoughts down and was blown away by the sound quality.
I've seen and tried some Bluetooth speakers with the Lightning dock that are smaller in size, but not with this sound quality. The NudeAudio Studio 5 is actually a 2.1 speaker within itself: a 3-inch subwoofer and two 1.6-inch full-range reodymium drivers cramped into a single body unit. It's definitely a speaker dock to grab if you value sound quality more than simply owning one to just charge your devices.
The clarity of the sound will blow you away and the pumping Bass is also very strong at its highest setting. Speaking of that, you do have an option to adjust the Bass level coming from the unit (with 3 Bass level settings). Depends on your mood or the genre of music you are playing, you can always switch on the fly. It makes your music listening experience more dynamic and feels as if you actually own 3 different speaker units.
The Studio 5's asymmetrical design gives it a unique look on your desk, with a mixture of cloth, matte, chrome, and plastic. The dock for your Lightning devices (iPhone, iPod, and iPad) is located on the top of the unit and has a clear plastic to support your device while it's being charged.
Music can directly be "streamed" through the speaker unit while your device is docked on it. Or alternative, you can hook it up via Bluetooth, where you can connect up to 2 devices simultaneously. The power button is used for pairing up your devices.
There is also an AUX IN port for older devices or if you need to hook a device that supports it (console, etc).
Volume and playback controls are located near the Lightning dock for easy access (on a metallic disc surface), or in case your music playback device is not in the vicinity. Sound coming from the 2.1 speaker unit is loud and I find that the speaker is capable to fill up the entire room evenly at a relatively low volume.
NudeAudio Studio 5 Review Conclusion
The NudeAudio Studio 5 is not your ordinary speaker dock. It's for those who crave for sound quality while having a place to dock and charge your iOS device (like the iPhone 6). The whole unit is an amazing 2.1 system (yes, with its own subwoofer), delivering high quality music with powerful Bass. Three different Bass settings can be adjusted with a simple knob to further tailor your music to your heartbeat. Once docked, you can play your music directly from your device. Or alternatively, the dock also supports Bluetooth and AUX IN.
Sure, the size of the speaker unit may not fit your desk area well but when it does, its classy, asymmetrical design is a beauty to behold.
Disclosure: Sample was sponsored for the review but all opinions are 100% mine
[AMAZONPRODUCTS asin="B00D4MT9OO"]