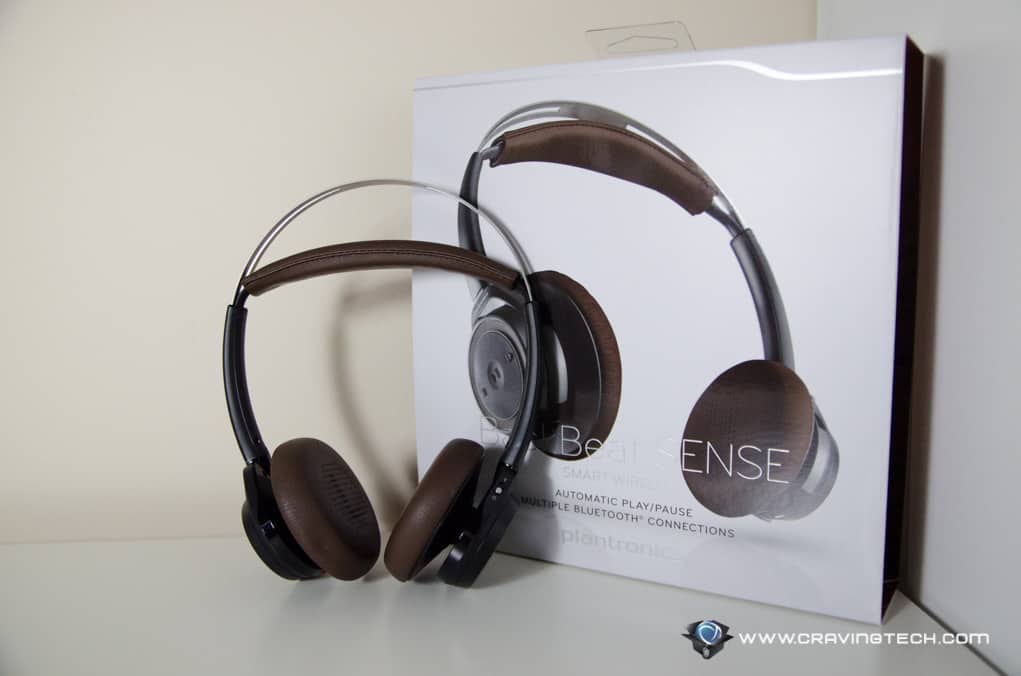 Plantronics BackBeat SENSE Review – It wasn't long ago that I reviewed the Plantronics BackBeat PRO (okay, probably almost a year ago now), a high quality Bluetooth headphones with active noise cancelling technology. I swore that I would bring it to everywhere I travel and it would be my most favorite Bluetooth headphones.
Plantronics BackBeat SENSE, in a sense (pun intended), feels like a toned-down version of the BackBeat PRO.
Reading the specs before the review, I actually had a somewhat low expectation. After using it for days and days, however, my opinion has changed.
Now, the BackBeat SENSE has become my most favorite Bluetooth headphones ever, surpassing the PRO, even when it sounds like the PRO has more stuffs!
Plantronics BackBeat SENSE Review – Packaging
Plantronics BackBeat SENSE Review – Design & Features
What I like most is how lightweight and thin profile BackBeat SENSE is. On paper, it only weighs 140 grams compared to BackBeat PRO's 340 grams. And if you can't imagine whether it's going to make a difference, it actually is.
Because of the lightweight design, it's really comfortable to wear the headphones for hours. For those who like to work while listening to their favorite tunes, you'll barely feel it. Sure, other headphones with more padding on the headband are probably comfier, but BackBeat SENSE's headband design is good enough to be used for long hours and it's flexible enough not to squeeze the top of your head down.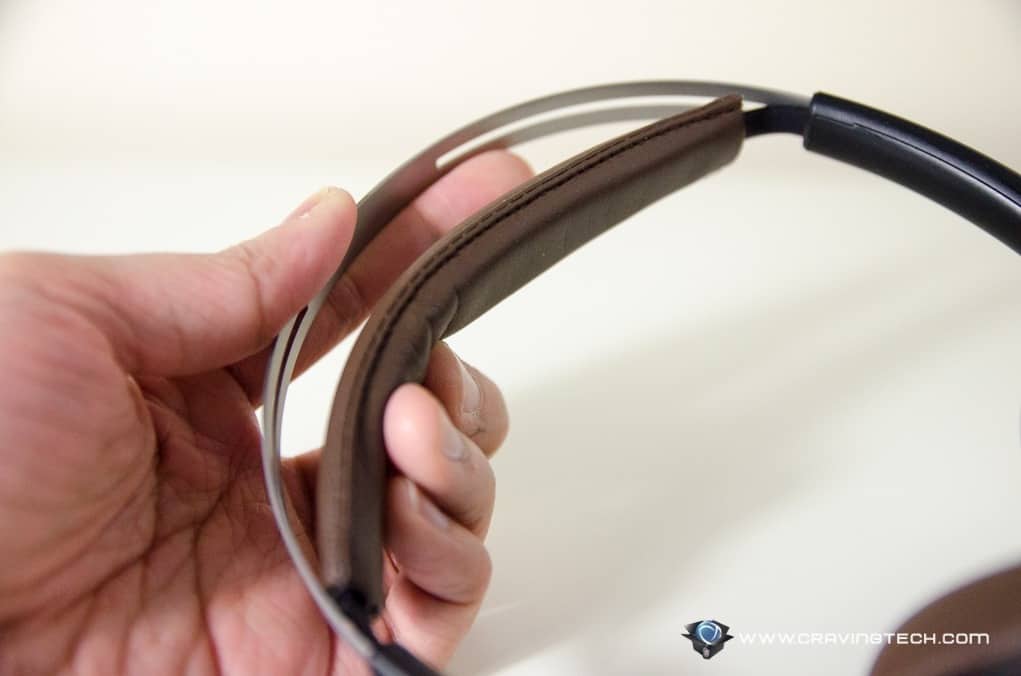 The leather pads are comfy and still gives you a good passive noise isolation so you can get immersed in the music if you want to.
The lightweight design also makes it easier to carry around for traveling because no bulkiness will be added to your traveling bag. Or when you wear it around the neck.
For travelers, a traveling pouch of high quality material is included in the packaging. It even has a different pocket to store the cables – which makes things neater and keeps your BackBeat SENSE from getting scratched.
Plantronics BackBeat SENSE can pair up to 2 devices simultaneously via Bluetooth and has a range of a mad 100 meters away. Technically, you can leave your phone at one end of a soccer field and still be connected to it even while you are standing on the other side of the field.
Playback controls are located on the headphones with physical buttons and a handy rotary dial to control the volume (which I really like). Although you get the traditional ways of playing and pausing a track (by pressing on a button), there's a reason why the product is named BackBeat SENSE.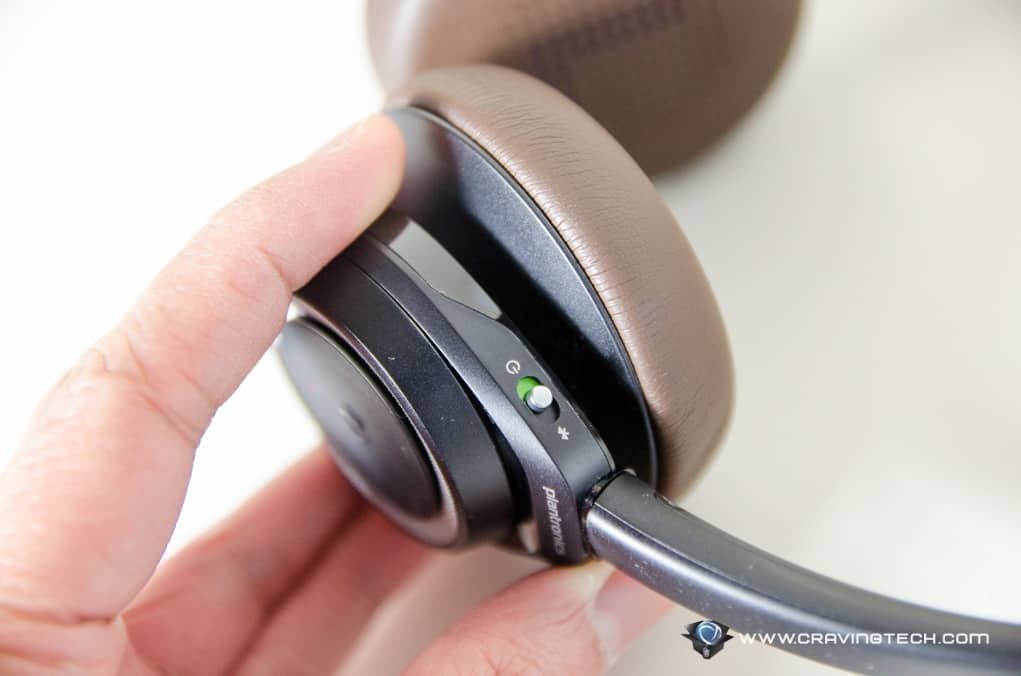 The headphones can actually sense whether you are wearing it over the ears or not. Take the headphones off and whatever you are playing will automatically be paused (ex: music, or a YouTube video). Wear it back and it'll resume. Clever, right? This is not a new thing (for me at least), because the BackBeat PRO also has the same feature.
But it's a really nifty feature. When I'm listening to audiobooks on the road and a friend passes by, I never need to pause and take the headphones off to greet him/her. I can just take the headphones off and Plantronics will take care of the little hassle for me. Put it back on after, and the track resumes.
If a call comes in, I can switch easily between my phone and the BackBeat SENSE (simply by wearing it on and off). The caller can't even tell the difference. Since it's light and comfortable, I can lie down on the bed while talking with the headphones over my head.
There is also the Plantronics' OpenMic feature where you can press a button to listen to your surroundings (amplified by a set of microphones). It's really useful for hearing important announcements on a train station or on the plane.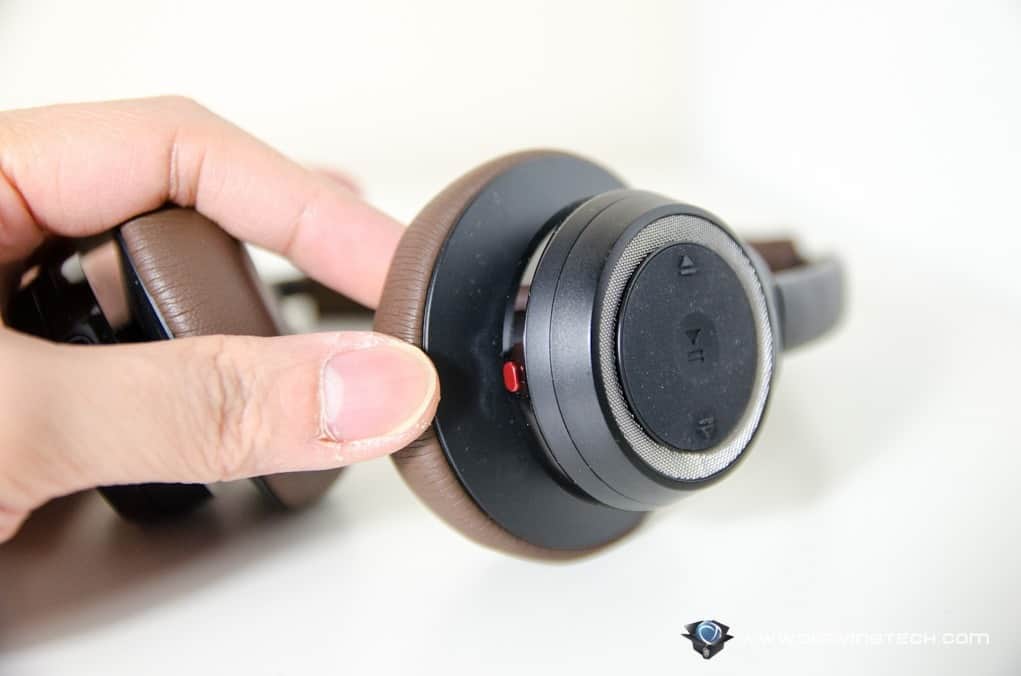 How often do you remember to turn your Bluetooth headphones off after using it? If your answer is not very often, then the SENSE can save you lots of battery power. And speaking of battery, BackBeat SENSE also has a tremendous battery life of "up to 18 hours wireless streaming, 21 days standby time, and 180 days in DeepSleep mode". If you don't use the headphones often, you'll find that you can still use it months later without having to recharge it first.
Should you ever run out of battery, all is not lost and the SENSE won't turn into a temporary junk because it supports wired connection through the 3.5mm (cable included). The cable also includes a built-in playback controls like a regular set of earphones.
Plantronics BackBeat SENSE Review – Sound
All these bells and whistles make no difference if the headphones sounds bad. Thankfully, you'll be very pleased with the quality. The Bass is subtle, yet strong, and does not overpower the other channels.
Every instrument in a song can be heard with good sound separation and it feels like there are tiny speakers all around your ears with different instruments and vocals. Every channel feels somewhat balanced, though there seems to be a slight emphasize on the lower channels (which I like) but again, without overwhelming the whole spectrum.
As a result, listening to music never feels tiring, but at the same time, playing games or watching videos still delivers an enjoyable experience with that extra 'oomph' needed.
Plantronics BackBeat SENSE Review – Conclusion
Plantronics BackBeat SENSE is an amazing Bluetooth headphones. Even when it only weighs 140 grams and has a thin profile, it doesn't sacrifice sound quality, design, and even battery life.
It may not have an active noise cancelling feature, but it is a really small price to pay, considering you get everything you ever want from a Bluetooth headphones at this price.
If you need a Bass-heavier headphones with active noise cancelling, take the BackBeat PRO. For a great all rounder, the BackBeat SENSE makes the most sense to have and carry with at all times. I'm bringing this baby on my overseas travel at the end of this week.
Where can you buy the Plantronics BackBeat SENSE? It is currently available at Tech2Go stores and online at Syntricate at the SRP of $269.95 AUD.
Disclosure: Review sample was sponsored but all opinions are mine