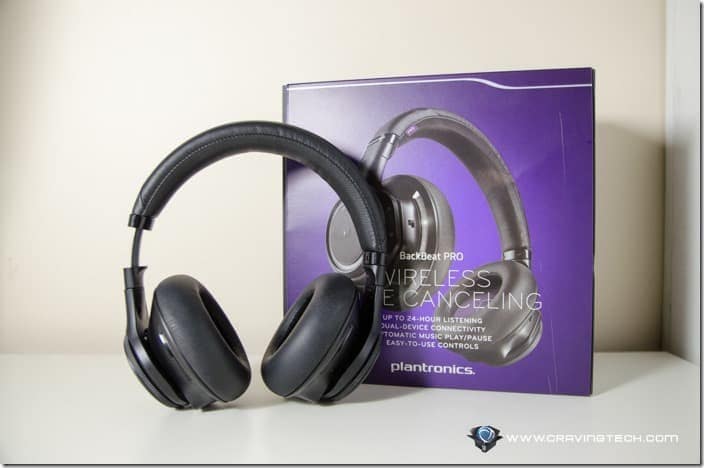 Plantronics BackBeat PRO Review – Plantronics make plenty of great Bluetooth mobile headsets for music listening and audio calling like the most recent BackBeat FIT, BackBeat GO 2, and BackBeat 903+ (my favorite). Or for playing games with music listening and audio calling simultaneously with the RIG. When they announced the BackBeat PRO, I was intrigued.
I was intrigued because it's Plantronics' first headphones to the market (correct me if I'm wrong) and I was unsure what to expect. Could they break into these headphones market? Will their first noise cancelling headphones technology work well? I am pleased to tell you that I was actually… blown away.
Plantronics BackBeat PRO Packaging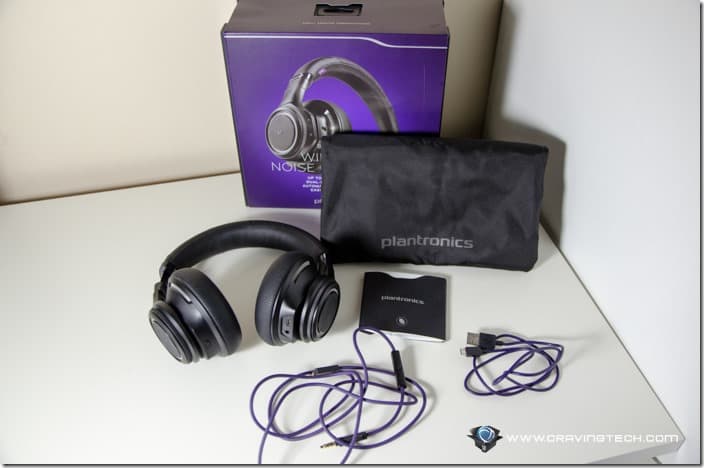 Plantronics BackBeat PRO Design & Features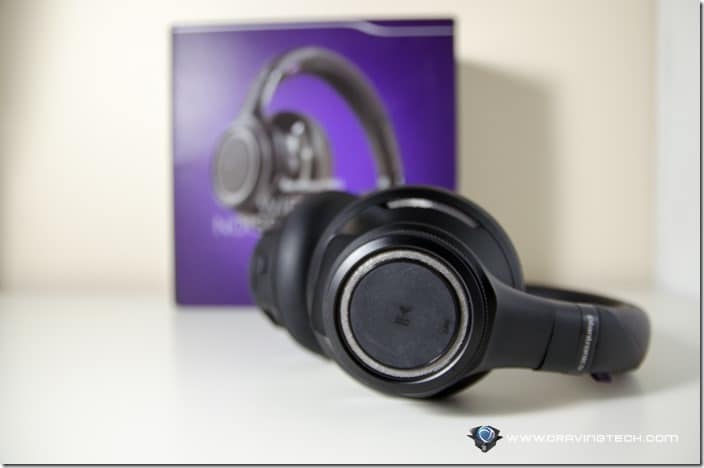 Design wise, my first impression was how bulky the headphones look. It also lacks some style compared to the Bowers & Wilkins P3, for example. Not saying that the design is bad or ugly, but it lacks the "ooh" and "aah". It's probably not something that I would personally wear while having a walk on the road, but each to their own opinion. You can also see a huge "L" and "R" on the inner lines of the ear cushions – which makes it really easy to know which cushions go to which ears (that same struggle we always have), but it does make the design look less "clean".
I see the BackBeat PRO as a headphone that focuses more on experience (easiness of use, features, and sound quality), than getting the looks to be clean, lightweight, and classy. And that is fine.
Sound Quality
THE most important aspect of a headphones, of course. The sound quality of the BackBeat PRO is simply superb and it's been a while since I've ever listened to music this good. Everything sounds so clear and there were times when I was in awe for finding new music instruments on songs I've listened to many times. Even playing Angry Birds Epic sounds epic with the BackBeat PRO (pun intended, but with a serious remark).
Connectivity
It supports Bluetooth (up to 2 connected devices simultaneously) and also the standard 3.5mm connection (cable included in the packaging) when you run out of battery or need to hook it up to non-Bluetooth devices.
Boom, boom
Plantronics BackBeat PRO is quite heavy on the bass but it doesn't sound like Beats headphones. The BackBeat PRO bass is deep and powerful, yet it doesn't overwhelm the entire channels and it's never tiring to listen to. The focus is still on high frequencies but once the bass comes in, oh, you'll feel it! Even the drum kicks sound amazing in BackBeat PRO.
I've been using it for practice (I play the Bass at church) and totally loving the powerful bass, again, without feeling overwhelming. It's one of the natural, yet strong, powerful bass I've heard for a while. If you love bass, you'll love it and in my opinion, sounds better than Beats' bass.
Puff, puff
There are plenty of padding on the ear cushions. And I say it again, plenty. The leatherette and foam ear cushions are really, really soft. Pressing it with a finger shows how deep and soft these cushions are. They are super comfortable, which means you can wear the BackBeat PRO for a longer period of time.
The full cup design means you can totally shut the outside world out to be with your music. Though it can also be dangerous if you set the volume too loud. The OpenMic feature lets you listen to your surroundings so you don't have to take your headphones off or pause your music. The ambient noise will also be amplified using its built-in microphones. More often than not, however, I set the music volume too loud that I've already missed a couple of public announcements.
This OpenMic manages to capture even the most subtle sound, which is quite scary and jaw dropping in some scenarios.
Intuitive Controls
Plantronics try to fit every single control on the headphone itself and it works. The different mechanisms can look confusing at first (button switches to turn the headphone on/off and Active Noise Cancelling, button presses for playback and call controls, and rotary dials for volume) but you'll learn to appreciate their intuitiveness and functions.
Take the headphone off your ears and music (or YouTube video) playback will pause. Put it back on and it will auto-resume. It's cool and a battery life saver.
Active Noise Cancelling
I've always been a fan of ANC headphones, especially if you like to travel on the plane with one. Plantronics BackBeat PRO's ANC is good, really good. On a flight to Sydney last week, I was amazed at how much cabin noise was suppressed by the ANC. For movie watching on the plane, the headphone is flawless and a must to use. It unfortunately doesn't come with an airplane adapter, but you can get it from eBay for a few dollars.
Once the ANC is turned on, I do notice a bit of bass power loss to the Bass, but the overall audio quality is pretty much maintained and doesn't get muffled like some other ANC headphones/earphones. You also won't have that funny feel like the air around you being sucked into your ears.
Battery Life
When I read that the BackBeat PRO can last around 24 hours for music streaming, I couldn't believe it. It's one of those headphones where you can use on a flight from Australia to the U.S without having to recharge. In reality, of course, you probably won't be wearing a headphone for  24 hours straight.
Thanks to this, it will be literally days or weeks before you have to recharge the headphone again (up to 21 days standby time and 180 days in DeepSleep mode, according to Plantronics). In my tests, it felt as if the battery just wouldn't die from casual music listening and movie watching.
Plantronics BackBeat PRO Review Conclusion
There is so much love for the Plantronics BackBeat PRO. Its battery life, its comfort, its Active Noise Cancelling feature, its intuitive controls, and its awesome sound quality and clarity. Though the headphone feels bulky to wear and the design is not classy, its heavy padding on the ear cushions make it really comfortable to wear and its sound quality makes it worthwhile to wear for hours.
The BackBeat Pro is definitely my headphone of choice for travelling and casual music listening at the moment. It will always be inside my travelling bag from now on (til something better comes along).
Disclosure: Sample was sponsored for the review, but all opinions are 100% mine
[AMAZONPRODUCTS asin="B00MBWIL0G"]