Pebblebee Review – Clumsiness knows no boundaries. You can misplace your keys or even your smartphone no matter how careful of a person you are. The most clumsy even loses items frequently, frustrating their loved ones.
Pebblebee offers a clever solution to this, by releasing a small tag-and-track device (named Pebblebee Honey) that can pretty much be attached anywhere you like to track your frequently lost items.
Pebblebee Packaging
Pebblebee Design & Features
Pebblebee Honey is a small Bluetooth device with a round shape, to accommodate housing the replaceable battery inside (285 mAh CR2430 battery or CR2032).
According to Pebblebee, the battery can last up to a year, but it depends on the Performance settings (you can set it to Low, Medium, or High later with the app).
Pebblebee Honey works by pairing it to a Pebblebee account with your phone (iPhone and Android only, Windows Phone coming later this year). Once you download the free app, you can start pairing a Pebblebee Honey by pressing the button on the Honey. Pressing it for 5 seconds will turn it off and on.
You can buy and add multiple Pebblebee Honey so you can track them all with a single app and account. Each Pebblebee Honey is tied to your account so no one can track and gain access to your Pebblebee Honey once you've paired it. Should you decide to sell it away, you need to unpair it through the app first.
Pebblebee Honey is smart, more than I would expect from a personal tracker. Sure, you can track where the Pebblebee Honey is through the app, but it can do so much more.
Pebblebee can be attached to a keyring or you can get the other accessories to attach it around your cat's neck, or anywhere else for that matter.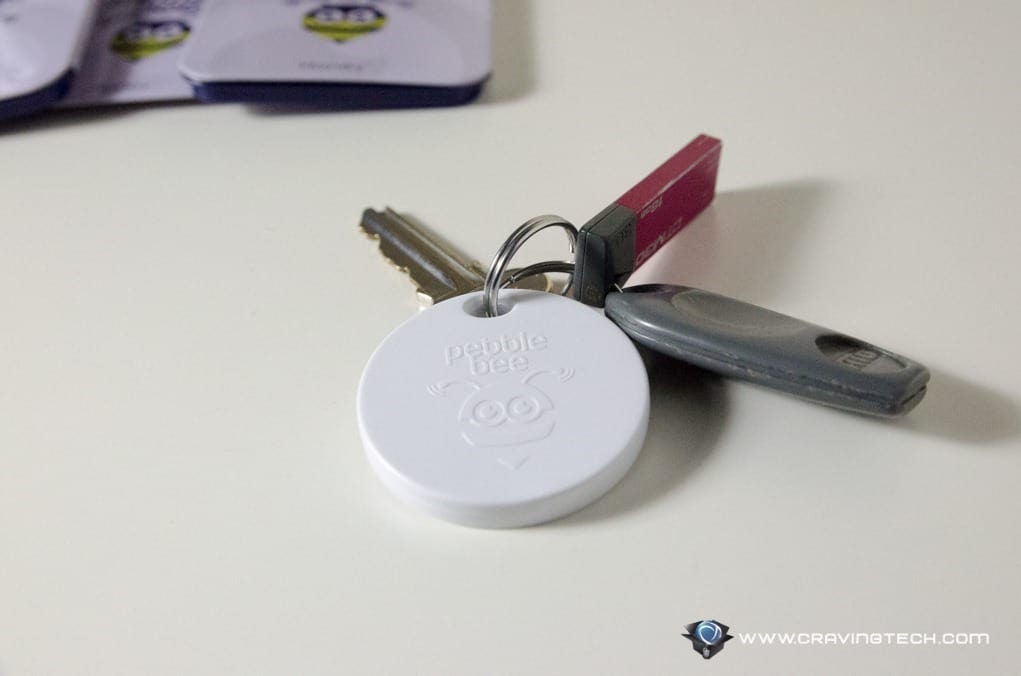 If you ever need to find where your item (that has a Pebblebee Honey attached to it) is, simply open the phone app and find its location (or last seen location).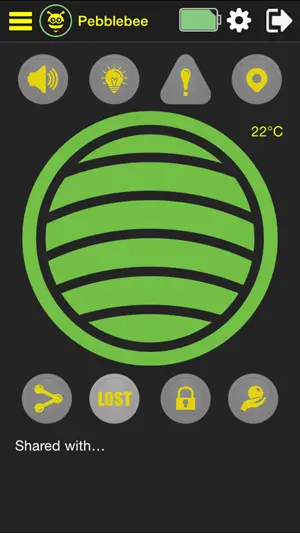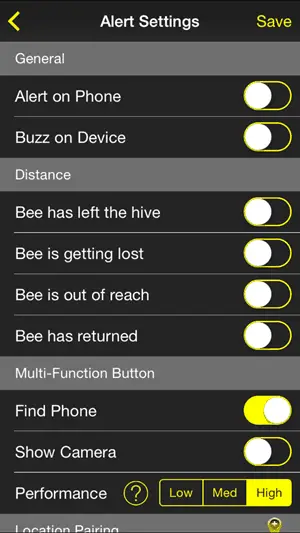 If it's in your vicinity, you can walk around to see whether you are getting closer or farther from it (red [far] – yellow – green [close]).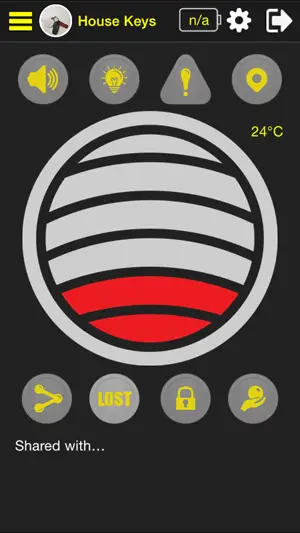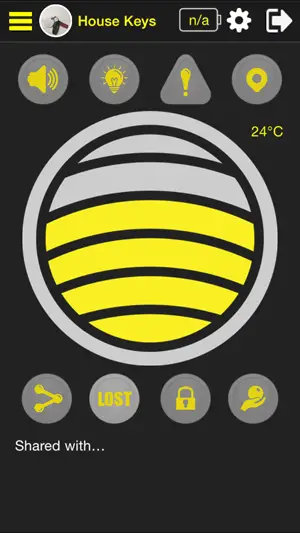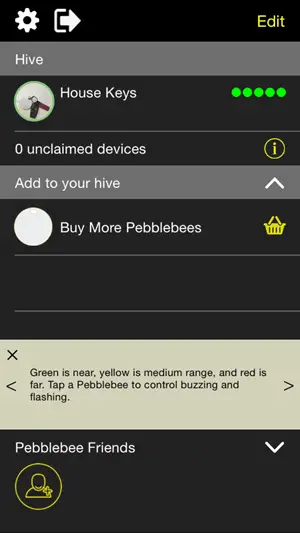 You also have 2 other options; make the Pebblebee Honey to let out a tune or lit up to help you find it. They help somewhat, but it depends on where you left it at. You may not be able to hear it in a noisy environment and the lit area is too tiny and not bright enough.
You can also set up a few different alerts, such as when your Pebblebee Honey is about to go out of range, or when it is out of range. This way, you can be sure not to forget bringing your house keys with you before you go out of the door. Or, you can also use it to keep track of where your dog is in the house. Or anything else you can think of, really.
Pebblebee Honey works both ways. It can also be used to find your phone! By pressing the button on the Pebblebee Honey, your phone will let out an alarm sound. Unfortunately, this only works if your phone is not set on Silent (on iPhone 6). You also cannot close the app in order to make this work (OS limitation).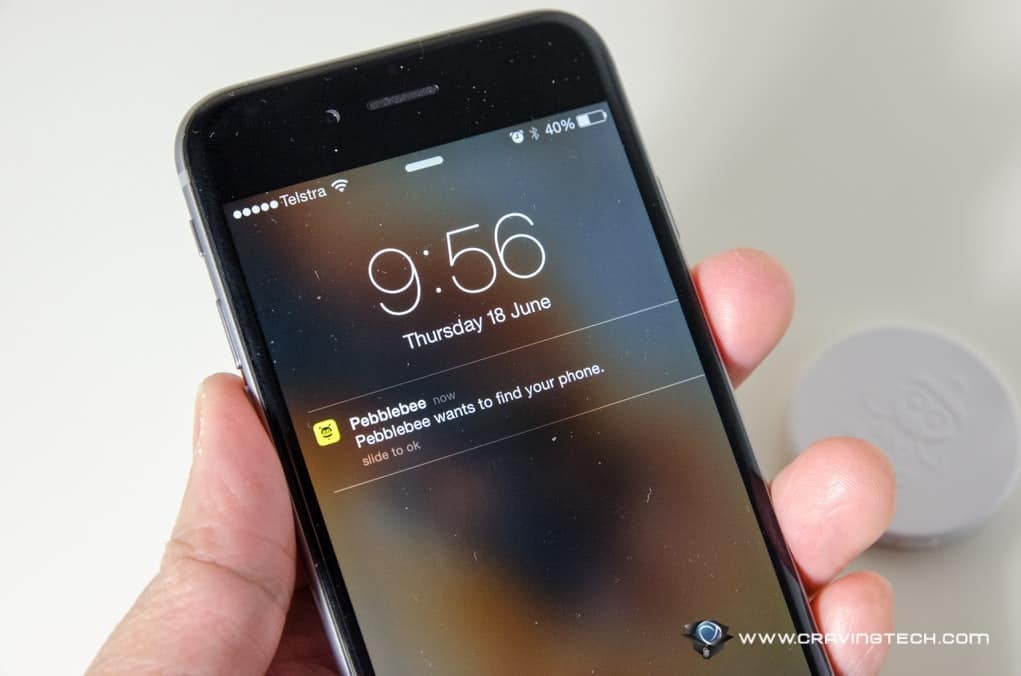 The button's behavior can also be changed to transform Pebblebee Honey to a camera remote shutter.
Pebblebee is not without some drawbacks though. In my experience, sometimes the signal is flaky and I often had to wait for along time before I could get connected to the Pebblebee Honey (even at High Performance setting). At one stage, I had to take the battery out of Pebblebee Honey and reset it by removing and placing the battery back. This can be a real problem when I actually lose my item and try to find it.
The app also definitely needs a major redesign, in my opinion. The UI looks a bit outdated and it wasn't clear what each icon represents (until I peek at the manual online). The app also has the Photo and Video caption the other way around (when the button is used as a remote shutter) – but easily fixed through an app update.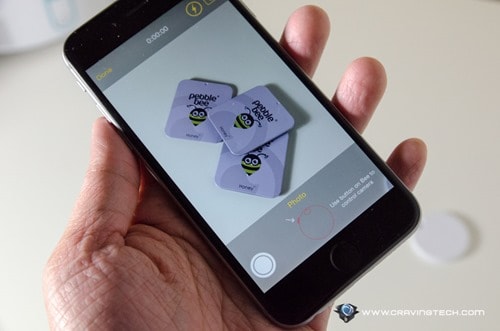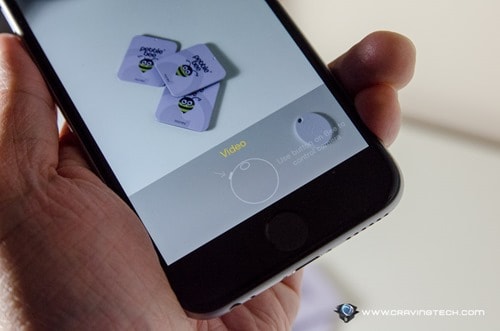 Lastly, the terms "Honey", "Bee", and "Hive" sound cute but they are quite confusing for newcomers. Honey is the Pebblebee tracking device. Bee is the thing you attach the Honey to (such as your keyrings, dog, etc). Hive, I'd assume, is your phone (where the Pebblebee app is installed). Would be great if the app actually tells you about these when you run it for the first time.
Pebblebee Review Conclusion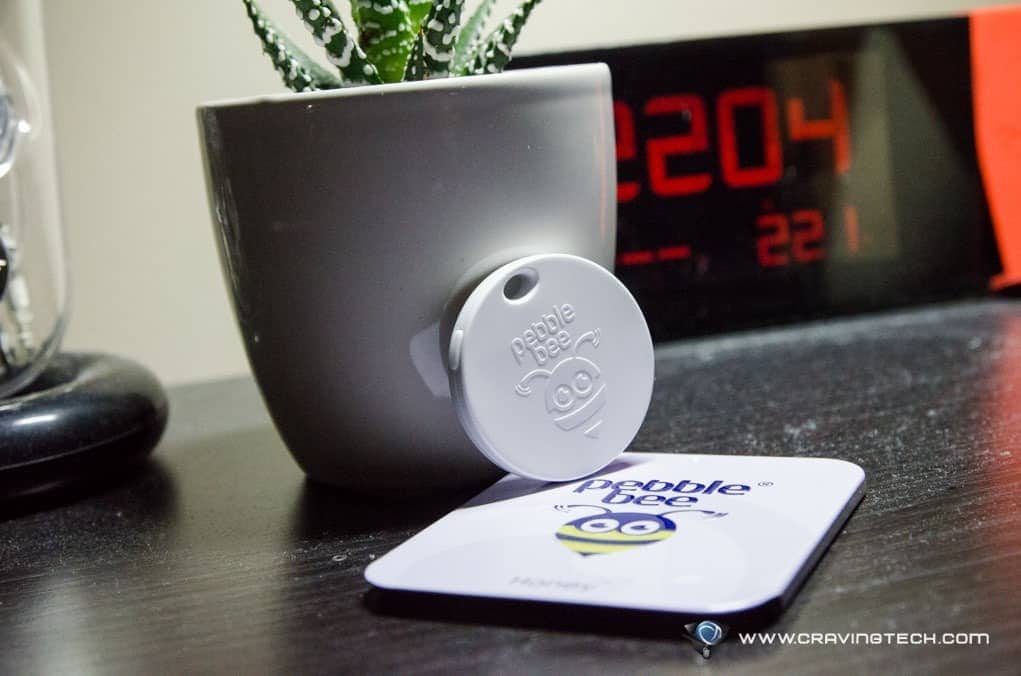 Pebblebee is an affordable and smart tracking device for anything you can think of: your keys, your bags, your wallet, and even your pet. The days of losing items are almost over. Well, you are definitely still going to lose them, but at least you now have a way to find out where they are with ease.
Once set up, Pebblebee is fairly simple to use. It can also be used to find where your phone is (by triggering your phone to sound an alarm) – which is kind of cool.
Pebblebee is a bit flaky at times, but I'm quite certain that these can be addressed in the future through app updates.
Disclosure: Sample was sponsored for the review. All opinions are mine.
[AMAZONPRODUCTS asin="B00OA4PC8C"]