There are not many applications at the moment for iPad which provide direct streaming from your computer's hard drive to your iPad. I know there are some applications that allow you to convert your current video files on your computer to a format that iPad will happily play. But why bother? StreamToMe allows you to watch videos directly from your computer's hard drive to iPad while doing the conversion on the fly!
What you need to do is simply install StreamToMe App on the iPad and also install the ServeToMe application in your computer. Configuration is almost none as long as you have installed the ServeToMe application in your computer and in less than a minute, I could already see my computer and my shared drives on the home network through WiFi.
You can browse your shared folders on the Sidebar (like a file explorer) and also control the movie/music playback on the main screen.
Thumbnails of the movies or the album artwork will be displayed as well, along with all the files on the selected folder. Navigating between folders is easy and really fast. According to Projects With Love, StreamToMe supports these following media format by the time this review was written: MP4, AVI, MOV, FLV, MPG, MKV, MP3, AAC, WMA and WMV. I've successfully tested playing MP4, AVI, MOV, and MP3 files without any problems on my iPad.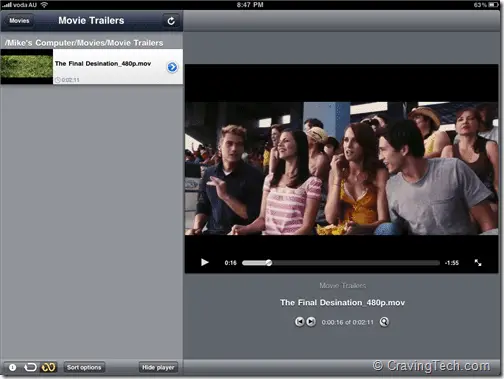 StreamToMe allows you to play all files in a folder, so this way you can play a whole album on the iPad without having to play each file manually. There is also a random/shuffle option which comes in handy when you are listening to your album collection (not so much when you are watching a TV series unfortunately, since you want it to be played on the sequential order).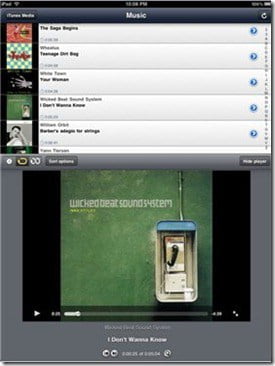 StreamToMe also displays subtitles in SRT files, SSA files, embedded SSA in MKV files, and MOV text tracks. At first I was wondering why the SRT didn't get displayed when I tested StreamToMe. I found out later that you need to enable it first on the settings (the small blue arrow button on the Sidebar, next to the selected file).
Video streaming is pretty quick and the experience of watching movies has been great so far. There is no stuttering or waiting period once you've played a movie. It only takes a few seconds before you can start watching a movie. You can also start playing a movie on a certain timeframe by moving the slider across but you'll need to wait a bit for StreamToMe to encode and stream the part across. If you have to close the application while watching a movie, StreamToMe remembers it so the next time you open the application, it will ask whether you want to continue watching where you left it off. Excellent! It also pauses the movie automatically when you receive a push notification from another app.
Another handy feature is that SteamToMe supports streaming videos/music to your TV! This means that your iPad has now become your home media center, thanks to SteamToMe application! What you need is of course a TV out cable for the iPad. Instead of watching on your computer or your iPad, you can now link your PC/Mac on the home network and watch it on your television set instead! This definitely saves you some money rather than buying a separate media center solution.
StreamToMe Review Conclusion
StreamToMe is a great application on the iPad, completely transforming it to a home media center that just works and simple to use. Movies can be watched directly without you spending money and time to buy an iPad movie converter app and convert your movies one by one. StreamToMe also allows you to play your music collection from PC/Mac without having to transfer/sync the music files across.
The only drawback is having to install a third party application on your computer, but it's free and it simplifies all the I.T and network jargons that you are probably not familiar with.
Whether you are watching movies or listening to your music collection on the iPad or on your TV, StreamToMe does it all! Now if only somehow you can create a playlist on it, this will be the ultimate application to replace the iTunes!
StreamToMe – Matthew Gallagher
Note: Review license was provided by Projects With Love