The origin of Pong came from 1972 by Atari. In a Pong's game, you fight with another player by controlling a piece of paddle. A ball then being tossed to the game and both players have to defend their "base" with their own paddle. That simple game has evolved into multiple creative ideas and MultiPong is one of them. In MultiPong for iPad made by Fingerlab, you can play with 3 other friends instead of just 1! That's right, 4 players are supported to play on a single iPad!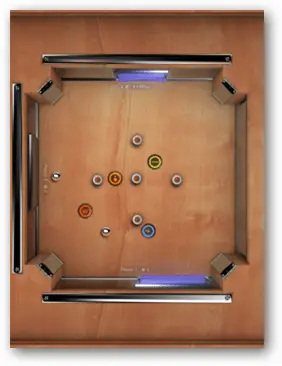 First of all, MultiPong is beautifully designed and really pleasing for the eyes. Even from the screenshots, you can see the quality of the design straight away. The board is beautiful and life-alike as if you are staring on a real wooden board. The balls (balls?? more on that later) and the paddles also look like real shiny metal objects on a real machine.
I'm also amazed by the effects (animations and graphics) made by the extra features to make the game more interesting. When you are playing MultiPong, it will randomly add a few pieces on the board. Hitting these pieces with the balls will yield different effects such as:
Add an extra ball to the game (what's more fun than straining your eyes on 3 balls hecticly moving around the board?)
Add a gravity effect
Create a cloud storm in the middle of the board
Many more!
These effects make the game more fun and different each time you play MultiPong. It also opens to new possibilities in the future as the developers can add more effects to the game to make it more and more exciting (How about making the paddle goes left when you swipe it to right? or how about adding 2 fake balls on the board just to confuse you? The possibilities are endless here!).
The ball moves very swiftly on the board, thanks to the realistic physics engine in MultiPong.
Of course, it's much more fun to see and laugh how these effects affect your friends in the gameplay. MultiPong, as mentioned before, supports playing up to 4 people on a single iPad! Although you can play Solo, it's not what MultiPong was really designed for. In solo mode, you use 2 hands/fingers to move 2 paddles. I think it's kinda sad to play MultiPong that way but it's good that the developers provide this feature so it can be played alone when you are bored at home. The latest update that I downloaded an hour ago actually allows you to use just one paddle to play Solo instead of two.
You can also see your statistics and score to boast with your friends if you are into that sort of thing :)
MultiPong really takes the advantage of the large iPad screen successfully. There are not many fun multiplayer games that you can play on the iPad (without having an internet connection) at the moment so let's hope other developers can catch up to make great games like MultiPong.
As much as I can say about the goodness of MultiPong, this promo video already says it all:
According to my contact at Fingerlab, there are already exciting developments planned for the next updates such as:
Online leader-board
Better iTunes integration
New options and shapes "like tornado" (sounds like fun!)
New sound design
More surprises
MultiPong is priced at US $2.99 when I wrote this review.
NOTE: Review license provided by Fingerlab