LockSmart Mini Review – What is something that is very important, yet you always seem to lose it? That's right, a key. I'm sure each of you has an unforgivable experience of losing a key (either yourself, or someone that you know).
It's surely not a fun experience and probably made your heart stopped for a bit.
LockSmart Mini from Dog & Bone offers an innovative way to solve this problem by delivering a fresh solution to an old and obsolete method to secure your property and belongings.
LockSmart Mini Review – Packaging
LockSmart Mini Review – Design & Features
Despite of its name, do not be fooled by it. The LockSmart Mini has a dimension of 51mm x 101.2mm x 24mm (width x height x depth) and weighs 160 grams. It's definitely not something that you will use on a luggage, but more on small gates, lockers, bikes, or storage rooms. For large gates and bigger purposes, the non-mini version is also available.
Dog & Bone LockSmart Mini does not have a key. It requires a paired smartphone to lock and unlock it via a mobile app. Any smartphone with Bluetooth 4.0 support and above is compatible.
Here is my short video of unlocking the Dog and Bone LockSmart Mini:
LockSmart Mini Keyless padlock, unlocked with an app – from @Dogandbonecases. Full review coming tomorrow pic.twitter.com/Qk3Kw0JcoH

— Michael Aulia ?? (@michaelaulia) February 17, 2016
The connection is secured by 128-bit encryption and can be secured even further using Apple TouchID or a passcode while you unlock it. This way, even if someone gets a hold of your phone, they still have to go through another layer of security.
The LockSmart Mini is not simply a keyless padlock, but offers more than that. For a start, you can share access to the padlock to several different people. This is really handy if you are sharing keys with a group. For example, we have a padlock on our church where 4 keys are shared to a few leaders. These keys are exchanged once every few days as needed – which creates a lot of hassles and unnecessary meet-ups just so that you can hand the keys over to someone else who needs it more than you do. We lost a key once and as a result, had to replace the padlock and all of our keys completely.
With LockSmart Mini, all we have to do now is to share an access to those who need it. This can be done remotely and conveniently from the app itself. All you need is the person's mobile number (can also pick from your Address Book) and an invitation will be sent via a text message.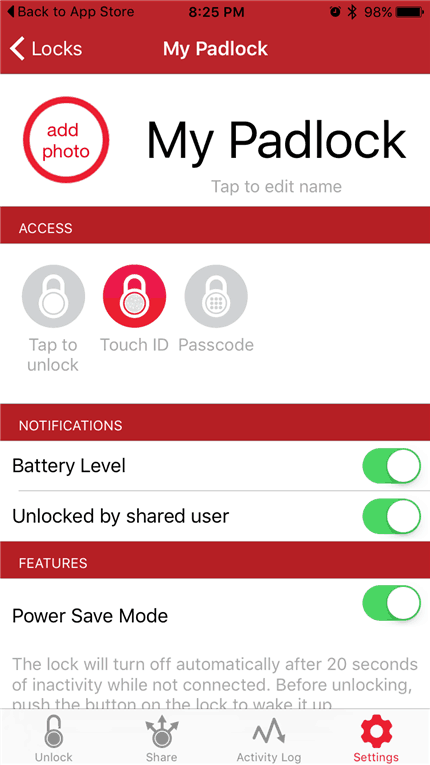 You'll have a list of all the people that have access to the padlock and can revoke it any time. Once invited, they unfortunately have to download the app and create an account too. So it's probably not as easy as handing in keys to your plumber, or a technician.
LockSmart Mini tracks who locks and unlocks the padlock, so you can always keep track when and who accessed it. Someone forgot to lock the door back? You can trace it back to the person who unlocked it last and gave him/her a firm reminder. The activity log does not seem to record the original "owner" of the padlock though. Only the ones who are given a shared access seem to be recorded (might change through a software update). You (the owner) will also get a push notification when a shared user unlocks the padlock (can be turned off).
It's an electronic padlock, so eventually, it has to be charged. Recharging is done via microUSB and the battery can last for about 2 years before you have to charge it again. Meaning, at some point you'll still have to take the LockSmart Mini off and charge for around 60 minutes (from empty to full). If you are securing your locker with the LockSmart Mini, you may not like the idea of leaving it unsecured for 60 minutes while you charge the padlock away.
Saying this, you can actually just leave the padlock out of charge in a locked state. The padlock will still remain locked even if it's out of juice. To open it, you then can recharge it on the spot (with a portable battery charger, say), wait for a few minutes, and unlock it. Still quite troublesome in a way though, and you also have to make sure you have some juice left on your phone.
The LockSmart Mini padlock is weatherproof so you do not have to worry leaving it in the open (such as when you use it to secure your shed). It can withstand any rain, snow, and even extreme temperatures from -20 to 70 degrees Celsius.
Dog & Bone LockSmart Mini Review – Conclusion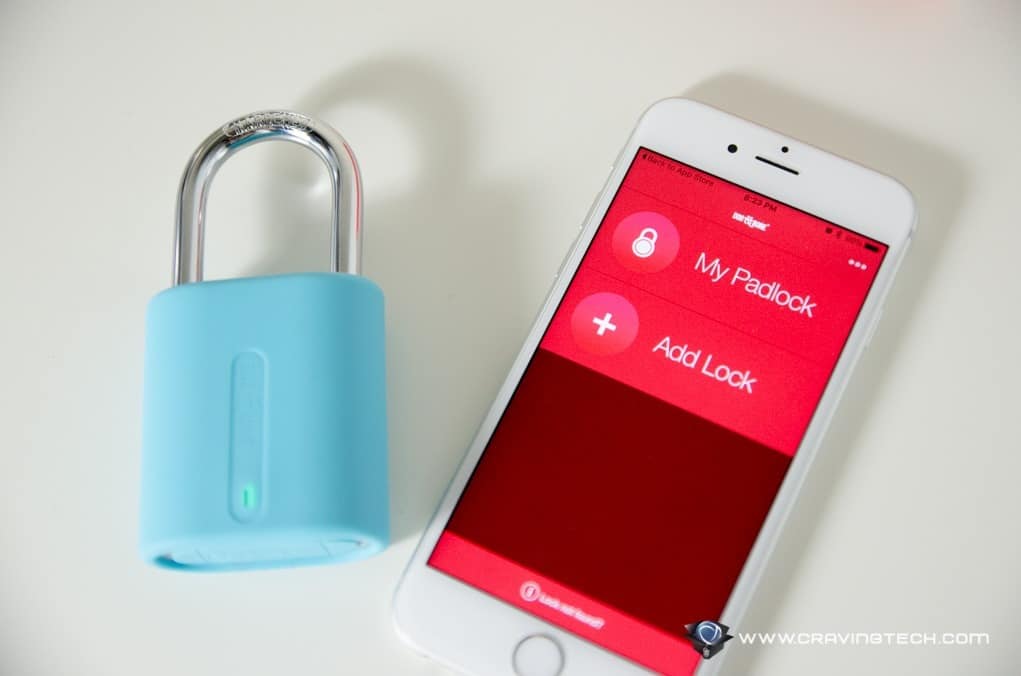 The LockSmart Mini offers a new and innovative solution that combines physical lock with virtual keys together. It's secure and convenient. Since you'll always have your phone with you, you'll never lose a key again (even if your phone is lost, you can still login to your account at a different phone and unlock the padlock), and can easily share access to others when needed.
It's a compelling product, but whether you really need it than a traditional, cheaper padlock, is entirely your call. If you are good with keeping your key or don't need to share access to the padlock with anyone else, than the LockSmart Mini might be an overkill and more of a hassle.
Hate losing your keys? Hate having to pass around your key to someone on a regular basis? This is what the LockSmart Mini is really made for. A true smartlock.
If you want one for your travel luggage, you'll have to wait for a bit. The LockSmart Travel is coming really soon to Australia so stay tuned for the review at Craving Tech!
Disclosure: Review sample was supplied for the review but all opinions are mine and not paid.